UK farmers are setting up businesses in Poland ahead of Brexit
UK farmers consider moving to mainland Europe as some warn the price of fruits could rise by almost 50 per cent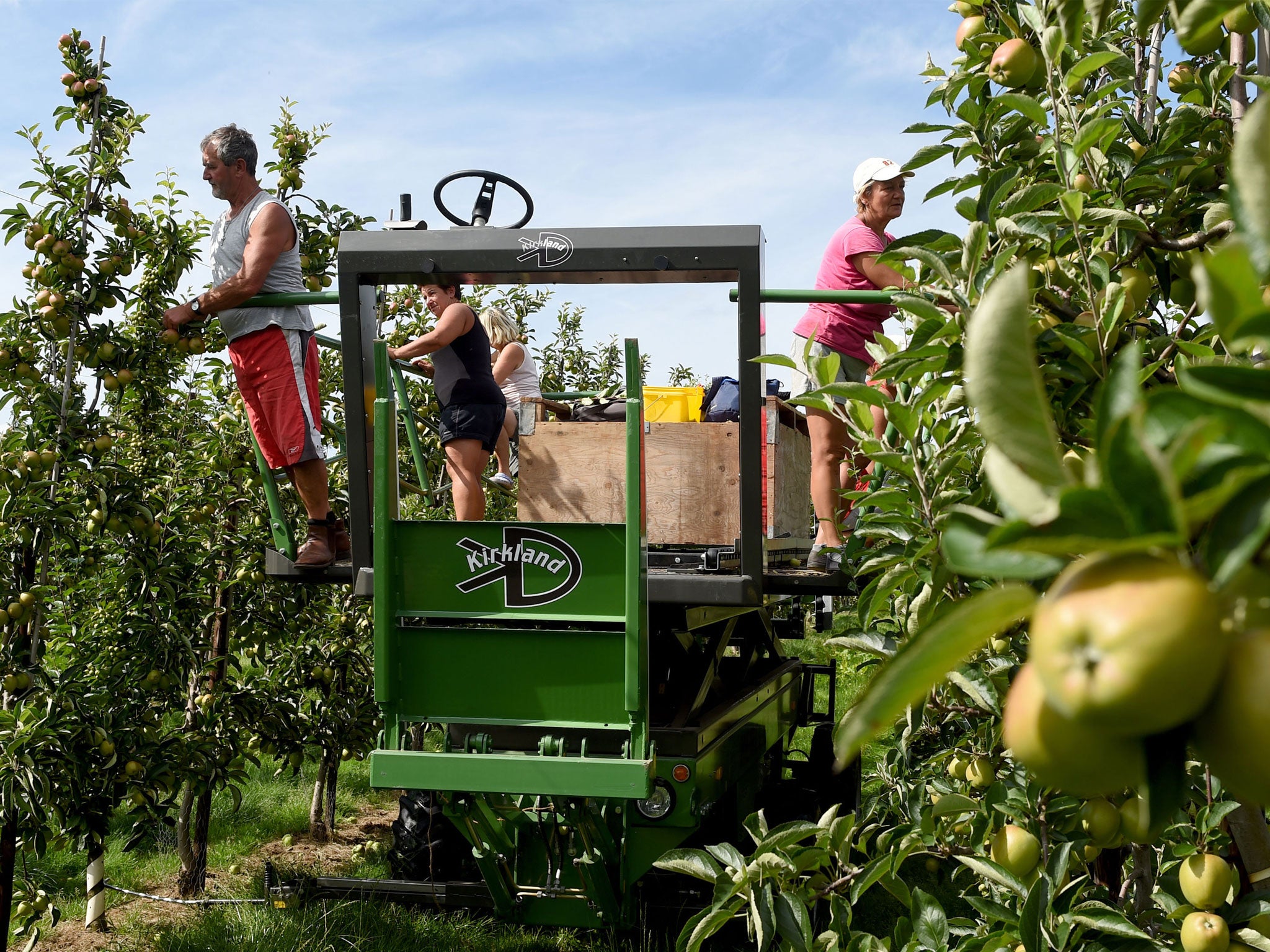 For 70 years, Tim Chambers' family has harvested fruit in south-east England, but after Britain's vote last year to leave the European Union he expanded into Poland and is ready to sell some of his land if a shortage of migrant workers worsens.
His firm, WB Chambers & Son, has relied heavily on seasonal staff from Eastern Europe for the past two decades as it focused on growing raspberries and blackberries that require laborious harvesting by hand.
Typically, at the height of the summer season, 1,200 migrant workers from other EU states pick the delicate berries from more than 520 kilometres (320 miles) of rows of bushes planted across rolling land in Kent, a county known as the Garden of England.
This year, Chambers found it harder to recruit workers at the start of the season in June. Many workers hesitated about coming to Britain after the fall in the value of the pound since the vote for Brexit in the June 2016 referendum.
Although he eventually filled his rosters, for the first time he does not have a waiting list of candidates hoping to come to his farm in August to work until the spring.
Chambers invested this year in raspberry production with a partner in Poland to avoid possible barriers to exporting fruit to the EU from Britain when Brexit happens in 2019.
If the shortage in migrant labour gets worse and pushes up his costs, he is prepared to shift more of his business to Poland and might even sell some of his family's land in England, he said.
"If we don't get a secure supply of labour, we will have to adjust the size of our business and restructure to make us more efficient in the new economic situation and look to produce product abroad," he said on a clear-skied July afternoon, as teams of Bulgarian workers made their way up and down rows of raspberry bushes.
Employers in other sectors have said they are seeing signs that Britain has become less attractive to foreign workers who often fill jobs that Britons are unwilling to do for low wages.
Forty-three per cent of employers in education and 49 per cent in healthcare said staff from other EU countries had considered leaving Britain, according to the Chartered Institute of Personnel and Development.
The Government has said it will use a transition period to ensure employers are not left without workers after Brexit, but so far there is no clear sign of how it plans to do that.
While some farmers might move production abroad, others could give up if they can't hire the staff, an industry representative said.
"Not all farmers are capable of going across the water to mainland Europe," said Laurence Olins, chairman of British Summer Fruits, a trade body. "If there is no labour, most of the businesses will close."
Nick Ottewell, farming director for Laurence J Betts, a Kent-based salad grower, said the family-owned farm he works for was not big enough for relocation to be a viable option.
"The worst-case scenario is that we don't have enough people, and then we don't have a business," said Ottewell, whose company employs 120 seasonal workers to pick 10,000 tonnes of lettuce a year.
At least four of his seasonal workers are considering finding jobs in other EU countries, he said.
"We never really had a problem with people wandering off and going to different jobs," Ottewell said. "But that's now happening more."
Business news: In pictures
Show all 13
The National Farmers' Union reported a 17 per cent drop in seasonal workers coming to work on British farms from the start of 2017 through May, leaving unfilled 1,500 of the 9,411 seasonal jobs needed for horticulture that month.
Of the 29,000 seasonal workers required annually for the soft fruit industry, almost all of them are from eastern European members of the EU such as Bulgaria, Romania and Poland.
Olins of British Summer Fruits said the proportion of workers currently in Britain and who want to return in future had slumped from 70 per cent to 35 per cent.
"For every job, we used to have 10 applicants. Now, we've had three," he said.
British Summer Fruits says that if a significant number of farmers relocate outside the UK to ensure access to labour, British consumers will have to pay more for foreign fruit.
The cost of strawberries and raspberries could jump by 37 and 50 per cent respectively, the group said.
"Generally, food is quite cheap anyway if you looked at people's percentage spend compared to other parts of the world," Ottewell said. "I think the British public have to expect food cost rises in the next few years."
Farmers are growing frustrated with the lack of government guidance on how it plans to allow seasonal workers into Britain after Brexit.
They said they are hoping for a revival of a seasonal agricultural labour scheme which allowed workers from countries including Russia and Ukraine to stay in Britain for six months of farm work. The Government ended the scheme in 2013, saying there were enough British and EU workers to fill the jobs.
Even if the Government does allow access for seasonal farm workers, Ottewell said, he is worried it won't be ready in time for 2019, given the political uncertainty after Prime Minister Theresa May's ruling Conservatives lost their parliamentary majority in last month's election.
"The political instability going on is just pushing back any real action being taken," Ottewell said. "Farmers are going to potentially be staring over the cliff face in 2019."
Reuters
Join our commenting forum
Join thought-provoking conversations, follow other Independent readers and see their replies