A View from the Top: Matches founder Ruth Chapman on being a fashion maven and mogul
The stylish businesswoman says her love for clothes is undiminished despite some difficult times growing the Matches brand
Caitlin Morrison Comments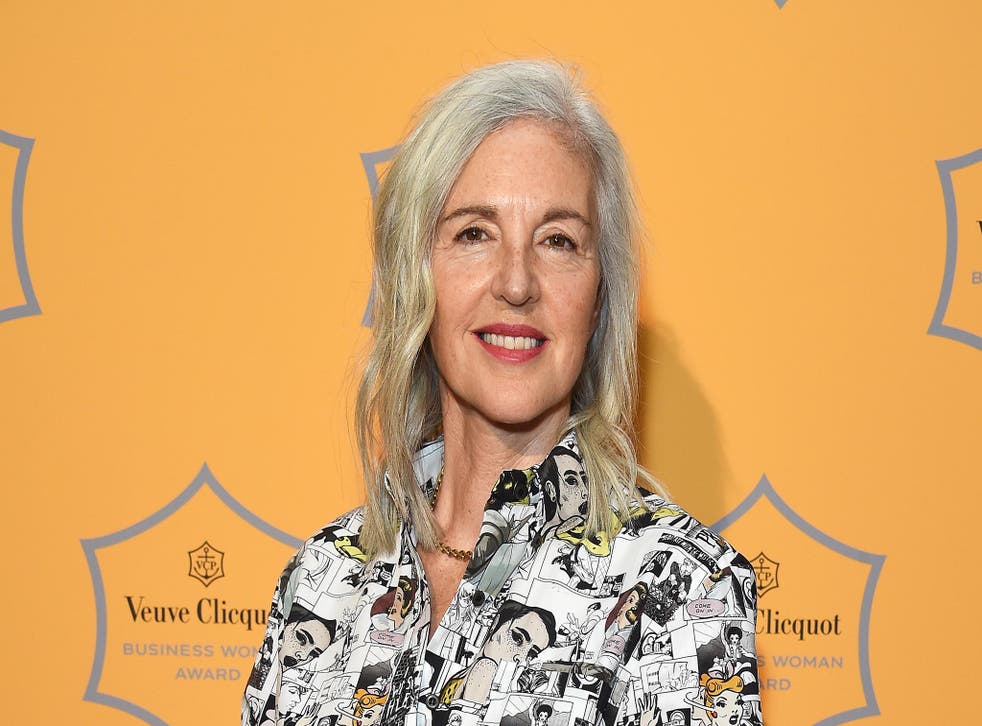 Ruth Chapman is a rare breed in the fashion industry. She's a renowned tastemaker, but also a respected, savvy business leader, having turned a standalone boutique in suburban London into Matchesfashion.com, one of the world's most successful online retail businesses. The company, which she founded with her husband Tom, was sold last year for a reported £800m.
Chapman has always had an interest in fashion. Growing up in Hoy Lake, on the Wirral, she was influenced by her "very glamorous" mother, stepmother and grandmother.
"They all had powerful personalities and a lot of it was expressed through their clothes," she says. "I was always fascinated by the power of clothes and how clothes and fashion are evolving. I would spend my Saturdays rifling through thrift stores and saving up for things I couldn't afford."
This led to a job in fashion straight out of school, when Chapman went to work at Jaeger, then at Harrods. At 21, she met Tom, now her husband, and between them they launched Matches.
Matches may have started as one small shop in Wimbledon, but its owners were surely destined to run an online retail empire – they had a digital side to the business from the beginning, some 30 years ago.
"Tom smartly put computers in even back then and we gathered everyone's address, and that became email, and so we already had all the data – we were really connected to our customers by the time we launched online," explains Chapman.
Matches by that stage had a "really international set of customers", who would visit once or twice a year when they were in London and used to tell the Chapmans "they loved the edit, they loved the curation, they wished we would open in San Francisco or wherever".
This international exposure and appeal meant the online venture took off at a great rate, but that success did not come without problems.
"(The website) was about giving our customers the option, but of course once it was out in the ether a whole bunch of other people liked what they saw and bought all the stock," says Chapman.
The couple had reached a point where they needed more stock than they could afford to buy; they needed to find investors. "We kissed a lot of frogs," Chapman admits.
"We needed investors who knew it wasn't about pureplay. We really loved bricks and mortar as a place for customers, and that remains true," she says. They found their prince, as it were, in the form of Scottish Equity Partners and Highland Europe, who stayed largely in the background.
"They let us do what we wanted," Chapman says. "If they met someone they thought could help us they'd introduce us, but other than that they were hands off."
The company went from strength to strength, launching an in-house label, Raey, and reporting yearly sales growth of 60 per cent. However, Chapman doesn't try to portray this progress as a walk in the park. Building a business can be very difficult, particularly in the early days.
"Cashflow is always an issue. There are times when you are raising a family and paying a mortgage and the bank is on your back, and you do get through it – but there are definitely times when you think, 'Oh god this is not great,'" she says. "But that's just a part of business."
The Chapmans got through the low points, however, with a particular aim in mind.
"Tom is very smart, he believes you should always build a business for an IPO (initial public offering)," says Chapman. "There came a point when we were doing so well, growing 60 per cent every year, the business was profitable, and people were knocking on our doors and saying, 'We really want to talk to you.'
"Tom and I are in our mid-50s now, we were confident we could find the right people and put the business in the right hands, and that's exactly what happened."
Matches ended up at the centre of a bidding war between various would-be investors. Bain Capital, KKR and Permira were all named as potential buyers, but Apax Partners won out in the end, paying a reported £800m for a controlling stake in the business.
Chapman struggles to identify any one high point looking back over her career: "When you're in something, you never take anything for granted. Selling the business was obviously a great moment for us and being on the other side of it, we're super proud of what we did. But if you're smug at one moment, things can change and things can go wrong."
However, she's not a pessimist by any means, illustrated by her attitude towards Brexit. It's probably the biggest concern for most British businesses at the moment, as well as companies further afield, and Chapman says on a personal level, she would rather the UK stayed in the EU. "I don't like walls being built, I'd rather see them coming down. It's the daftest thing."
But she is sanguine about the potential upheaval Brexit could bring for Matches. "The interesting thing about fashion is if people want something, they just want it," she says.
This is definitely true for Matches customers, who spend a reported average of around £650 per order.
"We're talking about a person in a fortunate position who can afford to pay for it, so from that point of view we're really lucky," says Chapman. "If you want a piece, you just buy it. When you look at our numbers, even when we've had currency issues, we're selling US brands back to the US, and those numbers are huge."
The Chapmans have now taken a step back from the day-to-day running of the company, though both remain involved, Tom as a member of the board and Ruth as an adviser.
In her new role, she is in close contact with the executive team, who use her as a sounding board for ideas, and also offers her experience after a 30-year career in fashion.
"I meet different people and contacts who I think can help (the board) and if I find a new brand I will introduce them and wave the flag for them generally and connect them to interesting people," she says. Among the new brands she's been championing lately are Gabriela Hearst, Marques' Almeida, Galvan and The Vampire's Wife.
Chapman remains as enthusiastic about fashion as she's ever been. "I think it's a really exciting space to be in at the moment. The old system walls are really coming down," she says, referring to the proliferation of new designers working outside the traditional show schedule, instead gaining ground by different means, such as Instagram.
"Brands don't need to work in the old ways," she adds. "We always worked to the tune of our own drum, just decided what we were going to do and did it. And that was the best thing we could have done." It certainly seems to have paid off for the Chapmans.
Register for free to continue reading
Registration is a free and easy way to support our truly independent journalism
By registering, you will also enjoy limited access to Premium articles, exclusive newsletters, commenting, and virtual events with our leading journalists
Already have an account? sign in
Join our new commenting forum
Join thought-provoking conversations, follow other Independent readers and see their replies