A View from the Top: Frances O'Grady: General Secretary of the British Trades Union Congress
She joined the Labour party aged 15. Her grandfather was the founder of the Irish Transport and General Workers Union. Now she's made it her mission to ensure that Brexit doesn't spell disaster for UK workers' rights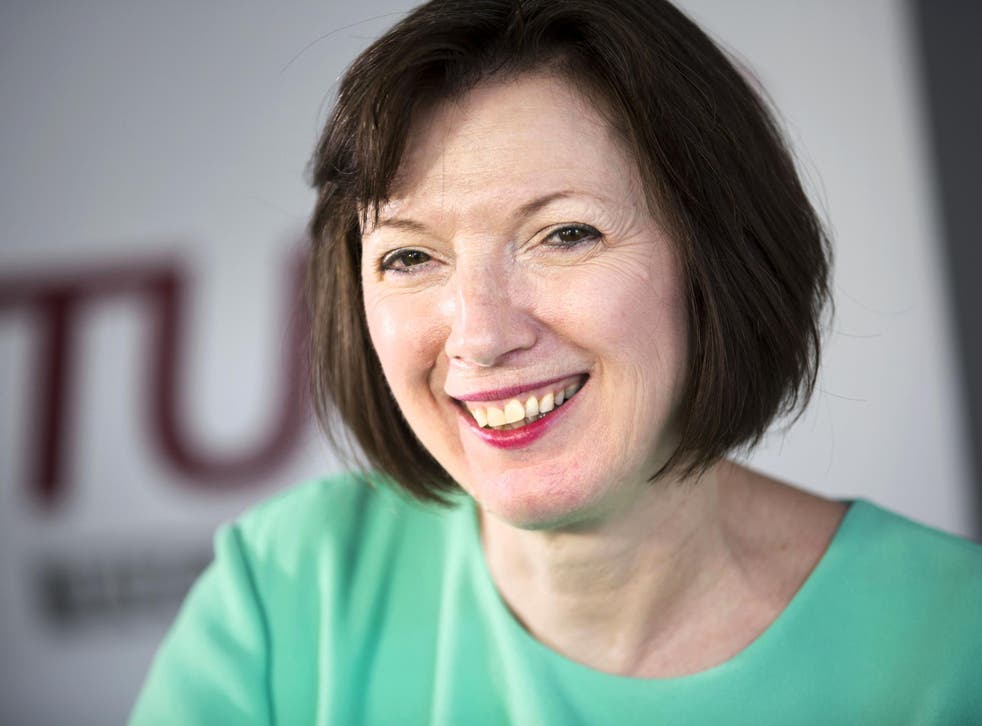 If I were David Davis, I would be taking Frances O'Grady with me to bat for Britain in Brussels.
The boss of the Trades Union Congress (TUC) would make a brilliant foil for the Brexit supremo – she knows most of the EU's big cheeses and has already helped out behind the scenes setting a "red line" over workers' rights.
O'Grady is on good terms with all the top power-brokers, from Jean-Claude Juncker to Michel Barnier, but also perhaps more pertinently with Reiner Hoffman, head of Germany's influential DGB, the country's top union organisation and the ETUC, Europe's umbrella organisation for all trade unions. Hoffman, she says casually, called her the day before for a catch-up.
When in Austria recently to meet the top union man, O'Grady was introduced to the country's president and has had one-to-one meetings with German chancellor Angela Merkel, who is "better informed than UK ministers and willing to listen".
When I suggest she would be perfect on the Brexit team, the 58-year-old roars with her big laugh. "William Hague said the same." Interesting that she doesn't say no.
You can bet she would like to be out there wheeling and dealing – she's tough yet warm, a pragmatist rather than pious, and I suspect could talk the hind legs off a donkey if pushed. Having the UK's most senior union leader on the Davis team would show too that the Government is deadly serious about getting the best deal for jobs and workers.
Setting a red line to create a level playing field for future workers' rights in the EU negotiations was a big moment, she says. "Any future deal will state that the rights of workers in the UK must not be allowed to fall behind those of the EU. The EU wants that too, because they fear that in the future, British firms might try to undercut those in the EU.
"This is not about compromising sovereignty for us. What matters is that no one should fall behind, and that we are not going to compete with the EU on low pay and weak rights."
What's tragic, she says, is the way the two sides are attacking each other. "It's a terrible case of self-harm. The UK and the EU need each other and we need as much access as we can to the single market." An out-and-out Remainer, she is determined that the Brexit negotiations will assure workers' rights for "tomorrow".
"Our main concern is that a future Government will water down workers' rights. You only have to listen to the Brexiteers like Boris Johnson, Liam Fox and Priti Patel, who talk about cutting regulation and red tape, to see the dangers."
She neatly side-steps giving a view on the conflict within the Labour leadership – which wants out of both the single market and the customs union – and the majority of the party. "It's not for me to make a comment on Labour policy but the opposition's job to oppose. But I agree with Keir Starmer that the Great Repeal Bill should be voted against unless it ensures that workers' rights in Britain do not fall behind those in the EU and limit the scope of so-called Henry VIII powers."
Politics and campaigning run deep in her Irish Catholic bones; she joined the Labour party aged 15. Her grandfather was the founder of the Irish Transport and General Workers Union and her father was a shop steward who worked as a chrome-fitter at the British Leyland plant at Cowley in Oxford. One of five children, she left home while taking A levels and supported herself with odd jobs in shops and the colleges. But she continued studying, thanks, she says, to an amazing Scottish history teacher "who believed in me". At Manchester University she studied modern history and politics before flying up the union ladder.
The idea that unions are lazy and to blame for all the problems of the 1970s is wrong, she says. "I know BL [British Leyland] was a basket case but that wasn't only the fault of the unions. I've still got the plan somewhere at home that the union leaders took to the bosses to find ways of solving the problems. They didn't want to know."
Yet she acknowledges that relations between most employers and unions are now so much better, and that it's a joy "to walk around factory floors and see managers, unions and workers working so well".
The recession was a turning point, she says, and put paid to the lie that unions are dead, that "they had become irrelevant". It was during the recession that both sides worked together closely to keep production going, helped by the unions agreeing to "pay pauses" which allowed factories to stay open and people in jobs.
"Everyone accepted that if you close a plant, you lose it forever. If you cut skilled jobs, you lose those skills."
Which is why she is disappointed that the Government has watered down some of the better suggestions in its recent industrial strategy plan.
"It's a pity because there is lots of good stuff which is being dropped, like workers on boards."
Why does she think UK bosses – unlike their European peers – are so against employee representatives? She has said before it's because of an inherent snobbery in the British workplace, and now adds: "Companies are scared of losing power – that's what it's about, they hate the idea of power sharing."
Short-termism is still Britain's sickness, one she argues is locked in the DNA of our corporate governance system. "Shareholder supremacy is at the very core of Britain. When half of all shares are owned by overseas investors, and by investors who only hold them for six months, then you have a problem.
"Of course the unions accept that employers have to make a profit. But companies also have a wider purpose than just making profit. There needs to be more investment, better training for skills and higher productivity."
There's much to be done on the employment rights front too. For example, the TUC wants a crackdown on zero hours, new Wage Councils, abolition of fees for employment tribunals and easier access to organise workers in places like Sports Direct.
"You know there's a problem when people are scared to join the union. When you have workers like those at Sports Direct who were [allegedly] forced into sexual favours in return for work. There's also a growing issue in the London hotel industry with chamber maids being made to make up 20 beds an hour." As she said, much to be done.
And the so-called gig economy? What does she think about the controversy over whether Uber and Deliveroo drivers should be eligible for certain employment rights?
Her face says it all: "We have to call out these high-tech companies and platforms which are really using new technologies to carry out the old-fashioned practice of exploitation and casualisation of labour.
"The way the platforms are running this is really no different to the way the labourers in the 19th century stood on the docks waiting for work … Or the way that workers today stand outside the DIY shops in North London in the mornings looking for work from the building firms."
So she argues that, as Uber and Deliveroo drivers are ultimately controlled by their employer, they should be classed as "workers" rather than bogus self-employed.
This worker status is a third category, one that sits between employed and self-employed and which means employers must provide certain rights. "What we need is more enforcement of the law. Recent tribunals have backed up our view that drivers for Uber and Deliveroo are workers rather than self-employed."
The recent Taylor Review into the work place contained some nuggets – like more sickness pay – but provided an "aspirin rather than the radical surgery" needed to materially improve working conditions. The report's renaming of "worker" as a "dependent contractor" merely muddies the waters, she says.
"I don't think people are talking about 'dependent contractors' down at the Dog and Duck, do you? "
Join our new commenting forum
Join thought-provoking conversations, follow other Independent readers and see their replies