What do a crash helmet, a condom, Tower Bridge and a kettle have in common?
The British Standards Institution has given its stamp of approval to goods from helmets to condoms and steel. Mark Leftly meets the boss of a British success story
Mark Leftly
Wednesday 01 May 2013 01:06 Comments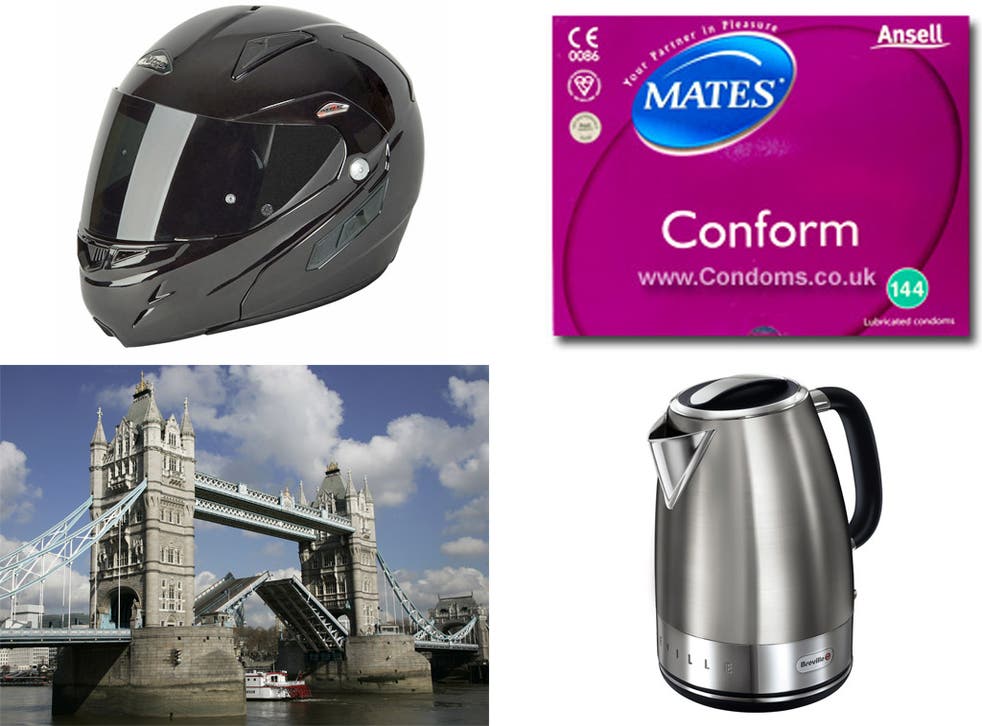 Tower Bridge is the most famous, enduring physical landmark built by Sir John Wolfe-Barry, the great civil engineer, although his District line remains a somewhat temperamental feature of the London Underground.
Arguably of greater international significance, though, is the legacy of a little stamp that looks like two scoops of ice-cream sitting in a large cone. On the day Queen Victoria died in 1901, Wolfe-Barry led the Institution of Civil Engineers in forming a committee that would standardise sections of iron and steel for railways and tramways, making construction cheaper and quicker.
Within two years, what was to become the Kitemark was created, and for well over a century that symbol has assured customers that the products they buy are safe and of a certain quality. From the Second World War onwards, the British Standards Institution (BSI) was made the sole organisation allowed to dish out this seal of approval on everything from crash helmets to the environmental impact of the London 2012 Olympics.
There are now around 35,000 British Standards being used in nearly 150 countries, which the Government has credited with generating £2.5bn for the British economy. Today, the BSI releases its 2012 results, which show revenue and profit are on the up for the 13th consecutive year, at £254m and £32m respectively.
Howard Kerr, the £342,000-a-year chief executive of the BSI, declares: "Fundamentally, this is a great British success story. The BSI is an incredibly strong brand, a household name in the UK and around the world."
Like the Marylebone Cricket Club and the Bank of England, the BSI works under Royal Charter, pouring any profit back into the business as it certifies the products and services of four in every five companies on the FTSE 100 and half those on the Nikkei. The BSI has developed so many types of standards that there is clearly some frustration that the group is still best known for a brand invented when Arthur Balfour occupied 10 Downing Street.
"We're very proud of the Kitemark, but it's less than 5 per cent of what we do," sighs Mr Kerr. "It's good to be known for something, but the Kitemark is a very UK-centric thing. If you think about Kitemark now, I suppose the first thing that comes to mind is condoms."
As Mr Kerr's example indicates, the Kitemark is primarily used for products around safety, which also include fire alarms and electrical devices. However, Mr Kerr and the Treasury are looking to "modernise" the Kitemark image, by using the standard on simple financial products, such as savings accounts.
The idea is to provide bank-doubting consumers with greater certainty that they have not been duped into taking up something they do not need in the wake of scandals like the mis-selling of payment protection insurance.
Apart from the Kitemark, the BSI provides certification for medical devices, the CE mark that means products meet European standards, and training, which saw double-digit growth last year. Operating from 60 offices in 26 countries means that BSI has a range of different international standards to award, as they can vary across borders.
Indeed, for about five years now more than half of BSI's business has come from outside the UK. Mr Kerr has £41m in cash handy should he want to go on an overseas spending spree, which would likely be businesses valued at £10m to £30m with the scope to be rolled out internationally.
"That could be a business involved in training, something with relevant software, or people certifying new sectors," explains Mr Kerr. "We would look at businesses with the potential to be global, that are in one or two countries today."
Mr Kerr's plan is to double revenue within five years, having noted that BSI is experiencing particularly fast growth in the emerging economic titans of China, India and the Middle East. As these markets integrate with the rest of the global economy, so their business and political leaders want to prove the quality and safety of their products to existing and potential trading partners.
However, he plays down talk that BSI could soon be listed on the London Stock Exchange. "We're always asked that," smiles Mr Kerr, though he does not dismiss the idea entirely. "People always assume that we want a different ownership structure."
The BSI has no direct involvement with the "horsegate" scandal, as this part of the food industry is covered by different standards providers. However, Mr Kerr accepts that standards are not sufficient to tackle what is potentially criminal activity: "No regulation, no standard in the world can [prevent] people who want to perpetuate an economic fraud."
However, those little stamps of approval do put people's minds at rest that a condom is unlikely to split, a heart monitor won't fail, or a manhole cover will be able to hold the weight of pedestrians walking over it.
Tower Bridge made Wolfe-Barry's name, but the BSI is the organisation that has developed what could be considered his most important idea.
Register for free to continue reading
Registration is a free and easy way to support our truly independent journalism
By registering, you will also enjoy limited access to Premium articles, exclusive newsletters, commenting, and virtual events with our leading journalists
Already have an account? sign in
Join our new commenting forum
Join thought-provoking conversations, follow other Independent readers and see their replies