Why does Tesco work in the UK but not in the United States?
It's dominated the UK market for more than a decade, but this week finally admitted defeat across the Atlantic. Tim Walker visits his local Fresh & Easy in Los Angeles to find out why Tesco failed to crack America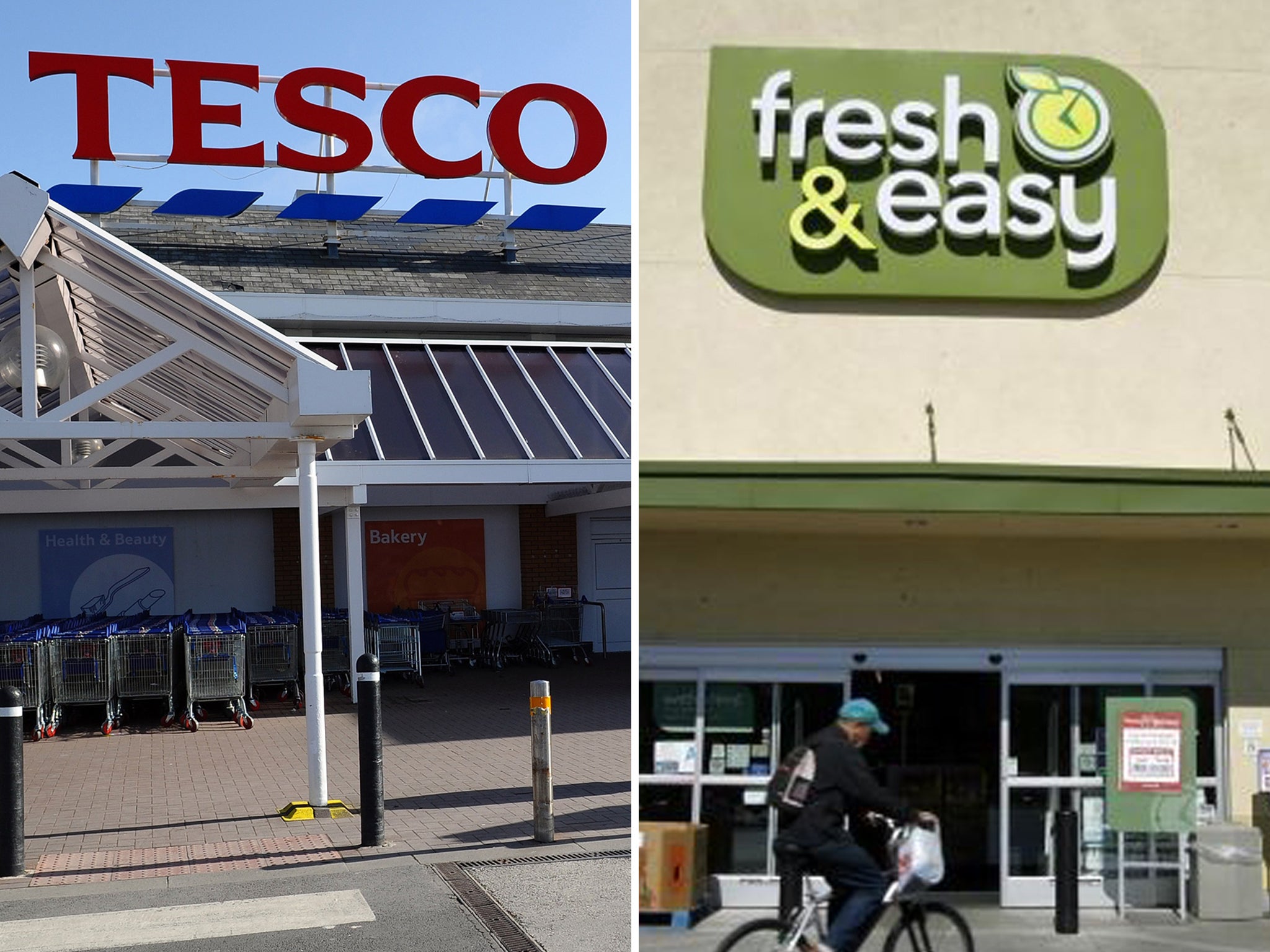 The Fresh & Easy Express store at 1788 La Cienega Boulevard in Culver City, Los Angeles, was almost empty at 5pm on Thursday evening. Perhaps it was because the busy weekly farmers' market across the street had lured away its potential customers. Or perhaps it was because the vast Smart & Final bulk-buy superstore a block away has more stock on offer, for lower prices.
Or perhaps it was both of these things and more, because this week Tesco, which owns the 200-strong Fresh & Easy Neighbourhood Market chain, signalled that it was planning to pull out of the US, after five futile years attempting to understand and attract American consumers.
In the mid-2000s, having turned Tesco from a struggling supermarket into Britain's biggest retailer – and the world's third-biggest – Sir Terry Leahy, then its CEO, was keen to generate a business model that would entice the American market, too. He dispatched some of his top executives to the US to study consumer habits in California, convinced that there was a gap in the market for fresh food at a modest price. The firm even constructed a test store in an abandoned warehouse, telling visitors that it was a film set before asking for their feedback. But those two years of immersive market research have turned out to be worthless.
Tesco opened the first of its Fresh & Easy stores in November 2007, in Hemet, near Los Angeles. After that the stores were rolled out across California, Arizona and Nevada. The company's stated aim was to build a coast-to-coast business of more than 1,000 stores, and it constructed a costly supply infrastructure to match. The green-branded Fresh & Easy also emphasised its environmental credentials: its distribution centre in Riverside is powered by California's largest roof-based solar panel array; its delivery vehicles are hybrid electric-diesel; and some stores have parking spots reserved for shoppers with hybrid cars.
Tesco's strategy was to introduce retail oases to the ill-served "food deserts" of the American west, but its chosen states were hit hard by the subprime mortgage crisis, and the flagging economy meant business was bad from the beginning. The stores were often in working-class areas, but, confusingly, seemed to be aimed at upper middle-class shoppers, which meant they were competing with popular US chains such as Trader Joe's.
In an effort to improve its fortunes, the chain has tinkered with everything from décor to packaging, but to no avail. The British firm has spent £1bn on its US subsidiary, which has never turned a profit.
Now Tesco has announced a strategic review of Fresh & Easy, which almost certainly portends the chain's sale or closure. Tim Mason, head of Fresh & Easy, and a Leahy appointee, has resigned. Twelve stores closed this year, including the original Hemet site, leaving 165 in California and 35 more in Nevada and Arizona. Philip Clarke, who replaced Sir Terry last year as Tesco's chief executive, was in Los Angeles this week to meet staff. He admitted it was "likely, but not certain, that our presence in America will come to an end".
The problems with Fresh & Easy's store model are myriad, say US consumer analysts. At an average of 10,000 square feet, the "neighbourhood" sites are similar to Tesco's mid-size Express and Metro stores in the UK. Most American shoppers, especially those in car-dominated California, are accustomed to grocery shopping on a considerably larger scale. The company was also forced to expand quickly, and on unsatisfactory retail sites, to try to meet the overheads of its large-scale infrastructure.
"We happen to speak English in America," explains Jim Prevor, a food retail expert and editor of the Perishable Pundit website. "It seemed Tesco understood instinctively that when you open stores in China or Poland those stores are going to have to be different from the British stores. But somehow arrogance kicked in, and they made the fatal mistake of thinking, 'We know what Americans want.'"
Among the features of Fresh & Easy that turned off American consumers are its shrink-wrap food packaging, its vague, unmemorable name, and its self-checkout system: an anomaly in a nation that prefers to reward personal service. For the homesick Englishman abroad, or for the curious Yank, the stores sell a selection of familiar British products, such as small jars of Marmite for $5.19 (£3.23), tins of Heinz baked beans for $1.59 (£1), and Cadbury's Crunchie bars for the same amount. The firm even built an 80,000-sq ft factory in Los Angeles to produce the single-serving ready-meals so beloved of British consumers. But its focus on own-brand products meant it failed to offer enough local US favourites, and that, fatally, its branches contained almost identical stock. Shoppers here were bemused by imported British standards, including the profusion of watercress in salads, and the privileging of pre-packaged sandwiches over deli counter dishes prepared to order in-store; these are a regular feature of similar US supermarkets, where people prefer to ask for precise portions of pickle, mayonnaise and so on.
Tesco is not the first British supermarket to fail to break America: M&S and Sainsbury's have also entered and then retreated from the US market in the past decade.
A few consumers have succumbed to Fresh & Easy's unfamiliar charms nonetheless. Natalie Najera, 25, a resident of Culver City, walks to shop at Fresh & Easy every day, and would be saddened by its demise, she says. "The fruit and vegetables are fresh, so is the bread, and the meat is good for the price. And the cookies! Smart & Final is just too big." Nick Hopson, a 31-year-old architect from Echo Park, thought the store was more expensive than Trader Joe's, his natural supermarket of choice, but he said: "I come here for the convenience, because I work around the corner. I often have their $6 lunch deal." Every little helps.
Join our commenting forum
Join thought-provoking conversations, follow other Independent readers and see their replies