Why drugs giant GlaxoSmithKline is still breathing easily
Lucy Tobin reports from the £4bn-a-year production line in Hertfordshire that is bucking the trend for making drugs in the Far East
Lucy Tobin
Tuesday 03 July 2012 01:32 Comments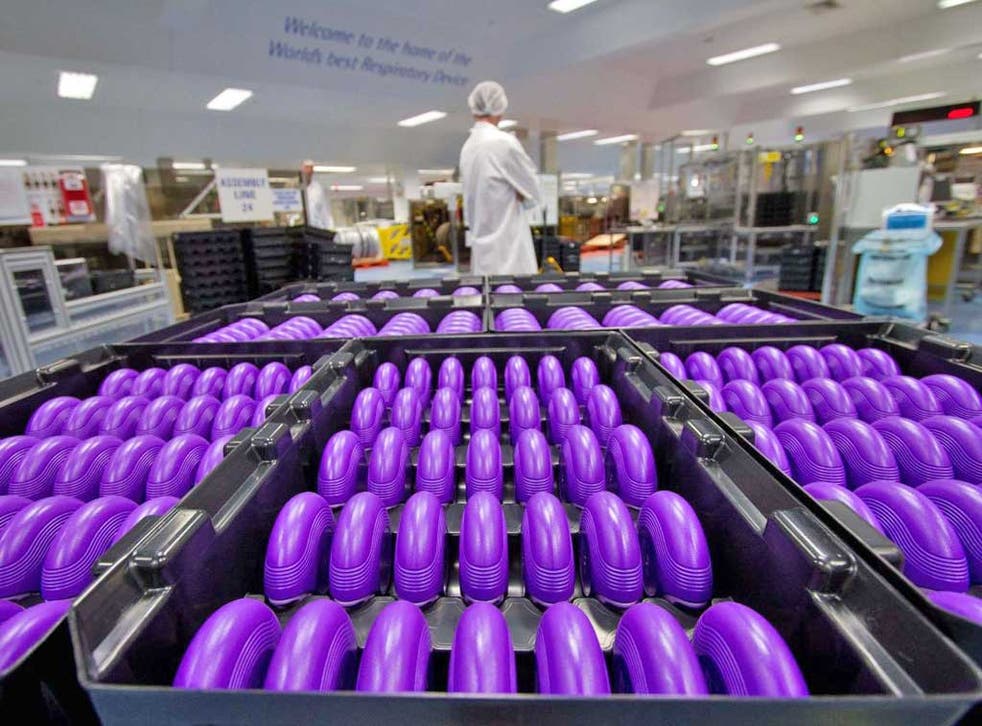 There's nothing very sexy about the large complex of buildings just off the high street in Ware, Hertfordshire. Green buzzers to open doors and a large "daily performance target" poster in the entrance hall give the appearance of a newly built school. The extreme security – locked doors, a photo ID to gain entry, and a decree to strip off all watches and jewellery before passing the threshold – is reminiscent of some kind of open prison. There are no whizzy bits of gadgetry, as the aeronautics giants dot about their sites, nor portraits of glamorous models showing off their wares, as you might see at a retailer's head office.
But these buildings are important. Without them, millions of asthma sufferers might struggle to breathe – and the UK's economy would be short of breath too. The Ware complex is one of the largest UK manufacturing sites for Britain's biggest pharmaceuticals company, GlaxoSmithKline. Across its 16 acres, 730 staff churn out billions of pounds worth of respiratory treatments each year: this is the birthplace of the drug Seretide (known in the US as Advair), GSK's top-selling medicine. Last year, Ware produced £4bn-worth of Seretide inhalers. About 95 per cent of them were exported to the likes of China, South Korea and the US.
The doomsayers who argue that Britain "just doesn't make stuff any more" should take a trip to Ware. This site has been turning out drugs since 1896, when the veteran pharma firm Allen & Hanbury (which Glaxo bought in the 1950s) first developed the land.
Today, however, it plays host to a very modern manufacturing story. Given the scale of its production – Ware produces 220,000 inhalers a day – the heavy doors leading to its assembly plant might be expected to reveal a cacophony of people. Instead, in a room the size of a football pitch there's no human noise, just silver tubes and mini conveyor belts on dozens of busy lorry-sized machines. Across four assembly lines, only six men (and they are all men: some parts of manufacturing are apparently unchanged) are at work.
Staff numbers here have been slashed by 50 per cent in the past two years, with more than 750 factory workers axed as part of what the company – and the corporate world more generally – euphemistically calls "efficiencies".
Depressing, yes, but culling staff numbers is one reason that GSK can still afford to make things in Britain. Big Pharma's UK manufacturing isn't entirely healthy. Last year Pfizer closed its only research and development facility in the UK, a factory in Sandwich, Kent which developed the impotence drug Viagra. Other drug makers are also shifting their focus from tired Western economies to fast-growing emerging markets: Glaxo's domestic rival AstraZeneca last year announced that it had chosen China to home the most expensive factory it had ever developed, spending $200m (£128m) on a huge plant in Jiangsu province. At the same time, Astra last year closed down its research facility in Loughborough which employed almost 1,200 Britons.
But GSK is staying put. Indeed, in March it confirmed plans to invest £350m in its first new British manufacturing site – in Cumbria – in almost four decades.
"To move a plant would be an enormous investment decision when we can comfortably satisfy demand – not just for the UK but for the whole world – from Ware," says Jo Barrett, GSK's respiratory product stream director at Ware. "It would involve massive technology costs plus huge training, whilst here we have easy access to Europe and good logistics to overseas markets." She adds that having an R&D site just across the road in another part of GSK's complex has benefits too, including on-site scientists helping set up manufacturing lines. They created Relovair, the new respiratory medicine which GSK hopes will be another blockbuster and which is set to go to the regulators later this year, and are now liaising with the factory about gearing up for production.
Ms Barrett adds: "In pharma, it's not just about finding the cheapest method of production. Regulation is strict and plants in some local markets would not meet the requirements. In the past few months we've had the FDA [the US regulator], Saudi Arabian and Turkish regulators checking out our factory, plus the UK regulators are often on site. Overseas production may not be able to meet the standards that we can here."
The second reason helping GSK to continue making asthma drugs in Britain is a lack of immediate competition concerns. Tablets and capsules are easily replicable once their patents run out. Seretide's patent has already expired in several countries, but the complexities of making both the powder and the "diskus" inhaler device have so far deterred generic manufacturers from taking a slice out of the drug's £5bn-a-year sales. The same is true of oncology medicines: they sell in small volumes and there would be little cost savings in moving overseas.
Last year, the sector's exports hit £22.5bn, up £300m from 2010 and helping pharmaceuticals maintain their position as having the largest trade balance of any UK industry at £6.1bn in 2011. The Government is certainly aware of that: the Budget confirmed the introduction of a "patent box" with a lower rate of corporation tax on profits generated from UK-owned intellectual property. Glaxo – whose chief executive, Sir Andrew Witty, has been a member of David Cameron's business advisory group since 2010 – said that was a major factor in its decision to build and maintain its UK manufacturing.
But Big Pharma knows just how critical it is to the UK economy – and will become increasingly vocal about that fact in the coming months. That's because this autumn, the drugs industry will enter its next round of pricing negotiations with the Government. Under the Pharmaceutical Price Regulation Scheme, medicine rates are renegotiated every five years, with a limit on profits that companies can earn from supplying drugs to the NHS. Earlier this month, Stephen Whitehead, the chief executive of the Association of the British Pharmaceutical Industry, said Britain must "recognise and reward the investment that goes into creating innovative new medicines". Otherwise, "our manufacturers will go abroad", he warned. "Our industry, our economy, and our healthcare system will suffer."
Global recipe, local production
A package of Seretide requires chemical compounds brought in from Scotland and Singapore, lactose (which carries the drug particles to the patient's lungs) from the Netherlands and New Zealand, plastic inhaler parts made in Kings Lynn, and foil strips from Germany.
These are bought together across three vast rooms, entirely by machine. The first production line sees medicine particles mixed together before mechanised pincers drop them into wells in the foil strips.
In the assembly room, a single worker supervises as another immense machine creates reels of foil doses, broken up into the exact number of doses per inhaler. A roller then winds each of these into a spiral, which a mechanical hand inserts into one half of the "diskus" device. The other half is then stamped and sealed on top.
Lasers etch on details of the dosage strength and batch number, and testing machines automatically swipe any mistakes into a bin.
The fastest of GSK's machines produces 7,500 inhalers an hour. A lone man, labouring under a huge US-style sign bearing the slogan "welcome to the home of the world's best respiratory device" then prepares products for the packing room.
Here machines foil-wrap inhalers for warmer climes such as the Middle East, and they are boxed ready for the pharmacy shelf. Cartons are packed on to pallets, ready to be moved around the UK, sent (by road) to Antwerp and on to the rest of Europe, or shipped to the US and further afield.
Register for free to continue reading
Registration is a free and easy way to support our truly independent journalism
By registering, you will also enjoy limited access to Premium articles, exclusive newsletters, commenting, and virtual events with our leading journalists
Already have an account? sign in
Join our new commenting forum
Join thought-provoking conversations, follow other Independent readers and see their replies