A View from the Top: Zopa boss Jaidev Janardana wants to make lending more zen
The peer-to-peer lending boss tells Andy Martin why his family's experience with debt collectors made him so eager to go into the loans business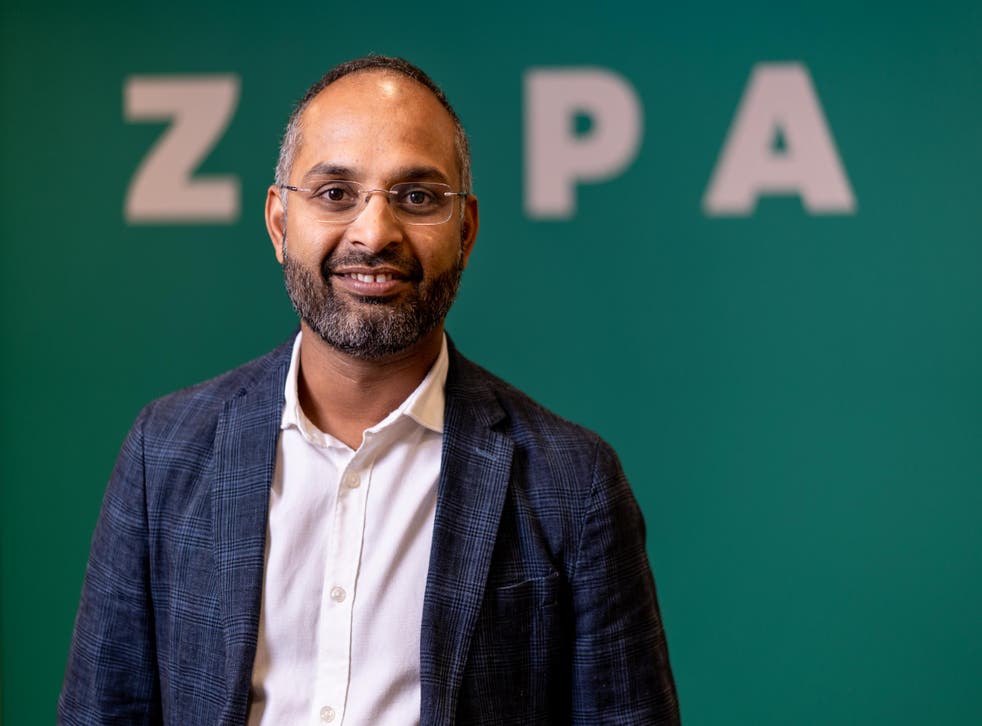 When Jaidev Janardana, chief executive of Zopa, was 17, he learned the hard way about what can go wrong with credit. He was born in the Kerala region of southern India and his parents roamed the country working for the government as part of the rubber board.
Then his father decided to go into the private sector, setting up as a producer of adhesives. "My dad wasn't the best entrepreneur," Janardana says. His father had no difficulty obtaining a line, or lines, of credit – but not from entirely reputable sources. He was being charged 10 per cent per week i.e. a higher rate of interest than Wonga used to levy. Labelling his father's lenders loan sharks is unfair to sharks.
"Debt collection is not exactly regulated in India," says Janardana the younger. "People were lining up outside the house screaming at us to give them their money back."
It was the son who paid them all off in the end. He studied engineering, worked in telecoms, rolling out the network in India, then went to business school, was hired by Capital One, and started in its credit card office in Washington DC. Fortunately the exchange rate of dollars to rupees was favourable at the time. Junior, then aged 24, salvaged the family finances.
"It's more about reputation – face and respect – in India," he says. "Sometimes your parents' social security is you. To be fair, they wouldn't have incurred so much debt if not for me. I was living off them for a long while."
In the wake of that traumatic experience, and while working for Capital One, lending to consumers, and having responsibility for collections and defaults, Janardana could feel defaulters' pain. He was abnormally sensitive to any looming crisis. The year 2007 found him based in London. "We were all gung-ho for growth," he says. But Janardana pointed out even when the economy was doing well, losses were piling up, and he forecast rocky times ahead.
"In April 2008, I was labelled a party pooper. People said 'it's only a Wall Street crisis. It's a US thing. We're not in the subprime mortgage business'." But Janardana's warning was heeded and by September 2008, when everything unravelled, Capital One had a head start of three or four months, and had already shut down new custom and reduced exposure. Still, "it wasn't a fun time. Most of 2008 was spent just trying to survive."
Support free-thinking journalism and attend Independent events
By that time, Janardana had decided not to return to the US, and to become a British citizen. Zopa attracted him because it was something completely different: a "peer-to-peer" system in which investors and borrowers are brought together for mutual advantage, with Zopa in the middle, like the shaded area of a Venn diagram.
One person's loan is another's investment. Investors do better than they would by parking money in a bank – albeit with higher risk – and borrowers get a much better deal than Janardana's entrepreneurial father ever did. The typical borrowers are teachers and nurses in their mid-30s, often for the purpose of home improvements or buying a car. The average loan size is just under £10,000.
With his engineering background, the thing that particularly pleased Janardana was how Zopa had managed to speed up the process of obtaining a loan. The business does its own risk assessment. But what really concentrated minds, was the question of comparison sites.
Zopa had previously informed applicants if they could get a loan in 27 seconds flat. But Money Supermarket said approval had to be 12 seconds for it to show up on its site – Zopa got it down to seven. The exact rate is outlined within three minutes. "The real rate," stresses Janardana, "not the 'lowest rate' – which is so misleading."
Janardana has been CEO since August 2015. "We've had a charmed four years," he says. The business had a turnover of £265m in 2014-15, now it's more than £1bn. Revenue has gone up from £11m to £45m. Customer satisfaction, according to Trust Pilot, hits 4.8 or 4.9 out of 5. Now Zopa is two years into building a fully-fledged online bank, and is running the registration gauntlet, performing the required stress tests. It wants to "extend the ethos of peer-to-peer into retail banking".
We are sitting in the Zopa HQ on the south bank of the Thames, looking out at the river flowing languidly by, with the towers of the City leaning over it. It's probably something to do with his personal history, and his mum and dad nearly going under, but when Janardana speaks of "giving customers more control", it's easy to feel the passion and conviction beyond the expression of good intentions.
He objects to what he calls "the win/lose model". He ought to get a job as chancellor of the exchequer. In fact, he comes out with a line neither the chancellor – nor anyone else, other than Jeff Bezos – gets a chance to say very often. "We had too much money". In other words, there was more lending than borrowing.
Citizens Advice knows customers who renew loans generally get a worse rate than those who switch. Banks make money by upping the rate. "We could have pulled the same trick, but we don't want to do that," says Janardana, sounding a bit like Chris Tarrant on Who Wants To Be A Millionaire. "With us you always get the same rate as a new customer. A bank where we win, and our customers win."
Even if he is CEO, Janardana still talks regularly to the guy who handles "complaints". He wants people to be happy and sometimes Janardana speaks more like a yoga teacher than a money expert. It's rather zen and soothing. "I want," he says, "to take away the points of tension."
Register for free to continue reading
Registration is a free and easy way to support our truly independent journalism
By registering, you will also enjoy limited access to Premium articles, exclusive newsletters, commenting, and virtual events with our leading journalists
Already have an account? sign in
Register for free to continue reading
Registration is a free and easy way to support our truly independent journalism
By registering, you will also enjoy limited access to Premium articles, exclusive newsletters, commenting, and virtual events with our leading journalists
Already have an account? sign in
Join our new commenting forum
Join thought-provoking conversations, follow other Independent readers and see their replies