Pints of beer to be thrown down the drain thanks to 'baffling' ban on takeaway alcohol, pubs warn
Government ban on takeaway alcohol sales in England from Thursday threatens the future of pubs, say industry groups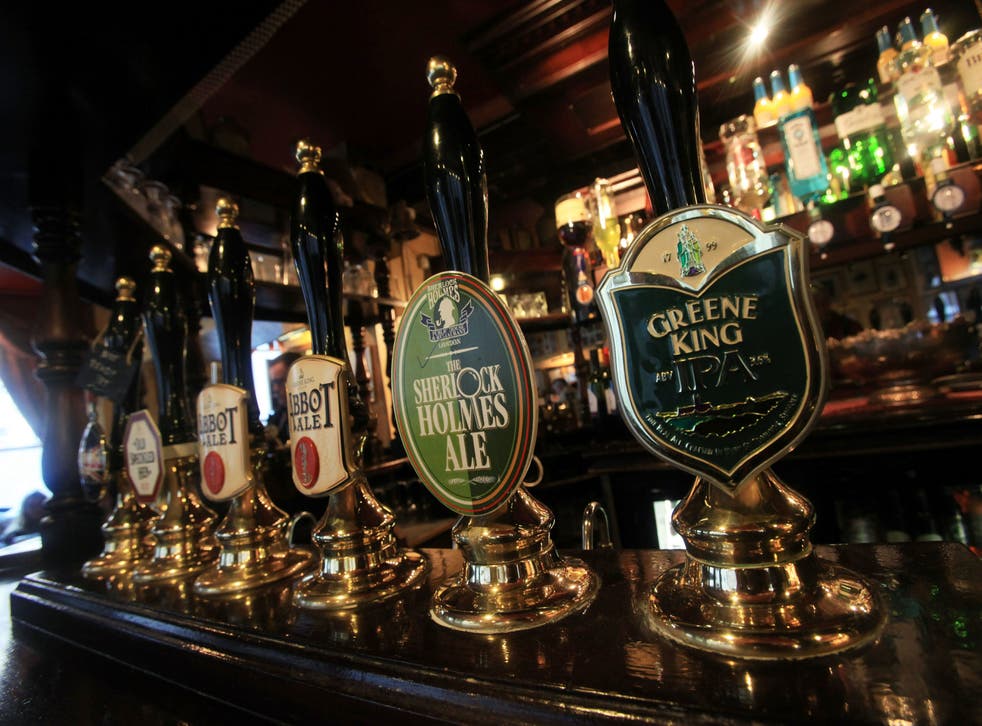 Pubs and independent brewers have warned they may not survive past Christmas because of a "baffling and damaging" government policy that means they will be forced to throw away millions of pints of good beer.
As well as ordering pubs to close their doors from Thursday, the government has also banned them from offering takeaway sales of alcohol, which were seen as a lifeline for the industry during the first lockdown.
Small brewers' sales collapsed 82 per cent as pubs were forced to close their doors between 23 March and 4 July. Meanwhile supermarkets saw their sales soar as shoppers stocked up on food and booze.
With just five days' notice of the latest restrictions, pubs and breweries have said they will have to throw beer away. As many as 70 million pints were estimated to have been disposed of during the first lockdown.
"Offering alcohol for takeaway was a lifeline for many pubs, and particularly breweries, during the first lockdown in England," said Nik Antona, national chairman of the Campaign for Real Ale (Camra).
"It is a baffling and damaging decision to remove this option, particularly when other businesses such as supermarkets can continue to sell takeaway alcohol.
"Pubs and breweries were already reporting losses and the risk of closure before Christmas, and this will only add to the risk of permanent closures within the next few months."
The pub and brewery industry is urging the government to reverse the "bizarre" decision, he said.
Jonathan Neame, chief executive of the Shepherd Neame brewery, said that the new measures were "soul-destroying".
Speaking on the Today programme he said the hospitality industry had "zero trust" in the government.
"During lockdown one there was terrific support for local pubs from local communities," he said.
"People want their pubs, they came back in droves. They want to see the pubs survive and thrive. They want them to be there for their children's generation so they bought into the take home thing.
"Now we're told that all the beer that is in pub cellars, we can't even sell a pint of ale as a takeaway with a meal during lockdown, so we've got to tip that all down the drain."
Josh Jepson, co-director of the Blue Bee Brewery and landlord of the Kelham Island Tavern, in Sheffield, said the latest measures were a "kick in the teeth."
"Cask beer only has a finite life span and selling it will stop it from going to waste and keep pubs and breweries going, allowing them to have some form of income," he said.
"To stop them from selling it seems like a bit of a kick in the teeth to be honest. And it seems a bit unfair when pubs have gone to all this effort to make sure they are Covid secure."
Mr Jepson said his brewery normally produces around 3,000 litres of cask beer each week – selling up to 80 nine-gallon casks to pubs – but sold just three last week.
The decision has caused further anger among brewers because of a perceived unfairness in how they have been treated. While big retailers including supermarkets, have enjoyed billions of pounds of business rates relief, brewers have not. Retailers will still be allowed to sell alcohol, including via delivery services yet brewers and pubs cannot.
Industry groups are seeking urgent clarification from the government as to whether they can still sell bottles of alcohol for delivery, even if takeaway pints are no longer on offer.
James Calder, chief executive of the Society of Independent Brewers (Siba), said further support is needed for pubs, including the extension of business rate holidays and grants to breweries, and a VAT cut on independent brewery beer.
"As if a second national lockdown in England wasn't disastrous enough for pubs and independent breweries, the government has gone further this time around and introduced an unjustified restriction banning pubs from selling takeaway beer, a service which was the only source of income for many businesses during the summer lockdown," he said.
"This is baffling considering supermarkets will presumably still be allowed to sell packaged beer, whilst small breweries and pubs will not.
"It is nonsensical to impose these new restrictions when pubs have time and time again proved that they are Covid-secure, both during lockdown when takeaway was their only option and since pubs reopened on 4 July."
Additional reporting by PA news agency
Join our new commenting forum
Join thought-provoking conversations, follow other Independent readers and see their replies