Government faces questions over Carillion contracts as crisis talks go down to the wire
It is feared that the construction giant could fall into administration as early as today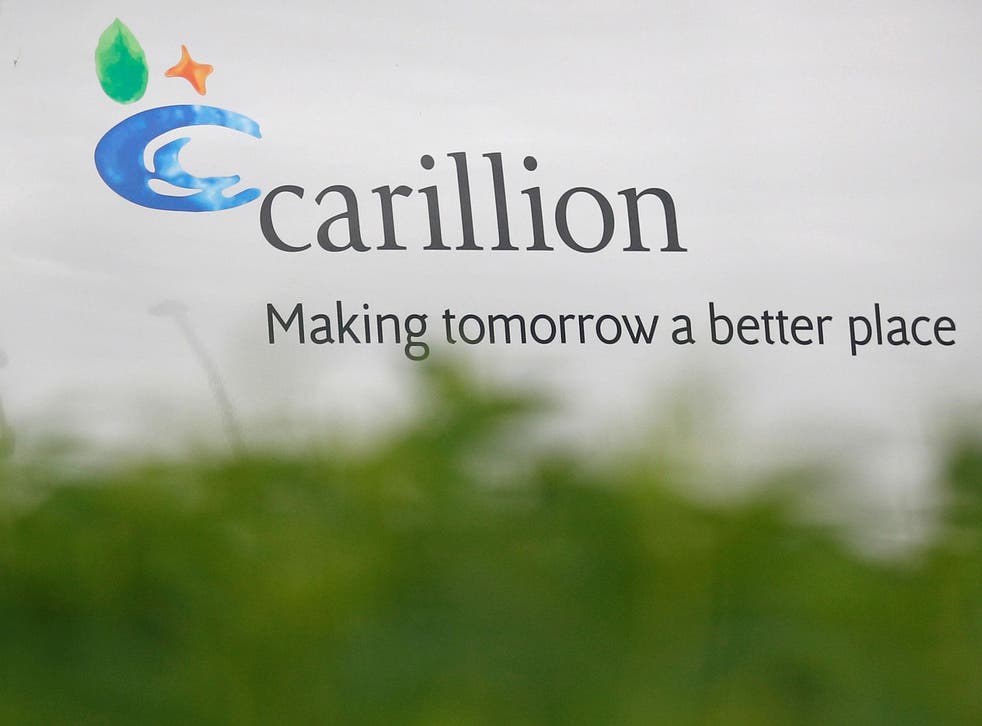 The Government is facing questions over why it awarded £2bn of official contracts to Carillion after the struggling construction giant issued a string of profit warnings.
Crunch talks between company bosses and high-level Government officials broke up last night having failed to produce a rescue plan, amid reports the firm was nearing collapse.
The Wolverhampton-based firm is one of the largest construction companies in the country, employing 19,500 workers in the UK and 43,000 globally, but it is struggling under £900m of debt and a £590m pension deficit.
Shadow Cabinet minister Jon Trickett said: "Alarm bells have been ringing for over six months about the state of Carillion's finances" and questioned why several lucrative government contracts were awarded to the firm after it posted the first of three profit warnings in July.
As well as being a supplier for the HS2 high-speed rail line, Carillion is also one of the largest suppliers to National Rail, as well as maintaining approximately half of the UK's prisons and nearly 900 of the UK's school buildings.
Mr Trickett said: "Alarm bells have been ringing for over six months about the state of Carillion's finances, so the Government must come forward and answer questions on exactly what due diligence measures were undertaken, before awarding contracts to Carillion worth billions of taxpayers' money.
"In the meantime – as emergency meetings take place between officials – employees of Carillion, pension holders and taxpayers will want assurances that financial protections are in place in the event the supplier experiencing further financial difficulties.
"Labour urges the Government to stand ready to intervene and bring these crucial public sector contracts back in-house. The Government cannot outsource its responsibility and duty of care to these workers and vital public sector projects."
Brandon Lewis, the new Conservative Party chairman, said the Government was "making sure all plans and contingency plans are in place".
"It is a growing concern and hopefully they'll be able to work with their partners to get the working capital they need to continue providing its important services," he told the BBC's Andrew Marr Show.
A rescue package is believed to rest on whether or not the Government is willing to help bail the company out, but Mr Lewis refused to comment on these claims.
"It's a very commercially sensitive situation so I wouldn't comment further than to say I would hope to see that the working capital that they need will be there working with their partners," he added.
Top accountancy company Ernst and Young has been put on notice in case the company falls into administration, which could happen as soon as today.
UK news in pictures

Show all 50
Reports suggested that lenders effectively rejected a rescue plan because it failed to present a "solid proposition" for restructuring the business. However a spokesperson for Carillion denied the claims.
"Carillion continues to engage in constructive discussions with a range of financial and other stakeholders regarding options to reduce debt and strengthen the group's balance sheet," the spokesperson said.
"Suggestions that Carillion's business plan has been rejected by stakeholders are incorrect.
"It is too early to predict the outcome of these discussions but Carillion expects that any such agreement is likely to involve the raising of new capital and the conversion of existing financial indebtedness to equity, which would result in significant dilution to existing shareholders."
Liberal Democrat leader and former business secretary Vince Cable said it should be shareholders and creditors, not taxpayers, who should take the financial "hit" of saving the company.
He told the BBC: "I think what has to happen in this case is the contracts have to be kept going and supporting the supply chain and the tens of thousands of workers and that can be done by the Government taking a lot of this in-house or re-tendering in other cases.
"The Government can't just do a financial bailout. The shareholders and the creditors – the big banks – have got to take a hit, they can't just offload all of the losses on to the taxpayer."
TUC deputy general secretary Paul Nowak said that the situation was a "textbook example of the failures of privatisation" and urged the Government to step in to protect workers.
He said: "Tens of thousands of jobs are now at risk, along with vital public services and major infrastructure projects across the country.
"Workers, taxpayers and public service users could well be left to carry the can."
Join our new commenting forum
Join thought-provoking conversations, follow other Independent readers and see their replies