New guidance on cladding: What does it mean for homeowners?
Government says half a million fewer leaseholders will need fire safety checks before selling their homes, but uncertainty remains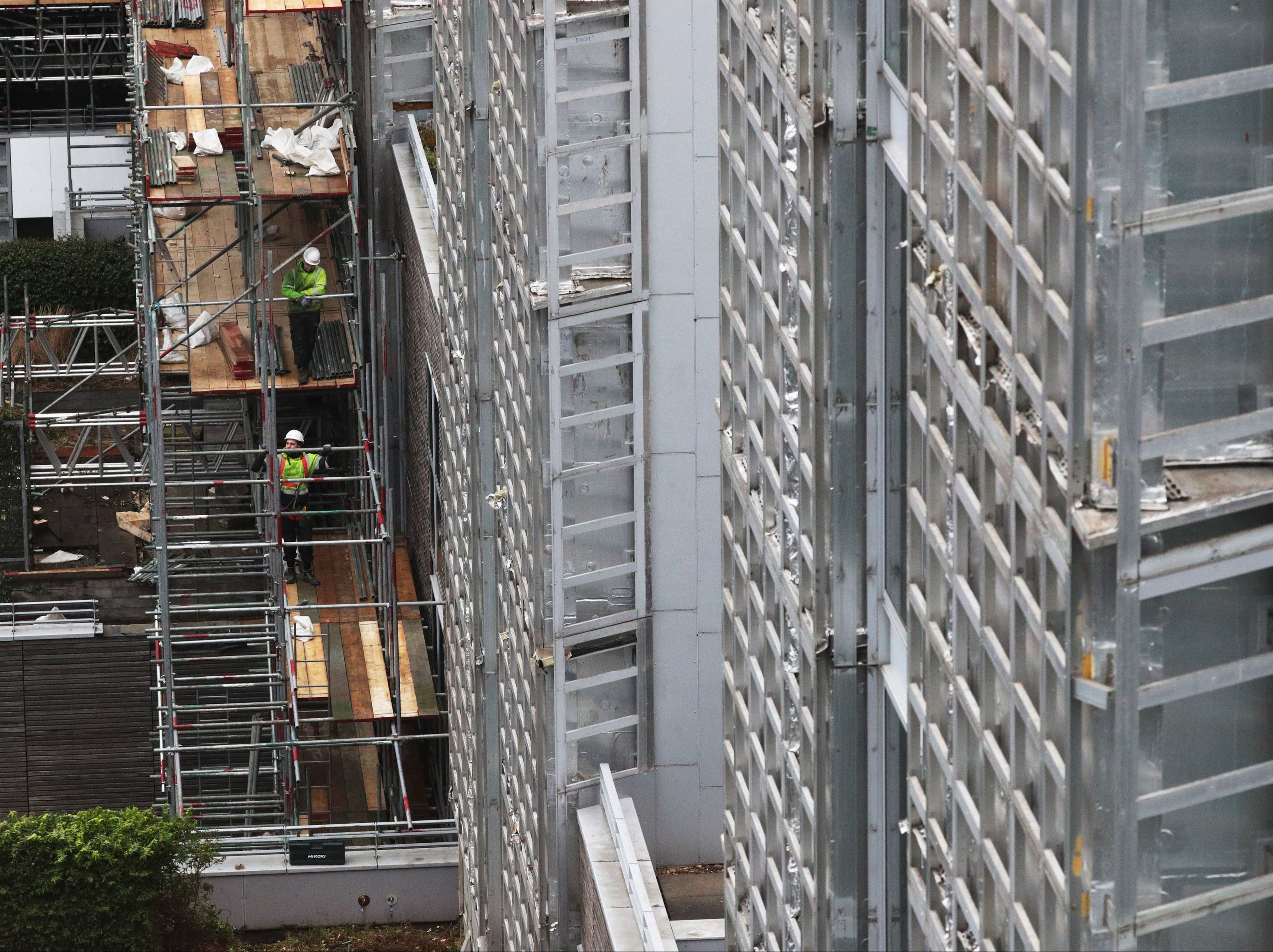 Hundreds of thousands of leaseholders should be free to move home thanks to clearer guidance about which blocks of flats need to be checked for combustible cladding and other fire safety defects.
Many have been trapped in properties they cannot sell due to confusion about the rules.
However, homeowners still face uncertainty because lenders are not compelled to stick to the guidance, which has been drawn up by the Royal Institute of Chartered Surveyors (RICS).
So what has changed and what does it mean for leaseholders and people looking to buy a flat?
What is an EWS1 form?
The external wall system (EWS) process, and accompanying paperwork, was supposed to confirm that adequate checks had been carried out on outside wall of a residential building, including cladding, insulation. and fire-break systems.
It was agreed in December 2019 as a way to confirm that an external wall system on residential buildings above 18m had been assessed by a suitable expert, in line with government guidance.
A qualified professional assesses the materials and construction of the external walls, before signing an EWS1 form, which is valid for the entire building for five years.
It is not a safety certificate. It is only for the use of a valuer and lender in determining if the remediation costs affect the value of the property.
The assessor can conclude that the walls are not likely to pose a fire risk or that there are combustible materials present.
If combustible materials are present they then decide whether the risk is high enough that remediation is required.
Problems
The system encountered problems immediately. Changes to government guidance in January 2020 meant that buildings lower than 18m also potentially needed a form before leaseholders could sell their homes.
Lenders were concerned that properties would not be good security for mortgages because leaseholders could be hit with huge bills that would reduce the flat's value.
Lenders wanted assurances for many more buildings, some of which are at heightened fire risk,
This has meant considerable cost for hundreds of thousands of leaseholders. There is a backlog of buildings needing to be assessed and not enough qualified people with the right expertise to carry out the work.
Lack of clarity around what is and is not safe is also causing a wider problems in the housing market because thousands of homes are currently valued at far less than the market price, or even zero, according to lenders who will not provide mortgages without a valid EWS1 form.
Scammers have taken advantage of the situation, in some cases charging leaseholders six-figure sums despite having no qualifications to assess fire safety. This has left a minority of homeowners with certificates that are not valid.
What has changed?
To try to simplify the process and focus on homes that need their external walls to be assessed, the government announced in November last year that the guidance would be changed again to clarify requirements for buildings of different heights.
The full guidance was issued on 8 March 2021. It can be found here.
More than six storeys
For buildings of seven storeys (approximately 18m) or more, only those that have cladding or vertically stacked balconies containing combustible material should be required to undertake an EWS1 assessment.
Five or six storeys
For buildings of five or six storeys, an EWS1 form is required where there is a "significant amount" of cladding on the building - meaning a quarter of the whole wall is covered by combustible material.
Five and six-storey buildings will require a form if they have some of the most combustible cladding, aluminium composite material (ACM), metal composite material (MCM) or high-pressure laminate (HPL).
The form will also be required where there are balconies which stack vertically above each other and either both the balustrades and decking are constructed with combustible materials, or the decking is constructed with combustible materials and the balconies are directly linked by combustible materials.
Four storeys or fewer
Buildings of four storeys or fewer will not require an EWS1 form, even if they have cladding and balconies.
The exception to this is if they have the most flammable types of cladding, which are aluminium composite material (ACM), metal composite material (MCM) or high-pressure laminate (HPL).
The new guidance is meant to be in place by 5 April. Existing EWS1 forms remain valid, RICS said.
Robert Jenrick, the housing secretary, said the new guidance will mean 500,000 fewer leaseholder need an EWS1 form but some homeowners and fire safety experts are not entirely convinced.
Dame Janet Paraskeva, chair of the RICS Standards & Regulation Board, said the announcement was a "crucial step in unlocking the market".
However, banks and building societies will still have the ultimate say over what property they lend against.
Trade body UK Finance said those decisions were "for each lender to make based on their own risk appetite".
Join our commenting forum
Join thought-provoking conversations, follow other Independent readers and see their replies