Amazon success rarely replicated because of the timid groupthink among corporate CEOs
The company's share price took a tumble after profits fell sharply. CEO Jeff Bezos probably didn't even notice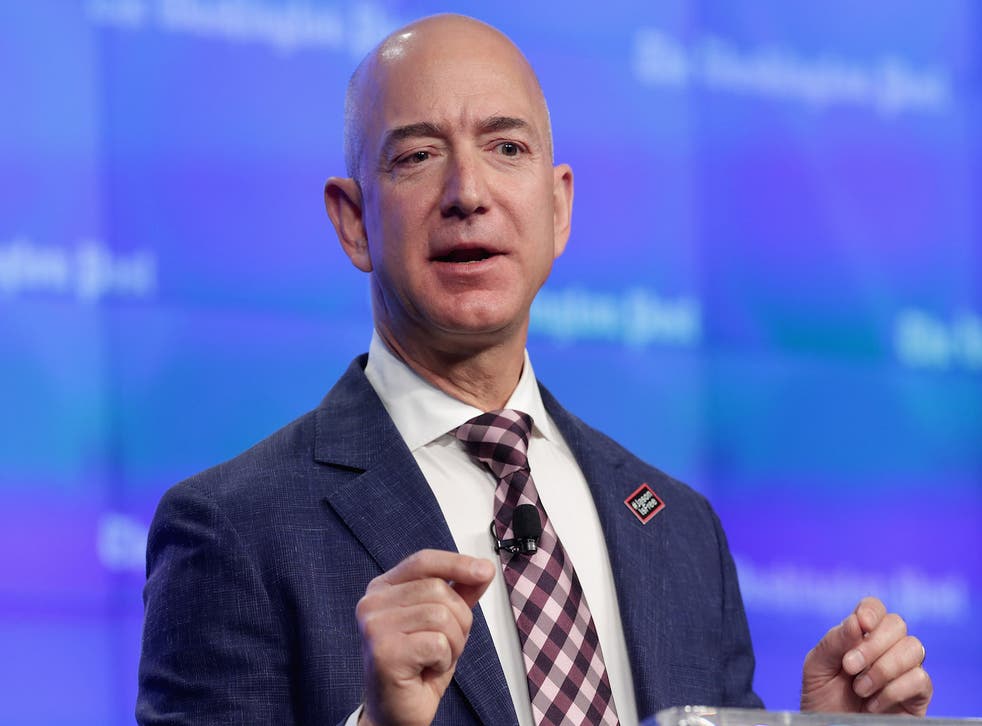 Jeff Bezos was briefly the richest man in the world until the company that put him on that pedestal released its results.
You'll have probably seen that while second quarter sales at Amazon rose, profits took a tumble, tripping up the share price in the process and handing Bill Gates back his title of world's most bloated billionaire.
I doubt Mr Bezos gave two hoots about that. I doubt he gave two hoots about the "profits plunge" headlines, or about any critical comment on Wall Street.
He never has before. Nor should he.
The reason profits fell by more than three quarters to just $191m (£150m) was because Amazon is spending again. It's pouring money into more new services, original content for its Prime operation, planting its flag in South East Asia, and more besides.
Now, not all of Amazon's ventures work. And not all of what it's pumping money into will work. But there'll be enough to make the investment worthwhile.
Amazon is a company that focuses not on the next quarterly earnings statement, or the next half yearly earnings statement, but on the ones that will appear in five years, and ten years.
That makes it a very, very rare beast among Anglo Saxon corporates.
It is not an unalloyed blessing. There have been various disturbing revelations about the treatment meted out to its employees, both the people who work in its cavernous warehouses and those higher up the corporate food chain.
Mr Bezos has said he doesn't recognise the picture painted by some of the reports, which made the company look like the sort of place you go to make a bunch of money before bailing out as soon as you can.
Not the sort of example you really want to see other businesses following.
Some of its tactics have also attracted justified critical comment, and we need to talk about tax at some point too.
However, there is an awful lot about Amazon's approach that is commendable and that others would do well to take into consideration, particularly Mr Bezos' relentless focus on Amazon's long term goals and his willingness to pay scant regard to the fuss created when the quarterly update doesn't look very pretty in terms of earnings per share.
He is not the richest person in the world anymore. But in five years time? He might be back on the podium, and by some distance.
Unfortunately most businesses don't have a Jeff Bezos who is willing to brave the discontent of Wall Street, or the City, in the CEO's chair.
Business news: In pictures

Show all 13
Corporate bosses are paid millions because they're supposed to be supermen (and more rarely women) who can lead their companies to sustained success. And yet a timid groupthink informs their approach. Yes siree, the next results will be a lot better, so will the dividend, and here are some cost cuts and layoffs to keep you all sweet in the meantime.
Bezos? He might actually be worth all that crazy money, not that he needs to draw a salary when you consider the size of that shareholding.
His CEO peers? We pay them entirely too much to play painting by numbers.
Register for free to continue reading
Registration is a free and easy way to support our truly independent journalism
By registering, you will also enjoy limited access to Premium articles, exclusive newsletters, commenting, and virtual events with our leading journalists
Already have an account? sign in
Register for free to continue reading
Registration is a free and easy way to support our truly independent journalism
By registering, you will also enjoy limited access to Premium articles, exclusive newsletters, commenting, and virtual events with our leading journalists
Already have an account? sign in
Join our new commenting forum
Join thought-provoking conversations, follow other Independent readers and see their replies