Apple: The rights – and wrongs – of tech giant's privacy protection fight with the FBI
Outlook
James Moore
Thursday 18 February 2016 00:57 Comments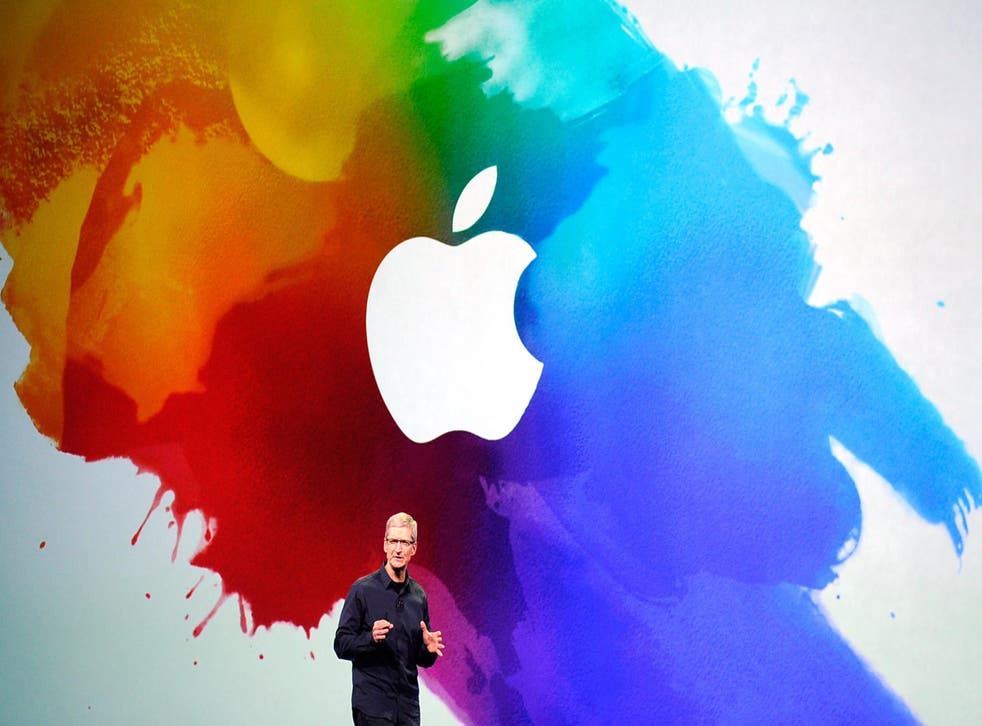 On the face of it, it is a classic liberal vs conservative dust-up. In the blue corner is the FBI, which wants Apple to let it access the data on the iPhone of a killer, Syed Rizwan Farook, who gunned down 14 people in California.
In the red corner is Apple. Its chief executive Tim Cook has cited the need to protect the privacy of its customers and is fighting a court ruling granted to the FBI.
Superficially it's easy to see how the FBI's defenders might portray this: Farook is dead, but his data might very well help law enforcement officials to prevent more blood from being shed by his friends and contacts. What, then, is the problem with asking Apple to assist with hacking his phone?
It is this: Apple's stance is as much about protecting the rights the late Farook as it is protecting the rights of everyone else. If Apple is forced to hack the phone for the FBI, what's to stop it from using that privilege again? As Edward Snowden demonstrated, governments aren't terribly trustworthy on this front.
Apple's stance isn't entirely altruistic. It has used privacy as a marketing tool. It would like to be seen as the guardian of yours in a Silicon Valley which hasn't always been on the side of the angels in this particular battle because it isn't just state actors who are after your data. There have been numerous controversies involving corporate actors, too.
So some of this could be viewed through the prism of Apple's corporate interests.
Moreover, some of the iPhone's features have sparked privacy concerns themselves. The "Hey Siri" function requires a continually running microphone, for example. You can turn it off, and Apple says that what Siri picks up randomly is automatically written over. Still, there are good reasons that this sort of function has created debate.
That said, Mr Cook is still on the right side. The FBI has used some very old law in its attempt to force Apple to hack Farook's iPhone by disabling features that wipe data after 10 unsuccessful attempts to input a pin. Now let's say Apple is unsuccessful in the ongoing legal process and goes on to successfully play hacker for the FBI. Another big problem is that it will tell others that it's possible. Hey Siri, where does that leave us?
Business news: In pictures

Show all 13
It's only two cheers for the employment figures
Are we finally seeing some good news for those with disabilities in the latest set of employment data, which looked cheery all round (apart from when it comes to what people are paid for doing those jobs)?
As ever, that depends on which figures you choose to look at. Scope, the disability charity, has crunched some of the numbers. So let's look at the good news first, because there hasn't been much of that: for the overall population, 31.4 million people were in work between October and December, the highest number since records began; and the number of disabled people among them increased by 152,000. Hooray! The employment rate for disabled people also increased, by 1.1 per cent. Double hooray!
But it is at this point that it all starts to collapse, and really quite quickly, because the employment rate for people with disabilities is still pitiful. It is now 46.7 per cent. So a pathetically low number is still a pathetically low number. It's just a bit less low now.
There is more: let's move on to the gap between the employment rate of disabled people and the employment rate among the rest of the population: it is a whopping 33.6 per cent. And it is unchanged on last year.
True, it is at least increasing at the same rate as that of the rest of the population. But there is a good reason for that: employers are finding it tough to get hold of the staff they need. In a tight labour market where their choices are restricted, if they have any choice at all, disabled people are bound to find it easier to get jobs. But what if unemployment edges up and the labour market therefore loosens up? That could change rapidly.
Regardless, that gap is still unacceptable at a time when support via the benefits system is being progressively withdrawn.
The Government says it wants to close it. Having spoken to Justin Tomlinson, the minister for disabled people, I don't doubt his commitment. But are he and his colleagues doing enough? The figures suggest not. They are also a stain on the nation's conscience, and a drag on the economy, given the huge reservoir of skills and experience that is being wasted.
Brexit: the black hole for small businesses
The Federation of Small Businesses says it plans to seek "practical and impartial evidence" on the impact on its members of either remaining within or leaving the EU, at the same time as unveiling its shopping list.
Therein lies the problem. We'll have a pretty good idea of what Britain in a reformed EU will look like when the Prime Minister finalises his deal. We will still not have any idea what the UK outside will look like, because so much of that will be up for negotiation.
Those talks might go well, but they might not. In reality no one really knows what the outcome will be, and if they say they do they are being, how shall we say, economic with the actualité. The question facing small businesses is whether they like the idea of staying and putting up with some things they don't like, or taking a leap into a black hole.
Register for free to continue reading
Registration is a free and easy way to support our truly independent journalism
By registering, you will also enjoy limited access to Premium articles, exclusive newsletters, commenting, and virtual events with our leading journalists
Already have an account? sign in
Join our new commenting forum
Join thought-provoking conversations, follow other Independent readers and see their replies