Black Friday: A US import that's madness as far as UK retailers are concerned
Why Black Friday has turned into the bane of UK retailers' lives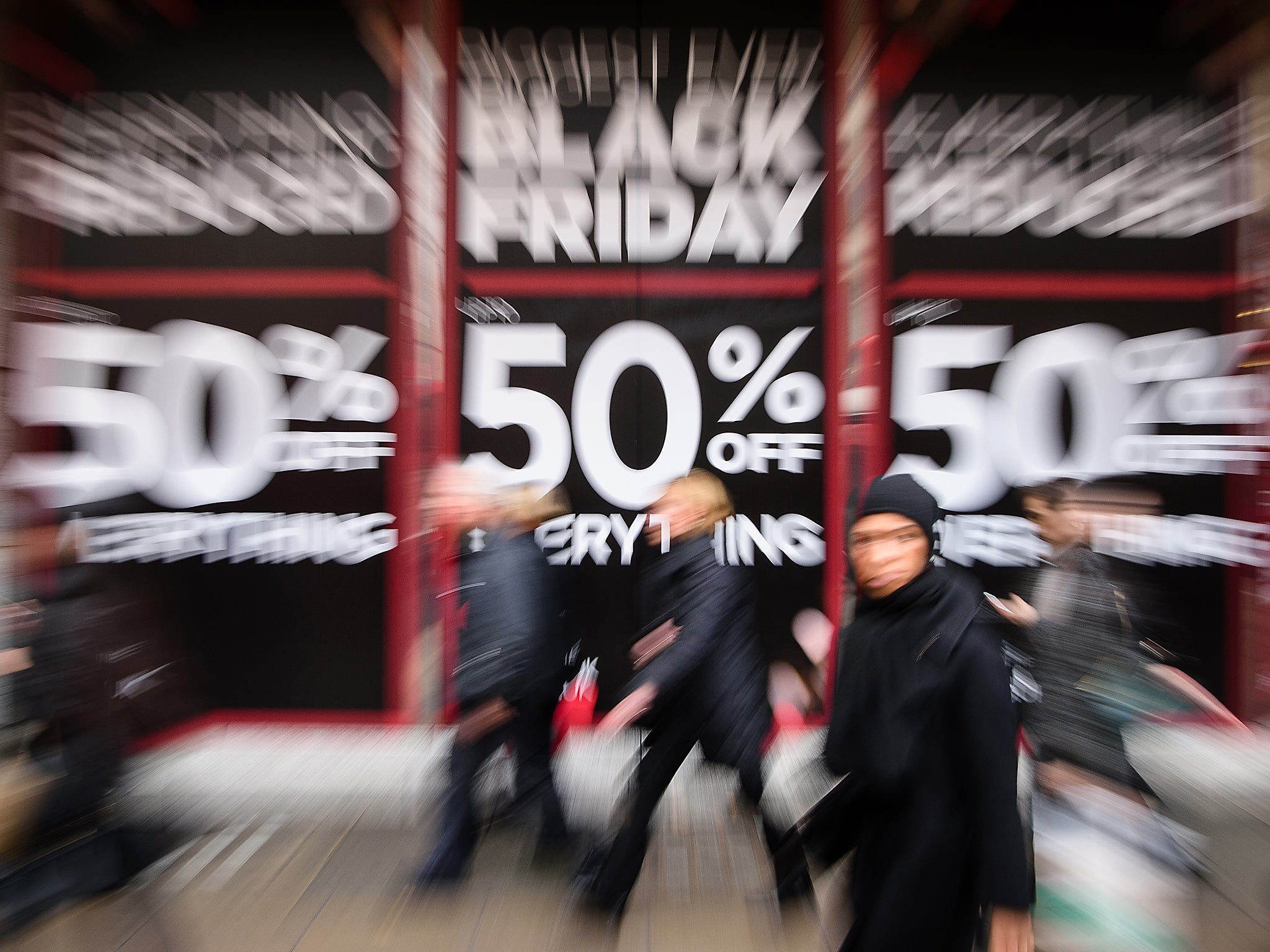 Stand by for Black Friday nuttiness. Between now and Friday we will be deluged with references to what has become the craziest day in the retail calendar.
There will be no escaping the discount posters and promotions, news of the incredible deals and amazing bargains. Stores like to give the impression they're bonkers, delighting in offering goods at jaw-dropping, knockdown prices.
It is insane, alright, but for an entirely different reason to what you might think. Shops are on the brink of their crucial season, the month that defines their financial year, the one period when they know consumers will spend, and are prepared to pay full price for the right gift, and what do they do? They go and make massive percentage reductions.
Debate rages as to the origins of what has become an international tradition. US retailers started calling the day after the Thursday of Thanksgiving Black Friday. It marked the day that people were on holiday and could be persuaded to go shopping. As the starting gun for the Christmas rush it was when shops could expect to go "into the black" and make a profit, having been "in the red" for so long.
But there's also the claim that the term was invented by the Philadelphia Police Department's traffic squad, for the day when jams clogged the city centre, packed by crowds turning out for Father Christmas's arrival in department stores, onset of the peak shopping season, and the annual Army versus Navy football game.
There is also an often-repeated theory that Black Friday began with slave traders discounting slaves to plantation owners the day after Thanksgiving.
However it started, Black Friday has turned into the bane of UK retailers' lives.
In 2015, when the new mayor of Birmingham, Andy Street, was boss of John Lewis, we chatted about what was still a relatively recent import to the UK (thanks to the arrival of Amazon, and Asda being taken over by that another American giant, Walmart).
"We can't blank over it," he said. "We'd like to, but we can't. Do I wish it had stayed in the US? Yes, I do. It's not in the retailers' interests for us all to be offering heavy discounts on our Christmas lines."
Street recalled how, the previous Black Friday, John Lewis sold a cut-price iPad every second. It is, he said, "by far the biggest week of the year". He pulled a face, and added: "The biggest week used to be the one before Christmas."
But Street's problem, as he acknowledged, was that Black Friday was engrained in our culture. He could not stop it, even if he tried – globalisation would not let him. "The internet has brought worldwide price transparency. The deals they're promoting are not just in the UK, but also worldwide."
In pictures: Black Friday shopping madness kicks off early
Show all 10
There are signs, though, of a semblance of sanity intervening, at least in the UK. "We are seeing a more rational, UK version of the US-invented event," said Greg Lawless, retail analyst at Shore Capital. "UK retailers, and consumers, have worked out that Black Friday is a marketing gimmick. Last year, we saw some retailers only take part selectively, and others withdrew from the event entirely, for example Asda. It was only five years ago after all, that Amazon and Asda, both with their US parents, owned this event."
One that won't be joining in the mayhem this week is Marks & Spencer. The chain's chief executive, Steve Rowe, said: "We did it three years ago, and it sucked business [from us] for the following few weeks. Our shoppers want to trust our prices; they want to know we won't change them the following week after they buy. It's the right thing to do."
According to Rowe, "The market is fragile at the moment and the customer is volatile." Wage growth is lagging behind inflation, and they're nervous about economic stability.
"The consumer remains mellow, but consumer confidence is higher than the low point of June 2016 [after the Brexit vote]," said Lawless.
Clothing groups, in particular, have been hit by a double whammy in 2017, of uncertainty, and mild weather. Marks & Spencer, Next, and even Primark, have suggested October was tough, while the mighty John Lewis has suffered five weeks of negative sales across its department stores.
What this means is that there is more seasonal stock – overcoats, knitwear, gloves, hats and scarves – around as a sustained cold snap has yet to hit. If you want that longed-for coat or jumper, Friday may be the day to buy it.
A curious game is playing out. The savvier shoppers are waiting for Black Friday for that particular item; the retailers are using it to clear excess stock. In parallel, retailers as well have grown more attuned to the idea of using Black Friday as a draw, as an advertising tool for the shop, for the website.
So, this time, more than ever before, expect to see some adverts offering huge deals, but don't expect to actually secure those products – stocks will already be low. It's another twist on Black Friday madness: advertising goods for sale that are not actually available.
Chris Blackhurst is a former editor of The Independent, and executive director of C|T|F Partners, the campaigns and strategic communications advisory firm
Join our commenting forum
Join thought-provoking conversations, follow other Independent readers and see their replies