We are letting banks off the hook for financing environmental destruction - that must change
Proposals for a new 'duty of care' for British companies are welcome, but the lenders who are financing deforestation must also be in the spotlight
Jo Blackman
Wednesday 23 October 2019 13:12 Comments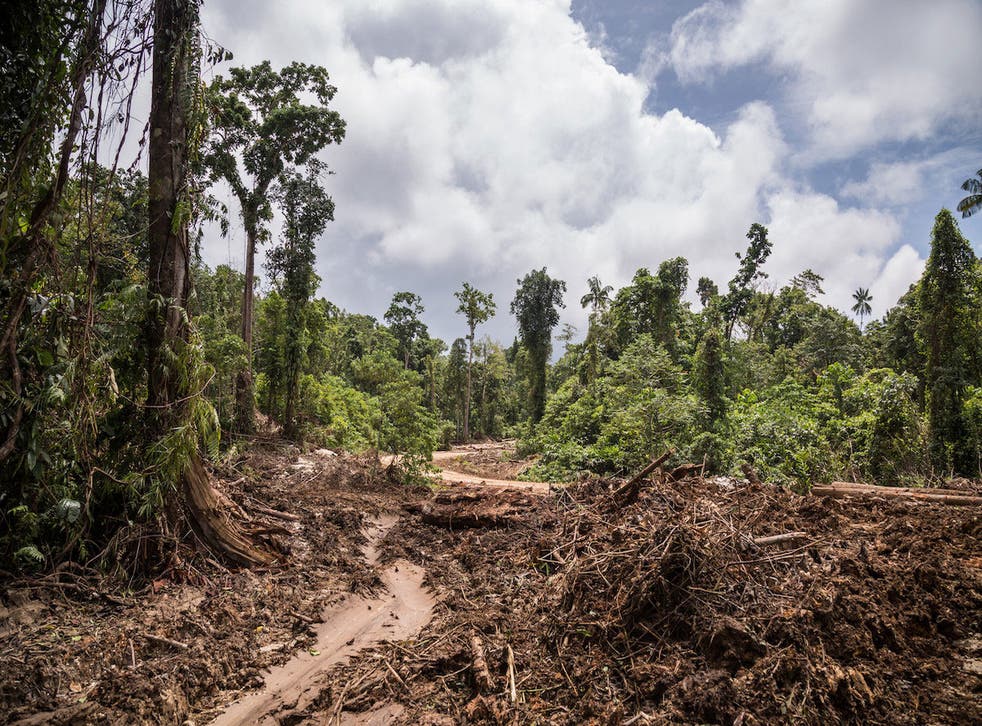 Today's announcement by Lib Dem leader Jo Swinson that businesses would be given a legal "duty of care" on environmental and social issues and be required to conduct checks on their supply chains is a huge and exciting step forward. Many, like us at Global Witness, have been campaigning for years hoping for this change – that businesses who cause forest destruction or human rights abuses abroad are held to account and take responsibility.
As we all know from pictures of the Amazon burning this summer, precious rainforests are disappearing at a terrifying rate across the globe. Even before the Amazon fires hit the headlines, an area of primary rainforest the size of Belgium was destroyed in 2018. And consumers in this country may be surprised to learn that they could be linked to this devastation, through the supply chains linked back to the UK and with those they choose to bank with.
Last month, we released a new investigation, exposing how many of our best-known high street banks are financing companies well known for their destruction of the Amazon and other climate-critical tropical rainforests.
When we crunched the figures we were astonished to see that the UK was the biggest source of financing, after Brazil, for the six companies we looked at – providing a staggering £5bn from 2013-2019. Barclays, HSBC and Santander were found to be among high street names behind companies implicated in rainforest destruction.
This should ring an urgent alarm bell for the UK to get its own house in order when it comes to finance. These companies, with well documented records of environmental harm, were seemingly able to secure massive funds from UK financial institutions with few questions asked. Until our financial institutions are compelled to do otherwise, they will fail to give environmental concerns the importance they deserve.
Environment news in pictures

Show all 8
Businesses and financial institutions routinely undertake due diligence on their clients and supply chains to identity and mitigate commercial risks. As the world is waking up to environmental breakdown, the same scrutiny must be applied to environmental and social risks.
This guidance on due diligence which companies and investors must carry out isn't hard to find: the OECD has developed it and it's been agreed by 48 governments. They outline all the steps companies and investors must take to identify, report, mitigate and prevent environment and social impacts of their operations. And the legal world has been picking up on this too – with the EU flexing its due diligence muscles in regulations that look to tackle issues around conflict minerals, timber and finance.
This doesn't just matter for our forests, crucial for curbing climate breakdown. Forest communities globally have been standing up and calling on UK consumers, businesses and investors to take action – and facing threats, attacks and even killings for doing so. Land and environmental defenders like Sonia Guajajara have long been highlighting how there is no Plan B when it comes to the Amazon – for indigenous communities that depend on it, for our forests, or for our planet.
No longer can businesses afford to ignore the environmental and social impacts of their operations. For too long, we have treated our environment as a way to make a quick buck, without enough consideration given to the legacy we're leaving future generations.
The Lib Dem announcement is a significant and welcome first step – and I know that we won't be the only ones pushing forward with determination to persuade our politicians and policy makers that regulatory change for our financial sector, as well as supply chains, is what we desperately need to halt the destruction of our forests and planet.
Jo Blackman is head of forests advocacy at Global Witness
Register for free to continue reading
Registration is a free and easy way to support our truly independent journalism
By registering, you will also enjoy limited access to Premium articles, exclusive newsletters, commenting, and virtual events with our leading journalists
Already have an account? sign in
Join our new commenting forum
Join thought-provoking conversations, follow other Independent readers and see their replies