Fox confirms £12bn bid for Sky, but this isn't about the money
The cash is the easy part. Rupert and James Murdoch's ambitions will stand or fall on politics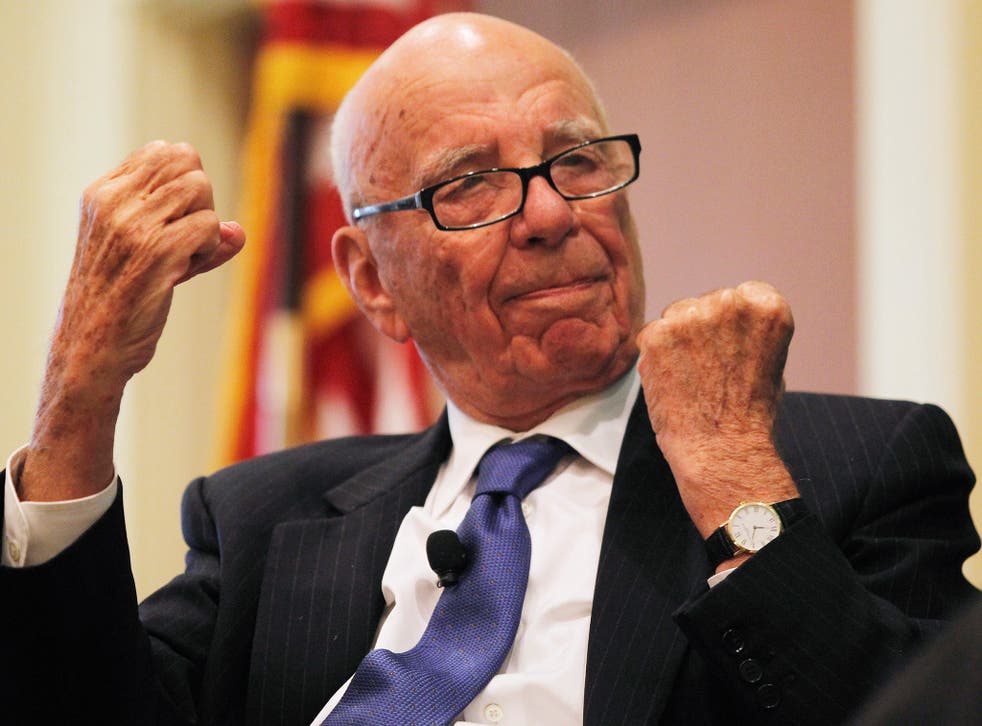 Rupert Murdoch's Fox has, as expected, entered the Sky chicken coup, and had its formal bid universally recommended by the cockerels on its board.
What's on the table is essentially the same as the proposal that emerged at the end of last week: an £11.7bn bid at £10.75 a share. Some big UK investors kicked up a bit of a fuss when it emerged, arguing that it undervalued the company. The shares were trading at that level as recently as February.
But, even though Mr Murdoch needs 75 per cent of the company's independent shareholders to back the bid, he would not have formalised his approach if he didn't think he had enough of them in the bag to make it fly.
This deal isn't about the shareholders, and it isn't about, money. It never has been.
There is a compelling strategic rationale for Fox fully integrating Sky into a business. Mr Murdoch's son, James, is chairman of Sky and chief executive of Fox. Fox could benefit greatly from Sky's technical know-how, and its ability to create a good customer experience.
But even that plays second-fiddle to the real drivers of power, and ambition and influence, and control and politics. Especially the latter. With a good dollop of hatred sloshing around too. The Murdoch clan has proved every bit as good at making enemies as it is at running businesses.
The money? That's just a way of keeping score at the end.
Which brings us to the next steps. This is where it will start to get interesting.
The Murdochs stepped back the last time they tried to take full control of Sky in June 2010, when the broadcaster was still called British Sky Broadcasting, in the wake of the phone-hacking scandal at the News Of The World.
The corporate environment has changed quite a bit since then. News Corporation subsequently demerged its film and TV assets outside Australia into 21st Century Fox, although Ruport Murdoch still pulls the strings at both. In the meantime, BT has pushed into television, while Netflix and Amazon Prime have emerged. Sky also took full control of its pay TV businesses in Germany, Italy and Austria, to make it a pan-European powerhouse.
The new competitors Sky faces will be at the core of Fox's case to Ofcom. The broadcasting regulator is likely to be asked by Karen Bradley, the Secretary of State for Culture, Media & Sport, to take a view.
She could probably find grounds for blocking it if she wanted to, or (more to the point) if the real powers in Theresa May's cabinet wanted to and felt they couldn't sell a deal to a sceptical public – and a very sceptical non-Murdochian media. But it would be a whole lot easier if Ofcom did the work.
Then there is Europe, which didn't show any inclination to block the deal last time around, but might just feel differently about the second helping given the role Mr Murdoch's newspapers played in Brexit, which is almost as big of a headache for Brussels as it is for Ms May.
Business news: In pictures

Show all 13
The deal is being sweetened by the promise that Sky's HQ will stay in London and that lots of money will be invested in it – not to be sniffed at in a country that was in need of investment even in the days before Brexit. But it still amounts to a major foreign takeover of a prime piece of British real estate that Ms May will have to justify if she allows it.
James Murdoch hasn't helped matters. His opting to remain chairman of Sky and chief executive of Fox while the deal was negotiated, only gave critics extra ammo. Even though the independent directors of Sky handled its side of the talks, that was a very bad look.
So get ready to enjoy the ride. This promises to be one of the most entertaining corporate sagas of 2016, and 2017. Something to cheer us all up as the Brexit blues bite. As for the result? Too close to call. My old friend David Buik, chief city commentator for stockbroker Panmure, rates the Murdochs as the favourite to win in the end. But as he himself said to me, favourites have had a nasty habit of going down this year.
Join our new commenting forum
Join thought-provoking conversations, follow other Independent readers and see their replies