HS2 won't improve Government's poor record on infrastructure
Spending fell under George Osborne, and prestige projects like high speed rail are of debateable value at the best of times
James Moore
Tuesday 15 November 2016 11:07 Comments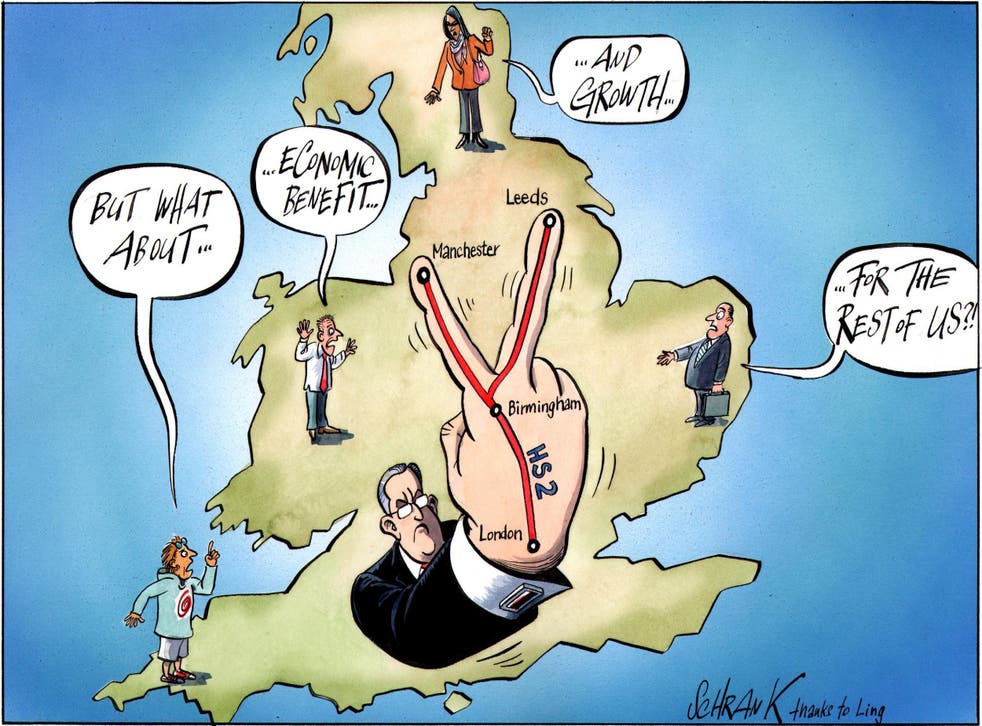 George Osborne – remember him? – says it's time to deliver on the new nuclear power plant at Hinkley Point in Somerset, Heathrow's third runway and Britain's high-speed rail network, the northern routes of which were (sort of) confirmed this morning.
"We spent years laying the groundwork. Time for talking over," the former Chancellor tweeted on the back of the announcement.
If they– and high-speed rail in particular – are delivered successfully it would do wonders for a legacy that is looking a little shaky right now. Britain still has a chunky budget deficit despite years of austerity, and then there is the small matter of the role Mr Osborne played in the loss of a certain referendum.
Unfortunately, that "if" I mentioned is a big one. All three of the projects he mentioned are big, prestige projects that Britain has a poor history of delivering on.
They're the sort of projects that all too often end up getting hampered by cost overruns, difficulties with contractors not delivering and schedules that have to be revised and then revised again.
What's that, I hear you say? Hinkley is privately funded? True enough, but how privately? The developers have been handed some important guarantees and critics – including the National Audit Office – have voiced concerns about the prospect of their knocking on the Government's door if things go awry.
As for HS2, which will see the Government's new super-fast trains ferrying the probably limited number of people that can afford the fares from Crewe to Manchester and the West Midlands to Leeds, the planners still haven't come to a final decision over where to site a new station in or near Sheffield. The decisions that have been made are making people very cross.
So the time for talking isn't exactly over, after all.
In the meantime, Britain's roads are full of potholes and the existing rail network has problems all over the place – notably the Southern Railway, a franchise mired in an avoidable industrial dispute with guards, who have been making some rather good points about the impact of the franchise operator's plans on disabled access.
New houses are being built (too slowly) to cope with a rising populations, but there are questions about whether there are sufficient services to go with them. I live in Redbridge, north-east London, where there is building going on. Local schools are oversubscribed and GPs' lists are bursting, and there isn't any sign of new ones being built.
Spending money on (or just sorting out) these issues and others like them would probably do quite a bit to improve the quality of life for many Britons, not to mention improving the economy. But that would require lots of small scale works that don't make headlines.
While Mr Osborne is telling the world that the time for talking on big projects is over, it is a sad fact that figures released last year by the National Audit Office revealed that spending on infrastructure including schools, hospitals, road and energy projects fell by £15bn from its peak under the Conservative/Liberal Democrat coalition, in which he served as Chanceloor.
Business news: In pictures

Show all 13
A PricewaterhouseCoopers report, Building Britain's Future, said it was 18 per cent lower in 2014 when compared with its 2009 high point.
The report did predict that it would grow to £110bn by 2025. But the forecast was made prior to the damage inflicted on the economy by the EU referendum.
New Chancellor Philip Hammond has indicated that he plans to be more fiscally flexible than was Mr Osborne, so there is still scope for it to increase. Unfortunately, it seems a good chunk of the extra spending will be soaked up by prestige projects as opposed to the day to day improvements the country could do with. Pity.
Register for free to continue reading
Registration is a free and easy way to support our truly independent journalism
By registering, you will also enjoy limited access to Premium articles, exclusive newsletters, commenting, and virtual events with our leading journalists
Already have an account? sign in
Join our new commenting forum
Join thought-provoking conversations, follow other Independent readers and see their replies