James Moore: Banks' fear of US fines will turn Fifa accounts into hot potatoes
Outlook
James Moore
Tuesday 02 June 2015 11:08 Comments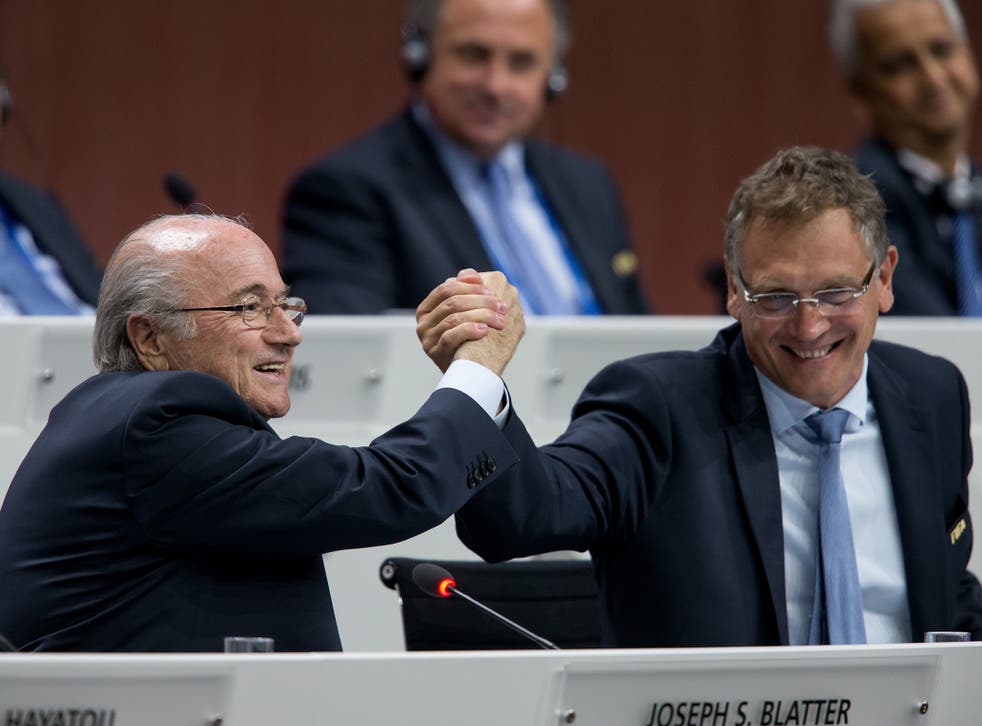 The stock market greeted the news that three UK-based banks have been named by the FBI in its indictment against various Fifa officials with a shrug of its metaphorical shoulders.
The share prices of Barclays, HSBC and Standard Chartered haven't exactly suffered in the past five days.
The FBI didn't, after all, allege any wrongdoing on their part and it is not the banks that the agency is after. Fifa and its officials are the ones in its crosshairs.
Two of the named banks have apparently hurriedly launched internal investigations. But their doing so is really only what you would expect, given the run-ins they have all had of late with the US authorities.
As they well know, this is only the first step in what could be a very long process, and it would only take one of America's myriad regulators to sniff a payday for things to change dramatically.
Were that to happen, the standard course of action would be for those institutions targeted to pay very heavy fines in return for plea deals.
The Fifa bigwigs facing charges

Show all 14
The scale of these fines means that the banks will want to take precautions, at least while the investigation is running.
There has been much commentary on the role that Fifa's sponsors might or might not play in forcing change at football's global governing body; the multi-billion dollar corporations that have paid huge sums to associate their brands with the World Cup.
But the banks could ultimately play a far more important role. Remember the fuss last year when this newspaper revealed that HSBC had closed the accounts of some Syrians working or studying in Britain. Then there was the Finsbury Park Mosque, which "fell outside the bank's risk appetite".
If that's the case, how will Fifa and its officials sit within HSBC's risk appetite? Or Barclays' or Standard Chartered's, or any Western bank not wanting to incur the wrath of the US authorities?
At the very least, it's probably fair to assume that any sizeable transaction involving Fifa or one of its officials will trigger a warning light, at least while the FBI's investigation is ongoing, which could make things inconvenient for the organisation, to say they least. Prudence would seem to demand nothing less.
Cut-price Lloyds shares for hard-working families
Roll up, roll up. Yes, you lucky people are about to be handed a one-off chance to buy shares in a bank your money has bought once already.
Instead of selling to the City at a discount, as it did when it first sold Lloyds shares, your Government has decided to sell to you. Aren't you pleased?
Given where the shares are now, it will have to be a pretty big discount to match the price that institutions were able to buy at when the Government first started the lengthy process of clawing back the money spent by Gordon Brown to keep the thing afloat during the financial crisis.
But perhaps the Government will decide that it isn't unreasonable to turn back the clock and sell at something close to the 73.6p break-even point, regardless of the fact that Lloyds shares are now testing 90p.
There's nothing like handing the voters a guaranteed profit to make them love you. It could even be argued that it's no more than we deserve, given the damage the bank has done in the past, and the vast amount of money diverted from schools, hospitals, policing, the armed forces, insert your favourite state service here.
With priority apparently set to be given to investors wanting to spend around £1,000, the profits from the "privatisation" of the last part of Lloyds in state hands should at least be shared widely.
But perhaps not widely enough. The whole exercise leaves a bit of a nasty taste, because you'll still need a decent amount of money to join the party – the sort of sum that the people who suffered most from the banking crisis, and the brutal recession that it triggered, can't hope to afford. As has been the case throughout the years of austerity, they will be left out in the cold.
A solution needed to all those empty bedrooms
A number of commentators have noted that if the UK could deal with under-occupation of its housing stock it would go some way towards solving the housing crisis.
The latest is Legal & General, the insurer, which says there are 5.3 million under-occupied homes in the UK, with 7.7 million bedrooms going spare.
It calls for a national plan to create more suitable properties, combined with incentives for "last-time buyers" to encourage them to downsize, freeing up their previous spacious residences for those "hard-working families" politicians keep banging on about.
Fine and dandy, but it is interesting to note that L&G's study finds that a lot of people "leave it late", with inertia holding them back from downsizing.
Is it any wonder? The last meaningful attempt at reforming the messy house sale process south of Hadrian's Wall was Labour's disastrous introduction of "sellers' packs". No one has really tried to grasp the nettle since then.
Last year a poll found that buying a home was rated as more stressful than bankruptcy, divorce or even bereavement. So it's no wonder that many older people choose to stay put, and that might not change even if more suitable properties are made available.
Register for free to continue reading
Registration is a free and easy way to support our truly independent journalism
By registering, you will also enjoy limited access to Premium articles, exclusive newsletters, commenting, and virtual events with our leading journalists
Already have an account? sign in
Join our new commenting forum
Join thought-provoking conversations, follow other Independent readers and see their replies