JD and Primark prove you can still be a winning retailer if you're good at it
Both have thrived during an unprecedented squeeze on real incomes in their home market 
James Moore
Chief Business Commentator
Tuesday 17 April 2018 12:46 Comments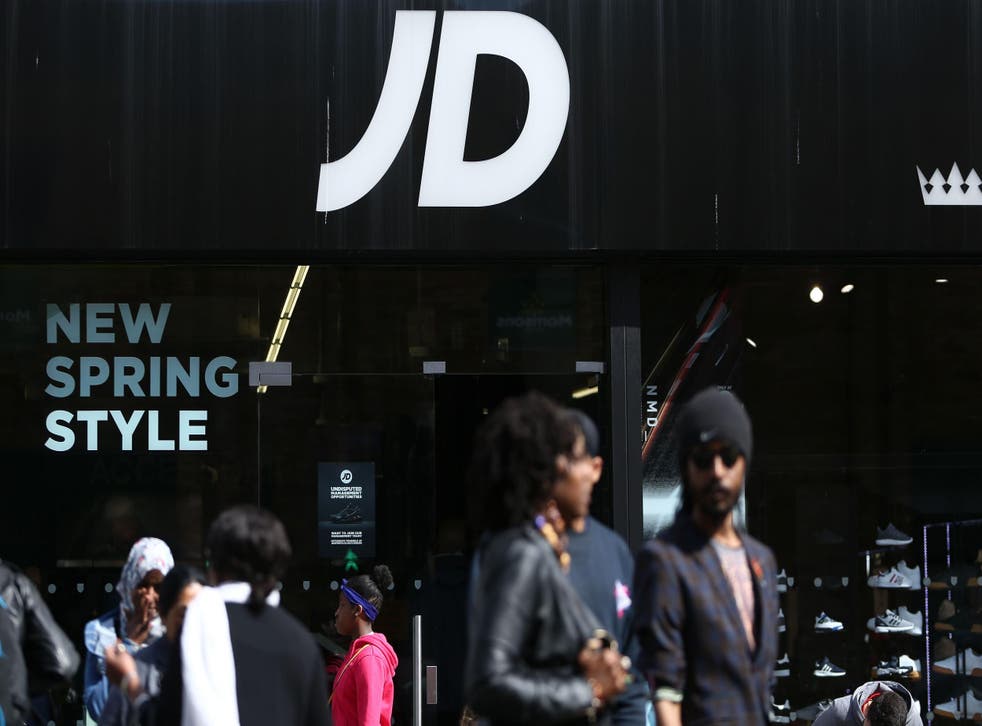 A rare sunny day dawned on the high street with both Primark and JD Sports reporting positive results.
It's worth noting that while the internet is held up as a major reason for the death of multiple retailers up and down Britain, Primark, while having an active online presence, doesn't sell so much as a sock via that channel.
When your product is offloaded as cheaply as its clobber, the economics of internet retail, with customers demanding free delivery and returns, don't work.
That leaves you reliant on old-fashioned stores that lots of other retailers are struggling to make pay.
Not this one. By 3 March, the end of its first-half reporting period, Primark had 352 stores occupying a square footage of 14.3 million, up from 13.1 million this time last year, with the company having opened seven new stores and relocated three more.
Europe, the US and the UK will play host to more Primarks in the second half of the current financial year.
If you give them what they want at a price they're happy to pay then they will come, to such an extent that the retailer was able to add some much needed sweetener to an otherwise sour set of results from its owner, agri business Associated British Foods, which was hit by a slump in the sugar price.
JD, with its trainers and sports kit that come with a higher margin, can sell online, a channel through which its sales grew 30 per cent.
But its stores also did good business. Those opened at least a year increased their output by 3 per cent.
Most retailers would struggle to do that even were they able to call upon the assistance of Dumbledore Retail Consulting Ltd. They seem to much prefer paying over the odds for managers to sit in their offices scratching their heads.
Perhaps I might get my bonus if I can keep the investors happy with a few store closures and some cost cuts even if that does mean firing the people who look after my customers. Sigh. If only my headhunter would call me about opportunities at Amazon! I know Primark does it because they're cheap, but that JD boss Peter Cowgill. He must be a witch!
But Mr Cowgill is no magician. He just seems to have what they've lost: the knack of selling stuff to the punters. With 56 new stores opened across the UK and Europe over the last year, and more planned, he looks set fair to repeat the trick.
It's worth remembering that these two have achieved this during an unprecedented squeeze on real incomes in their home market.
Business news: In pictures

Show all 13
Even though the latest official figures show wages have finally started to inch above inflation, they fell throughout the preceding year and are about £800 lower in real terms than they were before the financial crisis.
If the turnaround is sustained – and with Brexit being handled by people who make the bosses of the collapsed Toys R Us look good, that's no gimme – just imagine what Primark and JD could achieve.
They keep on showing that while the retail climate is tough, it can be weathered by being good at retail.
Register for free to continue reading
Registration is a free and easy way to support our truly independent journalism
By registering, you will also enjoy limited access to Premium articles, exclusive newsletters, commenting, and virtual events with our leading journalists
Already have an account? sign in
Join our new commenting forum
Join thought-provoking conversations, follow other Independent readers and see their replies