Shadow Chancellor John McDonnell's attempt to make nice with the City is a smart move
Mr McDonnell's willingness to break bread with financiers demonstrates confidence in his position 
James Moore
Chief Business Commentator
Thursday 19 April 2018 12:42 Comments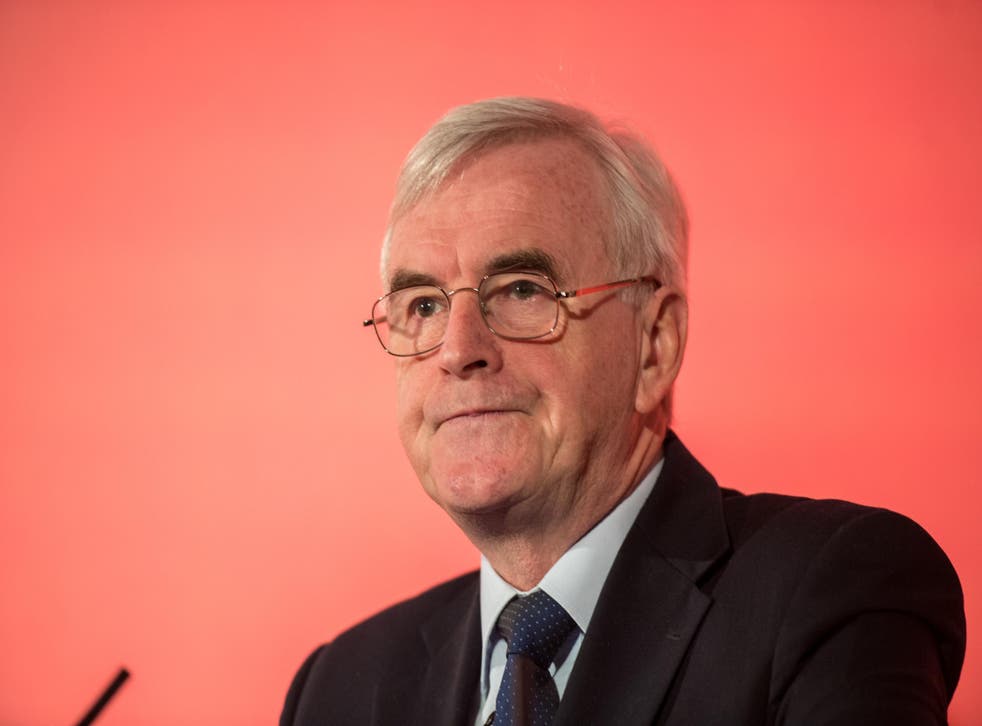 In a marked change of tone, shadow Chancellor John McDonnell has told the City it can have a seat at the table if and when a new Labour government takes power.
The lifelong socialist and sometime banker basher offered a 'new start' to a relationship that has been fraught to say the least in a speech at Bloomberg.
Financiers were offered the chance to "come with us" into government.
Mr McDonnell made light of his portrayal as a "raving extremist" bent on nationalising their companies. More seriously, he was clear that the financial sector will not like some of Labour's policy proposals, especially the ones on tax which will require them to pay more, both at a corporate and personal level, in the interests of social justice.
Labour, he said, also remains committed to renationalising the railways and the water industry, policy proposals that are actually quite popular in the country outside the London bubble.
But there'll be no re-eduction camps for London's bankers.
Instead Mr McDonnell wants "a relationship in which we recognise the potential of a transformed British financial system, at the leading edge of technology, fulfilling a clear, socially necessary role".
This is smart move on the shadow chancellor's part.
Not to put too fine a point on it, but the Conservatives have been doing a marvellous job of alienating the wider business community with their hard line, ideologically driven Brexit.
While Labour's policy on that crucial issue is ill defined, it is at least flexible enough to consider something less economically destructive than what the government is doing. This has opened up a few doors, and given the party a hearing in places that were previously deaf to it.
Taking advantage of that is sensible not least because Labour has made a lot of big promises to a lot of people. It will stand a far better chance of making good on at least some of them if it isn't engaged in a sword fight with London's financial centre.
There are people within its confines whose help it could use, and might need.
This is still a long way from Labour's prawn cocktail offensive of the 1990s that successfully won the City's confidence. But it could at least open lines of communication.
Mr McDonnell's willingness to break bread with financiers can also be seen as demonstration of confidence.
Business news: In pictures

Show all 13
Despite Labour's recent issues, it is him saying: I'm the man you're going to be dealing with when we boot the other lot out. I'm not facing any threat and I don't need to throw red meat around to shore up my base. So let's talk.
Of course, by the time the Conservatives have finished, there may not be all that much of a City of London left for Mr McDonnell to sit around the table with.
The real extremists sit on the opposite side of the debating chamber to him, but that's another matter.
Register for free to continue reading
Registration is a free and easy way to support our truly independent journalism
By registering, you will also enjoy limited access to Premium articles, exclusive newsletters, commenting, and virtual events with our leading journalists
Already have an account? sign in
Join our new commenting forum
Join thought-provoking conversations, follow other Independent readers and see their replies