Majestic Wine starting to look majestic under boss Gormley
The wine seller bought his business to get its hands on the former banker. That was a smart move 
Thursday 23 November 2017 17:22 Comments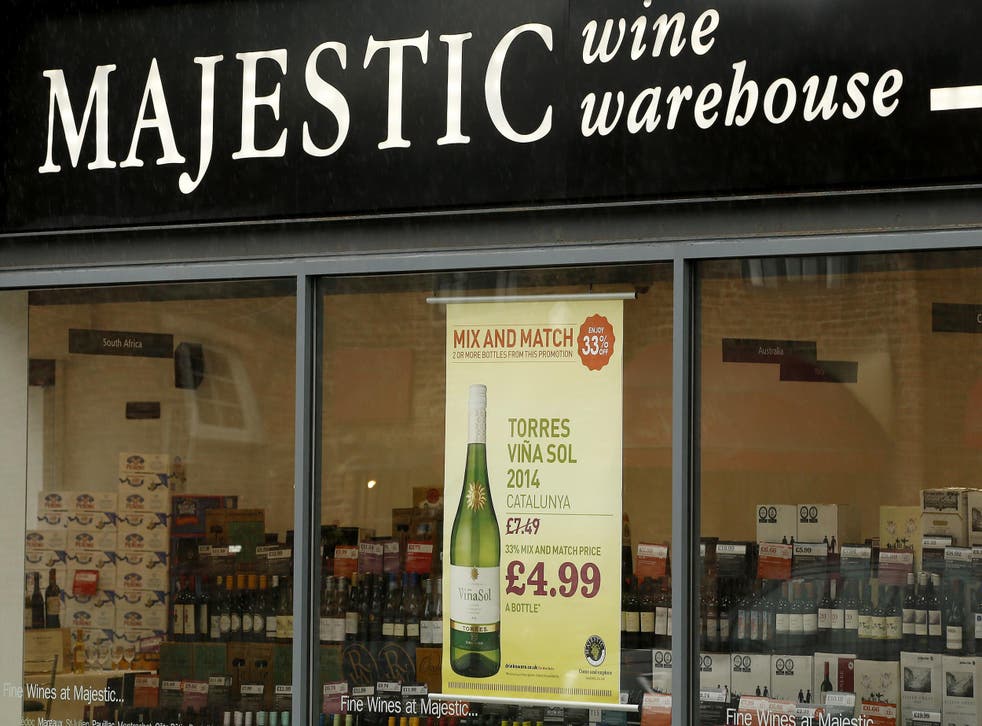 "The plan is on track," declared Rowan Gormley, the man whose company Majestic Wine bought so they could install him in the CEO's office.
Turns out that was a good move. Sales for the 26 weeks ending October 2 grew by 5.7 per cent while profits recovered to £6.8m when the business had barely been breaking even.
It's all the more impressive when you consider where Majestic sits as a business.
The wine seller competes with giant supermarkets on one side and much smaller boutique outfits majoring on unctuous service and high priced product on the other.
When Mr Gormley took over Majestic was looking like it might join the sizeable number of chains that have been swallowed by the chasm between them.
The way the former banker, and protege of Sir Richard Branson, has gone about preventing that from happening provides an object lesson that many British businesses should heed but probably won't.
Instead of slashing and burning, he re-engineered what is essentially a people business to make its people work better and feel better about doing so.
As a result of that, they're now more willing and more able to do what Majestic did when it was at its most successful; which is to spend time guiding their customers through the jungle of bottles standing before them so they get something they really like and will return to purchase again and again, as well as finding out about alternatives, perhaps at a slightly higher price (and at a higher margin).
Mr Gormley says what he's really selling is a relationship, and there might be something in that.
But it's hard to maintain a relationship when people are miserable.
When he joined, that's what Majestic staff were. He says they complained they were over worked, under paid and treated like monkeys, which is how a lot of British workers probably feel, and will probably go on doing so in the absence of a change in thinking from this country's over paid business establishment.
One story he told me about was the widespread resentment caused by some finance drone's decision to scrap the staff orange juice allowance, which probably looked like it would yield a tidy saving on paper, but only at the cost of massive resentment and a consequent deterioration in the customer service Majestic needs to make its concept work in practice.
Business news: In pictures

Show all 13
That sort of narrow thinking has apparently been fixed, with just a little help from an improved bonus scheme. Money never hurts.
There are other things that Mr Gormley has done. Majestic no longer requires that you purchase at least six bottles, for example. And of course, there's his beloved Naked Wines, which crowd funds independent wine makers to make exclusive wines at preferential prices. It's a unique, and clever, model that gives innovators a break and more power to it. It's also producing a positive return in all its main markets, which is handy.
Valuing your staff ("they've worked like demons"), listening to what they have to say, and doing things a bit differently as opposed to indulging in an endless cycle of cost cuts. Radical thinking for these rainy isles.
Register for free to continue reading
Registration is a free and easy way to support our truly independent journalism
By registering, you will also enjoy limited access to Premium articles, exclusive newsletters, commenting, and virtual events with our leading journalists
Already have an account? sign in
Join our new commenting forum
Join thought-provoking conversations, follow other Independent readers and see their replies