Royal Bank of Scotland delivers more pain for taxpayers
Another big loss, plans to float Williams & Glyn dropped, more criticism from analysts. Taxpayers are entitled to ask chief executive Ross McEwan when the improvements he keeps talking about are going to come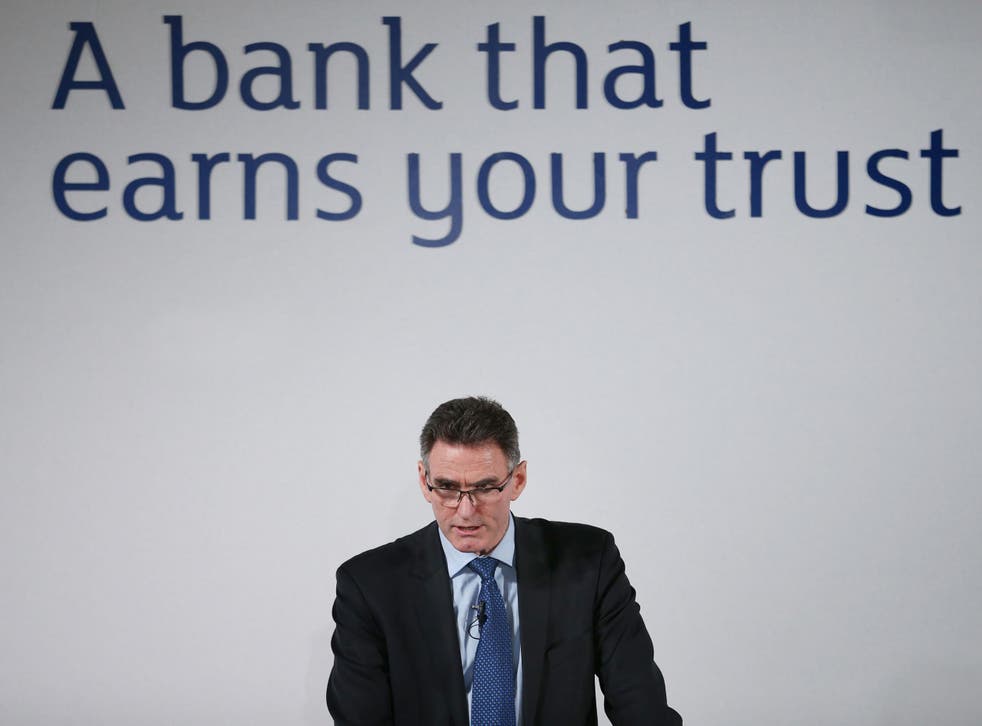 How to describe Royal Bank of Scotland's latest results, and its decision to abandon plans to float small business bank Williams & Glyn in favour of selling it off on the cheap to a rival.
"Complicated," was adjective chosen by chairman Sir Howard Davies. "But," he said, "Complicated results keep banking analysts in business."
So let's ask one of those analysts what they think. "Worse and worse," is what Investec's Ian Gordon said.
To my mind that is a rather better summation of what the bank dished up.
Working for a smaller brokerage gives Mr Gordon a bit more freedom to express himself than some of his colleagues at the sort of investment banks that pitch for RBS's business.
But even they found it hard to winkle out any positives as the bank slumped to a £2bn first half loss, setting it up for its ninth consecutive full year in the red.
Past misconduct was a major reason for the deficit. RBS racked up another £1.3bn of provisions. More money was set aside to compensate people missed payment protection insurance. Then there was the need to meet the potential cost of an ongoing shareholder lawsuit dating back to a debacle of a rights issue in 2008. All that and trouble with tracker mortgages across the Irish Sea. Plus "other matters". Ouch.
But, the bank's present doesn't look terribly cheery. Look, we made an adjusted operating profit of £1.156bn, its bosses said.
Banks love to talk about "adjusted operating profits". By doing so they can strip out any number of nasties with the aim of demonstrating that the underlying businesses are doing just fine thank you very much.
Unfortunately even that number looked icky this time around. It was less than half what the bank turned in this time last year. Mr Gordon also noted that the contribution from the second quarter of the year was less than the City had forecast.
All that and an interest rate cut that puts the bank in a world of pain. According to Mr Gordon RBS takes the biggest hit of any UK bank from Bank of England governor Mark Carney's attempt to stabilise a wobbly economy.
That rate cut was one of the reasons cited by RBS for re-heating an attempt to sell Williams & Glyn, which it needs to have offloaded by the end of next year to meet a deadline set by European regulators as a consequence of the state aid RBS received to keep it afloat during the financial crisis.
It there is a rotten cherry on top of the mouldy cake, that's it.
RBS says it's not sure W&G would be viable as a standalone bank, citing the interest rate cut as one of the reasons.
Don't be fooled. That's just an excuse. It should have been obvious for some time that W&G would struggle as a standalone entity and that regulators would be reluctant to grant it a banking licence as a result. It probably has been obvious for some time.
The way the W&G process has been handled raises several awkward questions. Santander looked set to buy it four years ago until the Spanish bank walked as a result of an IT mess and doubts over whether the two banks could actually pull off a deal.
Now it's back in the frame and no wonder. RBS is a forced seller with a deadline to meet. Santander knows that rivals aren't queuing up behind it. It might be the only game in town. So even if there are some IT snafus to deal with, it will be able to get its hands on Williams & Glyn (although the name has been quietly dropped) on the cheap. It might even get paid for taking the thing off RBS's hands. Once again it will be the taxpayer, as the majority owner of RBS, that will suffer.
Business news: In pictures

Show all 13
One day bankers will use RBS as a bogeyman to scare their trainees with before bedtime.
If there are improvements at RBS lurking underneath this dreadful mess they're hard to see and they're taking an awfully long time to be realised. Chief executive Ross McEwan keeps banging on about creating a good safe bank that people can be proud of.
Ross, talk is cheap. When's it actually going to happen?
Join our new commenting forum
Join thought-provoking conversations, follow other Independent readers and see their replies