Tesco is pleasing the City but boss David Lewis's job only half done
Nearly all the numbers are moving in the right direction but the supermarket chain operates in a tough market and the weather forecast reads 'unsettled'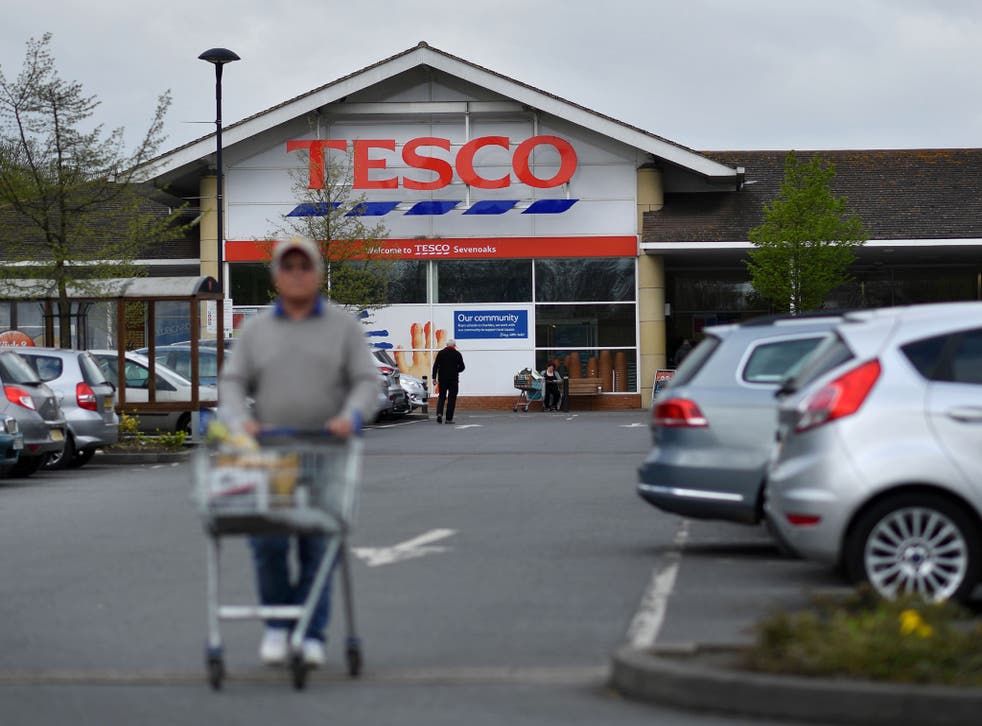 Judging by the glowing coverage it has received, it won't be long before we'll be talking about Tesco as the supermarket that ate Britain again.
Don't be fooled by today's dip in the share price, caused by the traders that bought in anticipation of a bravura set of results cashing out now they're in.
David Lewis's company is making pots of money again (operating profits grew by 67 per cent), has recorded seven consecutive quarters of growth, and, to show off its new found confidence, has reinstated its dividend.
Mr Lewis has pulled off the difficult trick of keeping prices low while improving margins; through cutting costs and utilising the group's vast purchasing power to push more bulk business through a smaller number of suppliers.
A marketing man to his core, the CEO had a predictably flashy presentation to demonstrate this for the fans. Given what was in it, however, he could probably have made do with a few black and white slides. They'd still have gone home happy.
Time to dine with Dave then?
Let's not get too excited.
The just-opened fraud trial, covering the problems that emerged when the grocer shocked the City in 2014 by revealing a £250m hole in its accounts, can be stored in the box marked "unhappy past". The company must address the furore over hygiene at the processing plant from where "Willow Farm" poultry comes, but, if you're prepared to be (very) charitable, it can be considered a one-off that big supermarkets are unfortunately prone to.
However, while the day-to-day business of Tesco has been more or less set to rights, there are still bumps to be seen in the road ahead.
The supermarket that ate Britain has sat down to a starter, but its investors might have to wait for the main course.
Start with the company's pension deficit. It stands at £2.4bn. Tesco has been able to cut it by a shade above £700m, and keep its contributions down, because the life expectancy of Britons isn't increasing at the rate it was.
However, the thing about life expectancy is that it hasn't, in the past, improved at a steady rate. It has displayed a tendency to jump, and then to plateau, and then to jump again. Putting too much faith in people going to their graves earlier is a dangerous thing to do for the long-term health of your balance sheet.
Then there are those sales. Their growth has started to slow, from 2.3 per cent in first three months of Tesco's year to 2.1 per cent in the second. That might be a blip. Or it might be an indicator that the party is, if not over, then at least getting to the end of the evening when the last few revellers are ferreting around in the drinks cabinet for the ageing bottle of rum nobody wanted to drink earlier on.
It shouldn't be forgotten that the grocery sector is brutally competitive. Aldi and Lidl continue to build new stores, and continue to impress new customers. Morrison's revival continues. Sainsbury's is holding its own. Asda is struggling, but what if that changes?
Business news: In pictures

Show all 13
All this while Mr Lewis' big deal, the acquisition of food wholesaler Booker, awaits the verdict of the Competition & Markets Authority. Even if it waves it through without demanding any remedies (which won't happen) a number of investors remain deeply unhappy with it. They think he's risking too much of their money and that his focus should be on the continued revival of the core business. They might have a point.
While the turnaround wrought by Mr Lewis has secured a lot of leeway for him, it isn't boundless, and it shouldn't be. It could be said that it is only now that it has been achieved that he will really have to show his mettle.
This time around his shareholders were pleased to see the business doing well. Getting back a penny a share was the icing on their cake. This time next year? They're going to want more.
Register for free to continue reading
Registration is a free and easy way to support our truly independent journalism
By registering, you will also enjoy limited access to Premium articles, exclusive newsletters, commenting, and virtual events with our leading journalists
Already have an account? sign in
Register for free to continue reading
Registration is a free and easy way to support our truly independent journalism
By registering, you will also enjoy limited access to Premium articles, exclusive newsletters, commenting, and virtual events with our leading journalists
Already have an account? sign in
Join our new commenting forum
Join thought-provoking conversations, follow other Independent readers and see their replies