Wetherspoon boss Tim Martin attacks Brexit critics. So why aren't he and Greene King more upbeat about future?
Mr Martin has indulged in another spectactular rant, pointing to recent improved econmic data to help make his case. But his rival, with no axe to grind, is worried and with good reason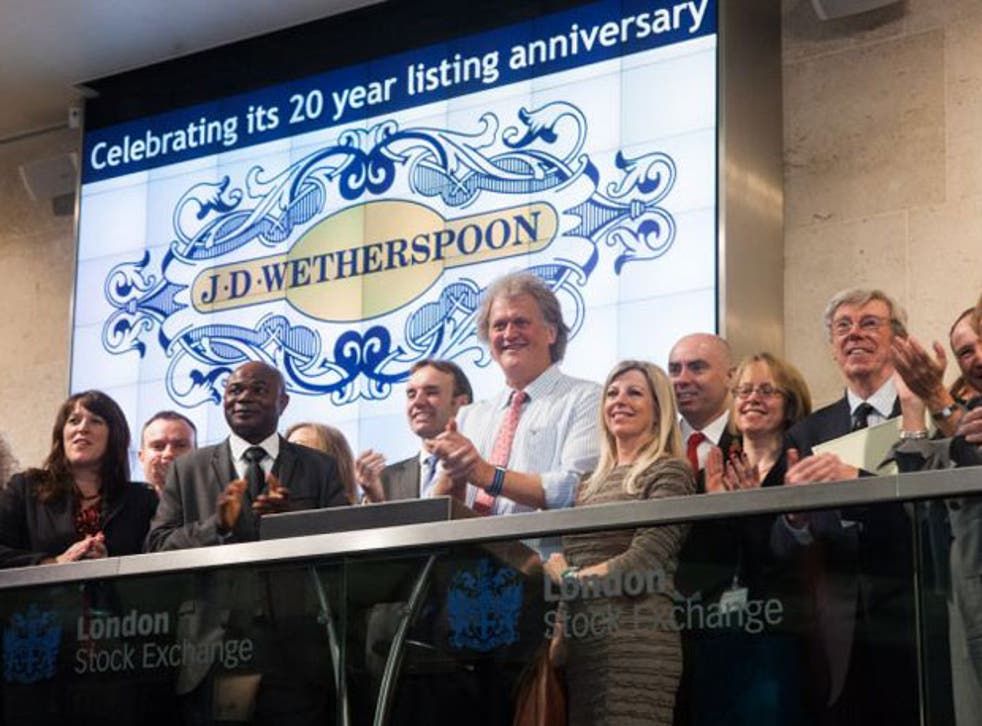 The man who brought you the Brexit beermat, and then had his hard-working Polish staff lay them on tables, is at it again.
JD Wetherspoon chairman Tim Martin has used his latest results statement to take potshots at the majority of FTSE 100 companies, the CBI the IMF, the OECD, the Treasury, Goldman Sachs, PricewaterhouseCoopers and "the great preponderance of other banks and institutions".
The reason that lot attracted his ire is, of course, that they were all vocal supporters of the UK remaining in the EU.
In a long and rambling rant, Mr Martin accused them of making "lurid claims" likening them to the "mythical punter who gets everything wrong".
To back his argument he pointed to the latest batch of relatively upbeat economic data, and accused his opponents (I'm delighted to include myself among their number) of embarking on "Scare Story Two" over the dangers of failing to secure a trade deal with the EU.
At this point, if you'll forgive me, I'll take a leaf out of his book... Mr Martin, you are an idiot.
Here's why. Recent economic data has indeed showed a pick-up after the initial shock of the Brexit vote that Mr Martin backed. But there's a reason for that.
The pound weakened, for a start, boosting exports. Businesses also realised an important point: Nothing much has changed. Life goes on, and this country remains in the EU. Article 50 of the Lisbon Treaty has not been triggered and won't be triggered until some time next year. If it ever happens.
Part of the reason for that is that the Government has given every sign that it doesn't have a clue what to do next. Hence the mocking of Brexit Secretary David Davis with his woolly talk of "building a consensus" (there isn't one to be built) in the House of Commons this week.
Saner heads in Government realise, even if Mr Martin doesn't, the danger of pressing ahead without securing trade deals with our main partners. That includes the EU, which is the biggest.
Mr Martin operates a UK-focussed business. Other than getting EU nationals to staff his premises, he has less to worry about from Brexit than the FTSE 100 businesses he criticises, many of which do trade with the EU and will face new tariffs and bureaucratic customs checks, at the very least, if no deal is secured before the exit process is complete.
He goes on to talk blithely about the various deals he's secured with his suppliers. If he can do it, why can't Britain?
"I personally agreed on terms with one of our biggest suppliers, a major PLC, for a new seven-year contract about 12 years ago," he said. "Although the deal was put in the hands of lawyers, it was never signed or 'ratified' during this time, although we traded successfully for the anticipated duration. We subsequently agreed on a deal for a further seven years – and that has not been signed to this day."
It all sounds wonderful, doesn't it? The problem is an informal arrangement between a boozer and a brewer is a lot simpler to operate than an international trade deal that covers everything from banks to builders to producers of ball bearings.
Even Mr Davis, a Brexit backer of course, has admitted that he faces "the most complex negotiation in history".
Mr Martin talks about common sense, when he has none. The common sense approach would be not to leave a peaceful federation of trading nations in the first place.
It's simply asinine to suggest that there won't be long-term consequences from embarking on a reckless and foolhardy project like Brexit. Those consequences will be amplified if the UK is unable to secure a trade deal that guarantees access to the largest single market in the world. A market that companies have come to this country to sell into. Companies like Ford, which has slashed its investment in and halved production at its engine works in Bridgend, Wales.
Mr Martin might not be concerned about that, but there are a lot of people that are because, as the Unite union has warned, Ford's commitment to the facility is now in question. Its members' jobs may be at risk. There are 1,850 people employed there.
Amid Mr Martin's posturing there were also some results, which showed a 5.4 per cent increase in revenue to £1.6bn and a 3.6 per cent increase in pre-tax profits to £81m at his pubs. Nice for him.
Business news: In pictures

Show all 13
But it's interesting to note that he's not convinced that the "positive start" the company has enjoyed will continue. "It remains to be seen," he says.
Perhaps we should leave the final word to a competitor, Greene King, which hasn't been grinding the sort of axe that Mr Martin has.
It has also been trading well, but here's what it had to say about the future: "As expected, uncertainty surrounding the UK's future withdrawal from the European Union has translated into a softening of some economic indicators and a reduction in consumer confidence. While the broader implications remain unclear, a number of recent industry surveys have flagged risks to leisure spend and we are alert to a potentially tougher trading environment ahead."
Register for free to continue reading
Registration is a free and easy way to support our truly independent journalism
By registering, you will also enjoy limited access to Premium articles, exclusive newsletters, commenting, and virtual events with our leading journalists
Already have an account? sign in
Register for free to continue reading
Registration is a free and easy way to support our truly independent journalism
By registering, you will also enjoy limited access to Premium articles, exclusive newsletters, commenting, and virtual events with our leading journalists
Already have an account? sign in
Join our new commenting forum
Join thought-provoking conversations, follow other Independent readers and see their replies