What a carve-up it will be if we find a niche exporting chicken to China
Parliamentary Business: Poultry farmers will need to be shown how to tiptoe around China like a ballerina
Mark Leftly
Wednesday 03 February 2016 01:50 Comments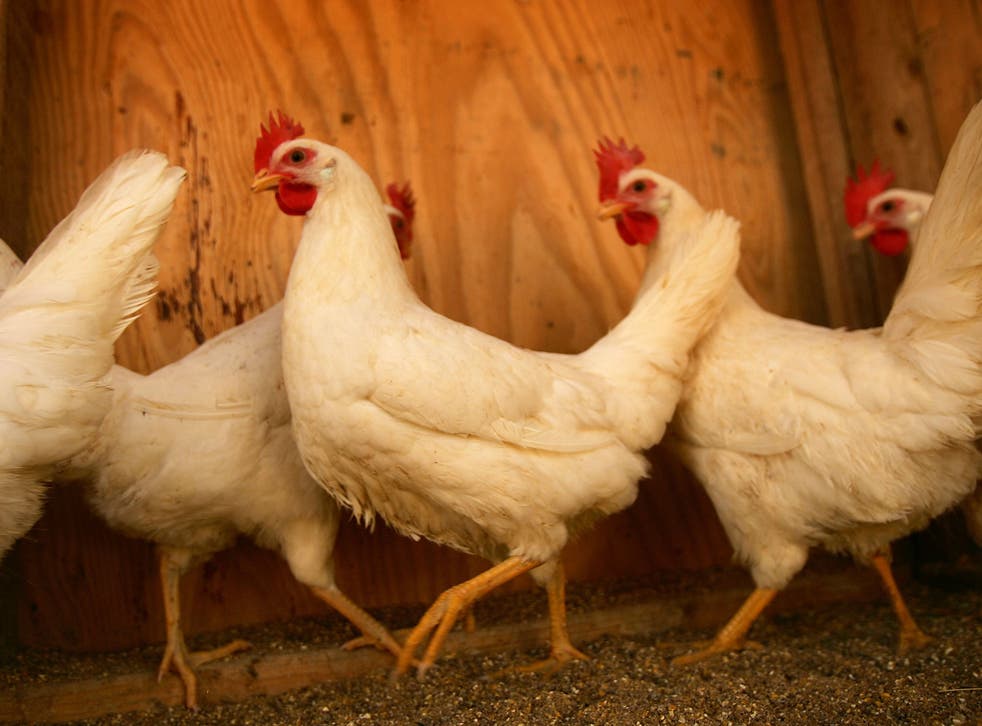 In 2013, Chinese police discovered 20 tonnes of chicken feet, tripe and throat that were 46 years past their sell-by date, after being smuggled into the south-western province of Guangxi by a Vietnamese gang. The feet had been treated with chemicals to make them look white and succulent, but belonged to chickens who had clucked their last cluck around the time that Anne Bancroft seduced a fresh-faced Dustin Hoffman in The Graduate.
This gang had every motive: they made $1,750 (£1,215) in profit per tonne of chicken, such is the demand for, in particular, our feathered friends' lower extremities. In 2014 alone, China imported $170m of US-bred chicken feet to be braised with mushrooms, served as a crunchy snack or eaten with dried egg.
Could Britain's farmers produce fresher fare and take on the legitimate exporters of this Chinese delicacy?
That is the question being posed in the corridors of Nobel House, the 88-year-old former headquarters of ICI that is now the Westminster home of the Department for Environment, Food & Rural Affairs (Defra). Secretary of State Liz Truss established a Great British Food Unit in Defra on 1 January, moving over staff from UK Trade & Investment's food and drink team.
Arguably, this unit is tacit acknowledgement that UKTI has not been entirely successful as the government agency tasked with helping British businesses grow internationally.
In recent written evidence to a select committee inquiry, Defra admitted that UKTI faced a series of challenges, including its experts being "disconnected" from Whitehall and staff being driven by numerical targets unrelated to export goals. Starkly, it stated: "UKTI is currently not very good at measuring which of its activities are most effective at increasing exports."
Business news: In pictures

Show all 13
A senior member of the Defra team absolved UKTI of much of the blame, pointing out that successive governments over two decades had "not been as effective as Germany or the USA" at "pushing themselves" overseas. The Government has set a target of exports hitting £1 trillion by 2020, an ambition that is years off schedule; we're currently at little more than half that level.
Trade minister Lord Maude even admitted that this target is "at the top of the stretch bracket", adding the vital caveat that it is "doable eventually". He also admitted that UKTI is "too insulated from the rest of government", suggesting the body needs to work across departments to help boost exports.
Lord Maude's evidence to the committee on behalf of the Government added: "We emphasise that it cannot be for UKTI alone to deliver government support for exporters. In the UK, the Government's principal engagement with business sectors rests with mainstream Whitehall departments, and ministers in those departments will be tasked with leading each sector's export drive."
The evidence also pointed to the Great British Food Unit as the first example of a change in business model to make ministers in other parts of Whitehall responsible for the development of sector-specific export plans.
This is a welcome plan and Defra ministers and officials believe they have spied a big opportunity in poultry feet and swine trotters. As popular as nose-to-tail restaurants have become, Brits don't gobble down an awful lot of anything below a chicken's ankle or pig's hock.
"There's massive potential," said a Defra source. "Trotters and chicken feet are massive markets on the other side of the world. We've always been a net importer of food, at least since the Second World War, so we've not been good at looking at foreign markets. We can link exports with rural industry. This goes all the way to the top of the tree; the Prime Minister is pushing like hell [on exports generally]."
China, the source added, is a "massive market" – but it is "sort of guarded". Ambitious poultry farmers, it is reckoned, need help from the unit and from diplomatic experts at the Foreign & Commonwealth Office to understand and navigate local customs – so as to make sure they do not inadvertently irritate Chinese officials and business executives.
"They [rural businesses] need to be shown how to tiptoe around like a ballerina without causing offence and setting back their trade plans for 12 months," the source said.
Whether or not the Chinese are as sensitive as Whitehall seems to imagine, an emphasis on appreciating other cultures will certainly help Britain's exports. Officials will, though, have to work out how they let farmers and similar businesses know that they can make a fortune selling discarded bits of pigs and chickens thousands of miles away.
That said, the Government is right to change Whitehall attitudes to exports by starting with food. As a nation, we have become obsessed with the quality of our produce, making everything from world-class sparkling wine to superb air-dried meats that are quickly catching up with Spain's finest chorizo.
Even the name the Great British Food Unit will fill those working in it with pride. All they have to do now is persuade the Chinese public that our chicken feet weren't around when Chairman Mao was still alive.
Register for free to continue reading
Registration is a free and easy way to support our truly independent journalism
By registering, you will also enjoy limited access to Premium articles, exclusive newsletters, commenting, and virtual events with our leading journalists
Already have an account? sign in
Join our new commenting forum
Join thought-provoking conversations, follow other Independent readers and see their replies