'Dear Mr. Human': United Airlines' Ctrl+V customer service department strikes again
'Mr Human, you have made a significant contribution to our airline.'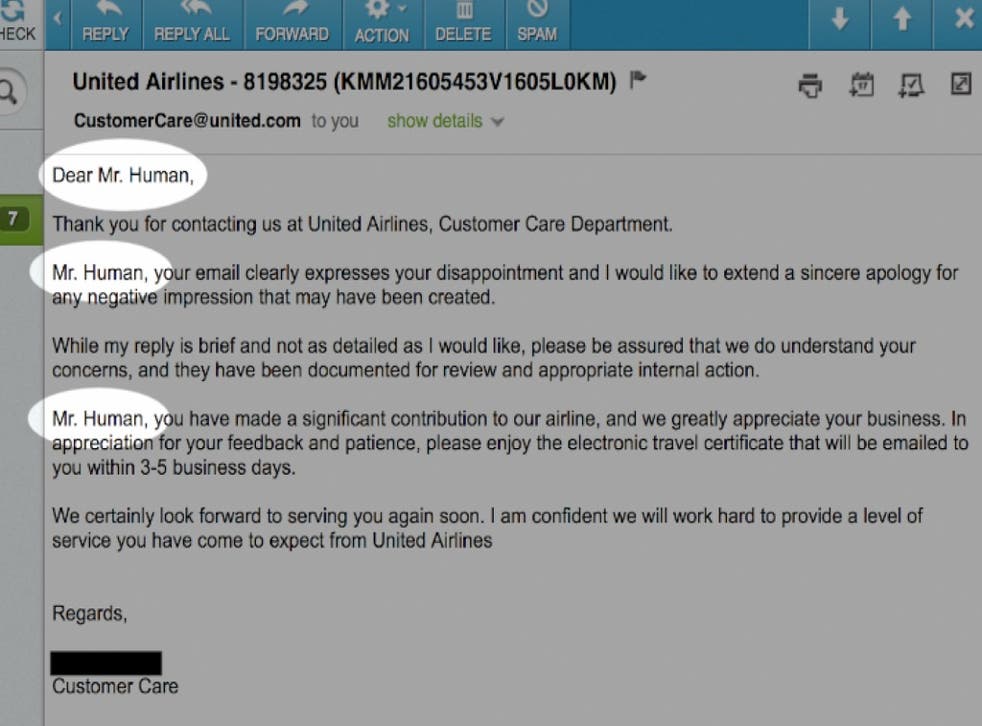 Back in July, United Airlines sent a letter addressed to '(CUSTOMER NAME)' apologising for a '(SPECIFIC EVENT)' with an enclosed '(SPECIFIC ITEM)'.
A photo of the letter was uploaded by the recipient and quickly spread everywhere online, yet it seems the airline hasn't learned anything from their copy-pasting mistake.
Three months later and more correspondence has gone out filled with fake empathy, UA's "sincere apologises" going out to "Mr. Human".
"Mr Human, you have made a significant contribution to our airline, and we greatly appreciate your business," it lies.
The letter goes on to say how it "looks forward to serving you again soon." Of course it does! Mr Human! That guy's a riot!
I'm searching its Twitter for some kind of apology, but Mr. Airline seems to be busy complimenting customers on their Instagram photos of their planes.
Register for free to continue reading
Registration is a free and easy way to support our truly independent journalism
By registering, you will also enjoy limited access to Premium articles, exclusive newsletters, commenting, and virtual events with our leading journalists
Already have an account? sign in
Register for free to continue reading
Registration is a free and easy way to support our truly independent journalism
By registering, you will also enjoy limited access to Premium articles, exclusive newsletters, commenting, and virtual events with our leading journalists
Already have an account? sign in
Join our new commenting forum
Join thought-provoking conversations, follow other Independent readers and see their replies