Deliveroo riders to go on strike as investigation reveals pay as low as £2 per hour
Investors managing more than $1 trillion say they won't buy shares in company because of concerns about workers' rights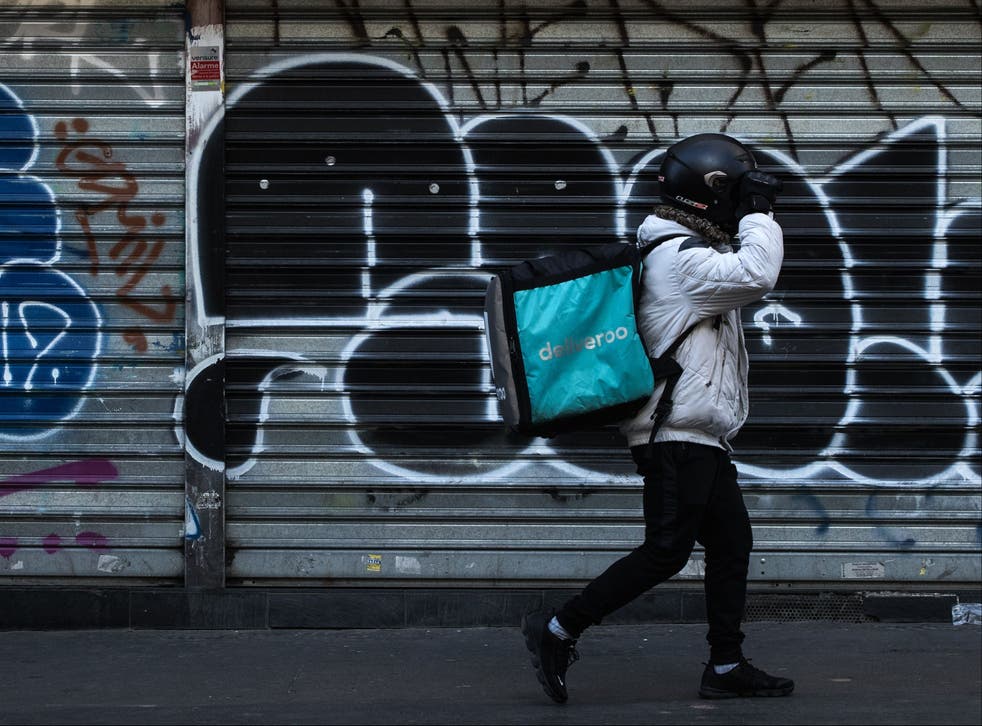 Hundreds of Deliveroo riders plan to strike when the company floats on the stock market, a union has said, after an investigation found some riders earned less that the minimum wage.
Research by The Bureau of Investigative Journalism (TBIJ) found that a third of Deliveroo riders earned less than the adult minimum wage of £8.72 per hour. The lowest paid rider received just £2 an hour, according to TBIJ's review of pay documentation.
The Independent Workers' Union of Great Britain (IWGB) is organising action against the company by riders to coincide with the planned share sale next month. The union expects hundreds of riders to refuse to make deliveries in protest over low pay and insecure work.
Deliveroo disputed the claims which it said were "unverified". Riders earn £13 per hour, on average, Deliveroo said. The company dismissed IWGB as a "fringe organisation" that had spoken to only a small minority of riders.
Deliveroo founder Will Shu's stake is set to be valued at more than half a billion pounds if the food delivery app reaches the top end of its £8.8bn valuation when shares go on sale next month.
That hefty price tag may be in doubt after some of the UK's largest investors said they would not be purchasing shares because of concerns about how Deliveroo treats its workers.
Read more
Aviva Investors, Aberdeen Standard Investments (ASI), BMO Global Asset Management and CCLA have all stated publicly that they will not take part in the blockbuster initial public offering. The four firms manage more than $1 trillion of assets on behalf of clients including pension savers.
A group of 27 major investors met on Thursday to discuss Deliveroo's approach to workers' rights as well as job insecurity, low pay and arbitrary termination of rider contracts.
Campaigning organisation ShareAction, which coordinated the meeting, is calling on investors to urge Deliveroo to guarantee a living wage and grant holiday pay and sick pay.
Andrew Millington, head of UK equities, ASI said: "As long-term investors, we're looking to invest in businesses that aren't just profitable, but are sustainable – employee rights and employee engagement are an important part of that.
He added: "We will not be taking part in the Deliveroo IPO as we are concerned about the sustainability of the business model, including but not limited to its employment practices, and also the broader governance of the business."
As well as ethical concerns, workers' rights also present a financial risk for Deliveroo and any potential purchaser of its shares.
Riders are treated as self-employed contractors but the Supreme Court recently ruled against Uber, which operates a similar model.
Uber granted all of its taxi drivers holiday pay, guaranteed minimum wage and pension contributions this month after the Supreme Court said they should be classified as workers.
The decision is not directly applicable to workers other than Uber drivers but employment law experts have said it will have implications for other gig economy firms.
The company has not changed the terms for its Uber Eats riders, some of whom also transport food for Deliveroo.
Phil Webster, a portfolio manager at BMO, told The Guardian that labour issues were a "ticking bomb on the side" for Deliveroo, which contributed to making it "uninvestable".
He told the newspaper: "You'll wake up one morning and your stock will have halved because the government says this is not acceptable. I just cannot see past the workers' rights. I think you are storing up a massive hole in the business model."
A spokesperson for Deliveroo said: "Deliveroo riders have the complete freedom to choose when and where to work and can choose which deliveries to accept and which to reject.
"50,000 riders choose to work with Deliveroo, and thousands more people apply to work with us every week. Our way of working is designed around what riders tell us matters to them most - flexibility.
"These unverifiable, misleading claims from a fringe organisation who claim to have spoken with 0.6 per cent of Deliveroo riders should not be taken seriously.
"Riders in the UK are paid for each delivery they choose to complete and earn £13 per hour on average at our busiest times. We communicate with thousands of riders every week and satisfaction is currently at an all-time high."
Register for free to continue reading
Registration is a free and easy way to support our truly independent journalism
By registering, you will also enjoy limited access to Premium articles, exclusive newsletters, commenting, and virtual events with our leading journalists
Already have an account? sign in
Register for free to continue reading
Registration is a free and easy way to support our truly independent journalism
By registering, you will also enjoy limited access to Premium articles, exclusive newsletters, commenting, and virtual events with our leading journalists
Already have an account? sign in
Join our new commenting forum
Join thought-provoking conversations, follow other Independent readers and see their replies