Deliveroo orders double as customers continue with lockdown takeaway habits
Food delivery app reports strong sales and narrowing losses, but warns the lockdown boom may not last forever
Ben Chapman
Wednesday 11 August 2021 13:24 Comments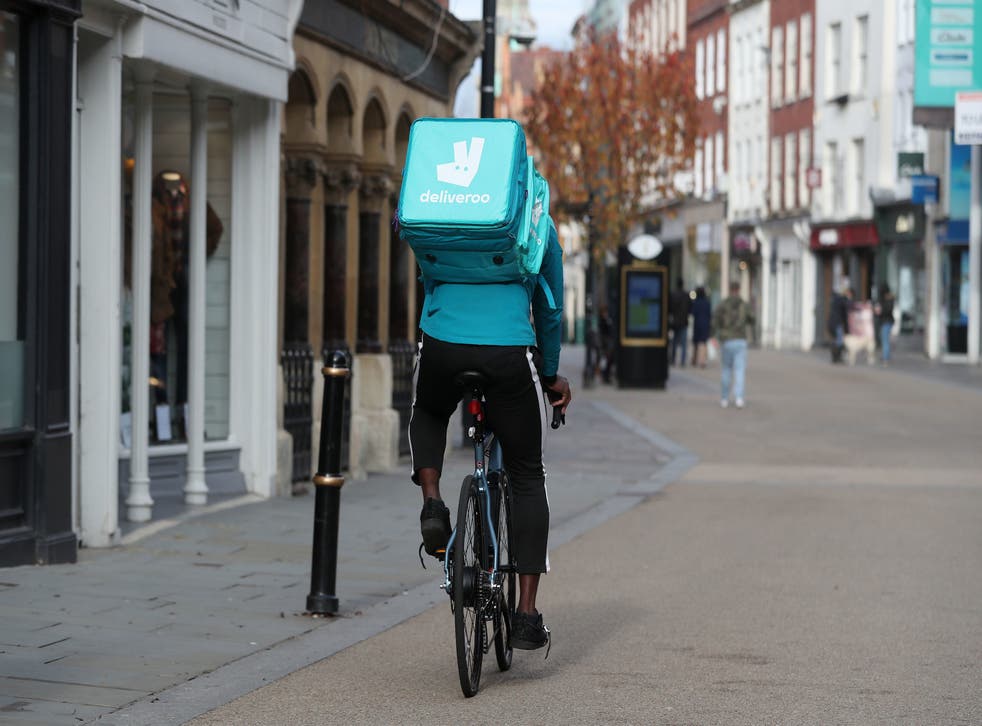 Deliveroo saw orders through its app double in the first six months of the year as lockdown helped to boost sales.
Revenues jumped 82 per cent to £922.5m, the food delivery company reported in its first results since it listed on the stock market.
It delivered 148.8 million meals and grocery orders between January and June – more than twice as many as in the same period a year ago.
However, it still lost money. Pre-tax losses fell from £128.4m to £104.8m over the period,
Deliveroo said the number of monthly active customers – a commonly used metric for apps and social media – increased 81 per cent year-on-year to 7.8 million people.
The results do not cover recent weeks following the removal of most Covid restrictions in the UK, but the company said it had seen "no material impact" on sales so far, suggesting that people may have stuck with the new food-ordering habits that began during lockdown.
Analysts had questioned whether delivery services would suffer when restaurants, bars and other forms of entertainment re-opened.
Chief executive Will Shu said: "We are seeing strong growth and engagement across our marketplace as lockdowns continue to ease.
"Demand has been high amongst consumers. We have widened our consumer base, seen people continuing to order frequently, and we now work with more food merchants than any other platform in the UK."
But the company warned that the boom it has enjoyed so far is likely to ease off in the second half of the year.
Deliveroo expects sales to grow between 50 per cent and 60 per cent this year, in line with guidance it issued in July.
Deliveroo, which Mr Shu founded in West London in 2013, said it now covered 72 per cent of the UK population – ahead of the company's planned coverage of 67 per cent by the end of this year.
The company recently pulled out of Spain because "achieving a top-tier market position would require a disproportionate level of investment with highly uncertain long-term potential returns".
Deliveroo said the move was not related to the Spanish government ordering that riders must be considered employees, not independent contractors.
The company has been criticised over its employment practices because its riders are paid on a job rate which fluctuates. Research by the Bureau of Investigative Journalism found that as many as a third of riders were receiving less than the minimum wage.
Mr Shu said on Wednesday that "more riders are choosing to continue to work with the company because they value the work we offer".
Despite the sales boost, Deliveroo's share price fell 1 per cent on Wednesday. The shares had rallied on Tuesday after German company Delivery Hero announced it had taken a 5 per cent stake worth £284m.
Register for free to continue reading
Registration is a free and easy way to support our truly independent journalism
By registering, you will also enjoy limited access to Premium articles, exclusive newsletters, commenting, and virtual events with our leading journalists
Already have an account? sign in
Join our new commenting forum
Join thought-provoking conversations, follow other Independent readers and see their replies