eBay at 20: 20 of the weirdest things ever sold
The auction site turns 20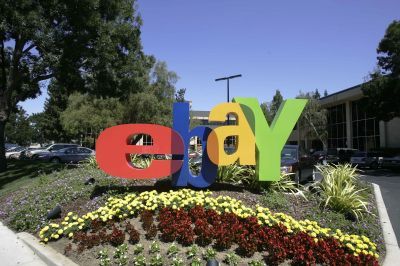 It is twenty years since eBay founder Pierre Omidyar wrote the code for 'AuctionWeb', listed a broken laser pointer, and sold it after one week to a laser pointer collector for $14.83.
A year later, and AuctionWeb had facilitated $7.2 million in sales. In 1997, in keeping with Omidyar's dream of creating the most "honest and open marketplace," AuctionWeb introduced seller feedback and renamed itself as eBay.
Today Omidyar's personal net worth is $8.4 billion, while Forbes lists the site as one of the 50 most valuable brands in the world. It boasts 157 million buyers, about 25 million sellers, and 800 million listings.
Twenty years since the laser pointer, plenty of weird things have been listed on eBay. Here are 20 of the strangest:
1. A grilled cheese sandwich with the face of Virgin Mary
Sold for a staggering $28,000 in 2004, the grilled cheese sandwich is said to have magical powers and was left untouched by mold for more than a decade, according to the woman who made it.
2. A ghost in jar
A jar that a man believed to contain a ghost was put up for auction on eBay because it was terrorizing its owner. The seller, Teajay101, claimed that he "would not be held responsible" if the "black thing" escaped the jar, and that "all sales are final." After numerous bids, the jar sold for just around $55,000 but the buyer never paid for the item in the end.
3. A haunted rubber duck
Another haunted item actually sold on eBay: a rubber duck that, according to its owner, had the power to possess children. The seller said that he would "not be responsible for the duck after shipping. He will not field questions or help to explain its unusual mystique". The duck sold after a week, making him a profit of $107.50.
4. A Dorito shaped like the Pope's hat
The item was sold for $1,209 in 2005. The buyer? Online casino GoldenPalace.com, the same one who bought the Virgin Mary grilled cheese.
5. The meaning of life
In 2000 a man from North Carolina discovered the meaning of life and decided to sell it on eBay. Curiously, it was worth only $3.26.
6. A grandmother
A 10-year-old girl from England tried to sell her grandmother on eBay, describing the relative as 'annoying' but 'cuddly'. The Internet Auction site had to take down the offer as it was breeching regulations on human trafficking.
7. Britney Spears bubble gum
A woman sold a piece of bubble gum that Britney Spears had chewed and spat out at a concert at Wembley Arena in 2000. The winning bid was $14,000.
8. Unwanted brussel sprouts
Herefordshire's Dan Allam has kept the Christmas spirit alive not once, but twice by auctioning off the uneaten sprouts from his holiday roast and donating all money to the Make A Wish Foundation, raising £99.99 and £34 respectively.
9. A man's life
Ian Usher put up his 'entire life' up for auction, including his house in Perth, his belongings, an introduction to his friends, and a trial at his job. His 'life' sold for $384,000, allowing him a fresh start.
10. Imaginary friend
Georgia Horrocks, a 22 year-old Londoner studying at the London School of Communication, put up Bernard her imaginary friend up for sale on the advice of her psychiatrist. She described her as friend as in 'very good health' She created a starting bid of just 99 pence. Bernard will not be sent via post but will be sent via imagination to the winning bidder
11. Unassembled snowman

An "unassembled snowman" has been posted on auction site eBay by one enterprising individual from Rotherham attempting to make the most of the wintry weather. The bold seller has posted a picture of a snowy backgarden under the description "6ft snowman, requires assembly. The initial bid stood at £10 million, which might explain why it was later taken down by the website.
12. A right to name baby
In 2009, 36-year-old Arkansas woman Lavonne Drummond decided to sell the rights to name her unborn child, on eBay. Unfortunately for Lavonne Drummond, eBay was less receptive to her auction and shut the first four down, though they had reached a combined total of over $41,000. The fifth and final auction actually reached a sale at the end of August 2009 for the grand sum of $6,800, but the winning bidder told Drummond he was trying to help her auction and had no intentions of actually paying her, nor naming her baby.
13. A human liver
A man from Florida auctioned off his liver on eBay. The bid reached $5.7 million before it was taken down from the site, due to the fact that it's illegal to sell human organs on eBay.
14. Justin Timberlake's half-eaten French toast
The toast was sold for $1,025 in 2000 when the singer left it behind after an interview with a New York radio station. The leftover breakfast was put for sale by a DJ an a 19 year old fan placed the winning bid.
15. Green witch boots from the stage show Wicked
Green boots were donated by the award winning stage production Wicked during ITV's Heels for Hearts campaign. In aid of the BHF, ITV's initiative asked the public and celebrities alike to donate shoes to the BHF which once sold funded CPR kits in secondary schools. The donated boots were sold for £620.
16. Ghostbusters proton pack toy
A nostalgic treasure from the 80s classic Ghostbusters, a proton pack toy, complete with ghost trap, was supposed to help its new owner stun and catch any ghosts. It was sold for £133 at auction.
17. Ad Space on Forehead
Andrew Fischer, a web designer from, Nebraska, auctioned off the use of his forehead. He said he would have a non-permanent logo or brand name tattooed on his head for 30 days. After several bids he received $37,375 to advertise the snoring remedy, SnoreStop.
18. A box of 10 Twinkies
On Hostess Brands' last day of shipping Twinkies - its iconic snacks, entrepreneurial eBay sellers have taken the opportunity to tap into buyers' Hostess panic, selling boxes for 95 per cent more than grocery stores. The box of Twinkies was sold for $59.99 back in 2012
19. Fish Ornament
A Royal Copenhagen 5456 Salmon Fish ornament was sold for a whopping £555 on the BHF eBay store. The porcelain figurine had a starting price of £9.99 and in just ten days had smashed the £500 mark thanks to five keen bidders.
20. Virginity
An 18-year-old British girl sold her virginity on eBay. It was bought by a businessman who kindly gave her the money she needed for college without taking 'the service'.
Join our commenting forum
Join thought-provoking conversations, follow other Independent readers and see their replies