GMB union to mobilise 640,000 workers behind staying in EU
Annoucement to offer fillip for 'In' lobby
Mark Leftly
Sunday 14 February 2016 23:56 Comments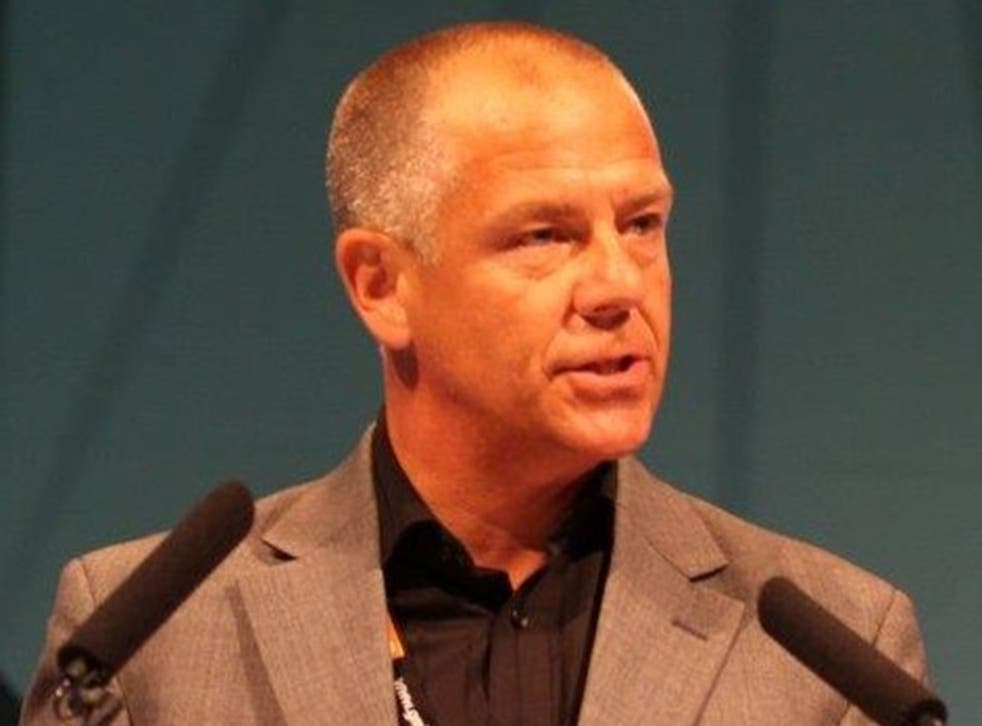 The GMB union will bring an army of nearly 640,000 workers to help the battle to keep Britain in the European Union, The Independent can reveal.
Tim Roache, who takes over from Sir Paul Kenny as the GMB's general secretary next month, said the union's national executive has agreed to start campaigning to remain in the bloc. This is a fillip for the broader "In" lobby after Unison, the country's second-biggest union with 1.3 million members, warned last week that it could urge its members to vote for Brexit.
The GMB will have to get the support of its own members – which include engineers, lollipop ladies and defence workers – for its stance on the EU, in a vote to be held shortly. But this should be a formality.
Mr Roache said the GMB could have decided to back Brexit if David Cameron had diluted EU employment rights – such as the Working Time Directive that limits weekly working hours – as part of his renegotiation of Britain's membership. He claims that top EU officials told him last month that the Prime Minister had attempted to change these conditions.
"I thought it was always a possibility that if Cameron had got his way in terms of watering down workers' rights legislation and protection in Europe, then the GMB and myself could have been campaigning to come out of Europe," Mr Roache explained.
He added that the EU was still "far too stacked in favour of employers", but said the legislation that has best defended workers' pay and conditions over the past 25 years originated from the bloc.
"Europe is far from perfect," he argued. "But it has given us the most progressive employment legislation in the country bar none."
Mr Roache claimed that Brexit would lead to the Government trying to remove such legislation, meaning employers could exploit their staff.
He claimed: "Cameron's whole ethos is about removing the barriers to trade. What he means is cut across health and safety and cut across basic, decent, supportive legislation for ordinary workers so he can allow employers to come in and drive down pay and conditions – all in the pursuit of more profit and not looking after the people who make that profit. And that's workers.
"If we come out of Europe, do we honestly think that Cameron will be suddenly hit by this bolt of decency and start treating workers better?"
Mr Roache also accused the Government of letting employers advertise for cheaper labour from abroad, fuelling public anger over immigration. He argued that companies are able to "abuse all workers, irrespective of where they are from". He claimed that the EU suffers from free movement of labour in which big business can attract workers from Eastern Europe who will be happy to work for little more than the minimum wage.
Biggest business scandals in pictures

Show all 20
The Government is also introducing a highly contentious Trade Union Bill that many critics see as an attack on organised labour. Mr Roache said the GMB is "not frightened" of a reform that would impose a 50 per cent threshold for members turning out to vote as a condition of being able to take industrial action legally.
He said the GMB will get its members out, but he also wants the Government to legislate so they can vote electronically. "This needs to be 21st century, not 19th century," he added.
Register for free to continue reading
Registration is a free and easy way to support our truly independent journalism
By registering, you will also enjoy limited access to Premium articles, exclusive newsletters, commenting, and virtual events with our leading journalists
Already have an account? sign in
Join our new commenting forum
Join thought-provoking conversations, follow other Independent readers and see their replies