India investigates £1.26bn fraud case at single branch of one of country's biggest state-run banks
Punjab National Bank 'detected some fraudulent and unauthorised transactions... for benefit of a few select account holders'
Tom Embury-Dennis
Saturday 17 February 2018 00:51 Comments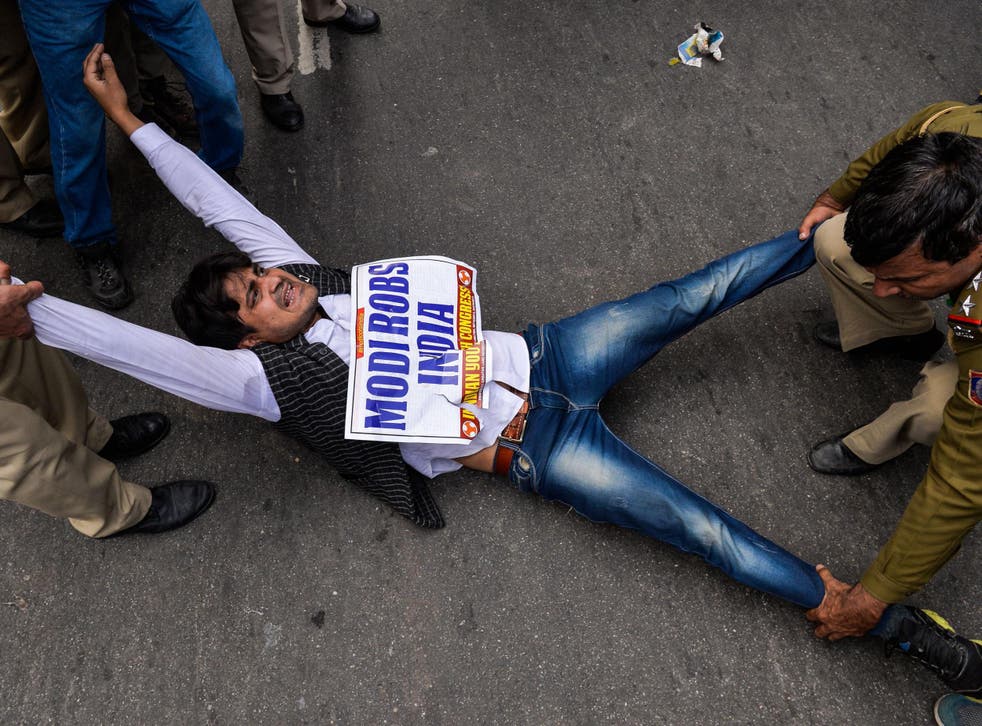 India has launched an investigation into a $1.77bn (£1.26bn) fraud case at a single branch of one of the country's biggest state-run banks.
Punjab National Bank (PNB) said it had "detected some fraudulent and unauthorised transactions in one of its branches in Mumbai for the benefit of a few select account holders".
Investigators have ordered two wealthy jewellers to be question over the alleged scam, according to the news agency Press Trust of India.
The summons came a day after authorities raided the homes and offices of Nirav Modi and his business partner Mehul Choksi, seizing nearly $800m (£571m) in jewels and gold.
The men, who are thought to have left India in early January, before the scam was discovered, have been ordered to appear within a week, local news reports said.
Mr Modi runs an international jewellery empire – featuring a string of high-end brands – that reaches from India to New York.
Authorities have not publicly charged the men, but say they are under investigation for allegedly cheating PNB of $43m (£30m) using fake bank documents.
UBS rogue trader says £1.4bn fraud 'could happen again'
On Thursday, PNB publicly alleged Mr Modi was involved in a much larger $1.77bn fraud case.
Bank officials say the scam appears to have begun in 2011, and occurred at just one Mumbai branch of the enormous state-run bank.
The official complaint over the $43m fraud says the two men, along with Mr Modi's wife and brother, worked with a pair of bank employees to get fake "letters of understanding" – a form of guarantee issued by a bank promising to meet a debt on a customer's behalf.
Bank officials say the letters were sent to overseas offices of Indian banks, which made the actual loans.
"Nirav Modi and his associates tried to bypass the established banking channels to commit this fraud," said Ravi Shankar Prasad, India's Law and Justice minister. "No one shall be spared in the banking system. Action has been taken to revoke his passport."
Neither man has made any public statements in recent days, but the company that Mr Choksi runs, Gitanjali, has said he has no connection to many of the firms listed in the $43m complaint. In a statement, Gitanjali said Mr Choksi "has been falsely implicated in the first place."
Many of the details of the fraud remain unclear, including whether all the $1.8bn is missing, or if some money may have been used to repay earlier loans.
World news in pictures

Show all 50
The revelations sparked a protest against Mr Modi by supporters of India's main opposition party, the Congress Party, in New Delhi on Friday.
Mr Modi's name is a stamp of corporate India's growing global prestige. On Hollywood red carpets, his diamonds have sparkled on the necklines and dangled from the earlobes of actors and models like Kate Winslet, Dakota Johnson and Rosie Huntington-Whiteley.
Back in India, billboards above the traffic jams of New Delhi bear the image of Priyanka Chopra, a Bollywood star and former Miss World who is fast becoming a household name in the US, also adorned with Mr Modi's jewels.
Mr Modi, who has a net worth of some $1.8bn (£1.28bn), according to Forbes, has not yet responded to the allegations and could not be reached for comment.
The setback in Mr Modi's climb to fame and fortune was abrupt, even by the rough-and-tumble standards of one of the world's fastest growing major economies.
During an interview with Reuters in November, the famously soft-spoken Mr Modi discussed his love for art, poetry and paintings. He also spoke of his wife and three children with whom he lives in central Mumbai.
Asked how he planned to raise funds to add new stores, he seemed unconcerned.
"All options are open," he said, sitting in his cavernous Mumbai office. "We could use internal accruals. We can take loans from banks or we could do an initial public offering."
The news of Mr Modi's alleged involvement in the fraud case was a shock for the circles in which he moved.
As recently as last month, he was at the World Economic Forum in Davos. Indian media carried a group photograph with Prime Minister Narendra Modi in the foreground and Mr Modi, who is no relation, grinning between rows of Indian business leaders behind him.
"Top industrialists invited him home to display his collections," said a Mumbai investment banker at a US-based firm who has worked directly with Mr Modi's company. "There was a personal touch in everything he sold. Nirav Modi is a brand."
A senior member at Bharat Diamond Bourse, a Mumbai-based industry body with more than 13,000 members, sketched a similar profile of Mr Modi.
"In one of the industry meetings in 2013 he said that when people wear a Cartier ring they don't say it's a diamond ring, they say it's Cartier," said the member, who did not want to be named. "He always wanted people to say they are 'wearing Nirav Modi'."
Mr Modi grew up in Antwerp, Belgium, in a diamond-dealing family. In 1990, at the age of 19, he moved to Mumbai, according to the November interview.
Nine years later, Modi started his own company, Firestar Diamond, selling loose stones. He employed fewer than a dozen people at the time. By last year, the number was more than 2,000.
He said he came to realise the margins were better in retail.
Firestar Group, the parent company Mr Modi controls as a majority shareholder, saw its revenue grow over three years from 103 billion rupees (about £1.1bn at current rates) to some 147 billion rupees (£1.63bn) by the 2016-17 fiscal year, according to figures previously provided by the company.
In 2010, Mr Modi launched an eponymous jewellery business branded NIRAV MODI, in capitals, with the tagline "Haut Diamantaire". New boutiques in Las Vegas and Hawaii have since been added to a stable that stretches from New York to London to Beijing.
He became a man whose diamond necklaces were sold, with his name attached, by Sotheby's. "Pure feminine elegance," says a Hong Kong auction catalogue note of one 85.33 carat diamond necklace.
The auction house posted an online slideshow of jewellery-on-stars at the 2017 Oscars and highlighted supermodel Karlie Kloss having "a major Nirav Modi moment with her diamond 'Mughal' choker."
But the celebrity links could be starting to break.
A spokesperson for Chopra, the film star, said in a statement: "She is currently seeking legal opinion with respect to terminating her contract with the brand in light of allegations of financial fraud against Nirav Modi."
Additional reporting by agencies
Register for free to continue reading
Registration is a free and easy way to support our truly independent journalism
By registering, you will also enjoy limited access to Premium articles, exclusive newsletters, commenting, and virtual events with our leading journalists
Already have an account? sign in
Join our new commenting forum
Join thought-provoking conversations, follow other Independent readers and see their replies