The Independent's journalism is supported by our readers. When you purchase through links on our site, we may earn commission.
Artfinder: the online art market using AI to match paintings to buyers
Artfinder uses machine learning to match people with their perfect artwork before they lose interest in looking
Hazel Sheffield
Thursday 24 August 2017 12:23 Comments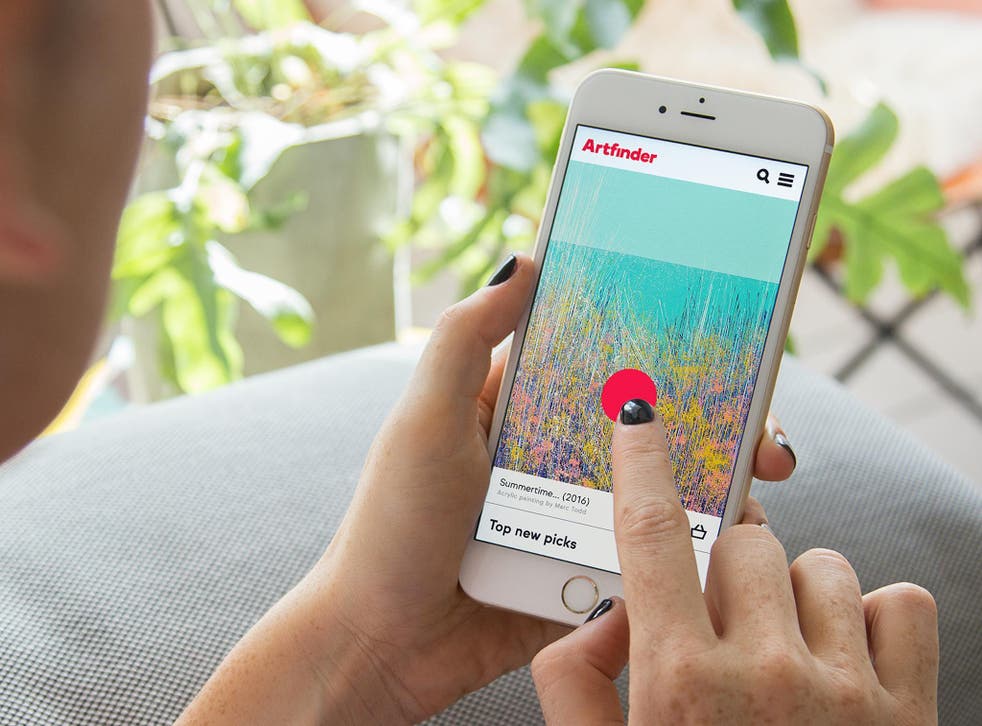 Juliette Belmonte is a Costa Rican-born American artist whose unusual portraits are festooned with with flowers and colourful shapes, giving her subjects a surrealist air. She works from a mobile studio in a Westfalia camper van while she travels up and down the Californian coastline.
For the past 15 years, Belmonte has managed to make a living by doing art fairs and exhibiting in various art galleries. Since June 2013 her sales have doubled thanks to an online art marketplace called Artfinder. "They also go more quickly and reliably," she tells the Independent from the van on the way to the Sierra Nevada mountains with her dog, Hugo.
Artfinder, which was relaunched in 2013, offers 10,000 artists like Belmonte the chance to reach 500,000 subscribers around the world. It sells original art including painting, prints, photographs, and sculpture. All of the art is sold with a 14-day money-back returns policy so that buyers aren't stuck with something they hate.
Belmonte has sold 50 original paintings since she joined Artfinder, ranging in price from $500 to $3000. She says the site increases the chances of an artist being able to support themselves financially through their work. "An artist can reach thousands of potential customers around the world," she says. "This sort of exposure is next to impossible working within the traditional confines of art selling like galleries or art fairs."
Galleries, which represent the lucky few, take a cut of between 40 and 50 per cent on any art sales. Artfinder, which takes a cut of 30 per cent on any work sold, has been designed to help these artists find buyers, using technology to match people to the art they like.
Jonas Almgren, the site's Swedish chief executive, insists Artfinder is more like OkCupid than eBay. "We're more of a dating site than an e-commerce site, even though we are setting you up with an artwork," Almgren says. "But we have the same issues as a dating site: how can you know what you like until you see it?"
The challenge is to match people with their perfect artwork before they lose interest in looking. That can be done by people: Artfinder has hired personal shoppers to help buyers navigate the site's 400,000 artworks. The service is free to buyers with a budget over £500.
But there are technological possibilities. Artfinder is working on ways to recommend artwork based on the taste of people similar to them, just like Spotify recommends songs to listeners using its Discover Weekly algorithm. The site's current algorithm can already recommend art based on visual similarities to a piece selected by a buyer.
"If you see something you like, you can use the 'more like this' function to browse by taste or colour in an informed way, rather than doing research," Almgren says. "This whole area is super interesting, we are constantly developing new technology."
Buying art online has become more popular in the last decade, thanks to demand from millennials who are comfortable making large purchases over the internet. At the moment the market is led by buyers who seek out art by searching Google, like Fiona MacMillan, a project manager contracting at Lloyds Bank, who lives in Glasgow with her husband and young daughter. She started looking online for art after noting her neighbour, a graphic designer, had some great prints near his front door.
"I was always a bit jealous, so I decided to Google to buy a painting," she says. "There were other options but Artfinder was the easiest to use. There were thousands of artists on there and I didn't have the first clue of where to start looking! But this allowed me to search by colour and price."
MacMillan ended up buying two original paintings and spending £400 including delivery. "It's quite addictive," she says. Artfinder gave her a £5 credit for each artwork she bought, so after the first two purchases she had £10 and put them towards and third painting. "Now I have another £5 credit! It does have that bit of addiction about it."
This time, MacMillan thinks she will go for a cheaper painting for her daughter to have in her room: "I was looking at stuff for her like penguins and little pigs. There's that nice price range so you can spend a couple of hundred pounds on relatively cheap things."
Artfinder offers such incentives to stop customers straying to similar sites. The competition includes Artspace, which offers users a personality quiz to help them decide on a purchase; Artsy, which partners with galleries to promote shows, and Counter Editions, which commissions and produces prints.
Almgren says Artfinder is different because it gives buyers the chance to get to know the artist behind the work. "At the high end, buyers love to go to dinner with artists, and we try to provide some of that for our buyers," he says. "This is an important part of being an art marketplace, you don't want people to feel like they are buying a product."
Artists can enjoy this relationship too. "Getting to hear the various interpretations of my work is always interesting and thought provoking," Belmonte says. "Artfinder customers will sometimes follow me on other social media platforms such as Instagram and Facebook, which allows me to get a glimpse into their life as well. You do feel like you get to know them."
​Artfinder's equity investors include Wellington Partners and Oxford Capital, plus a handful of angel investors. The site is yet to turn a profit - though Almgren believes it will around the end of 2018. It may then look at an initial public offering to get a US investor on board, ready for expansion into the US market.
The company has conducted research on its current buyers and discovered that while many were comfortable buying art, they lived in areas outside big cities, with less access to galleries and exhibitions.
The bigger challenge will be reaching people beyond who never search for art online. "How do you make these people aware and help them take the jump from thinking art is too expensive?" Almgren says. "It's both an opportunity and a challenge."
Register for free to continue reading
Registration is a free and easy way to support our truly independent journalism
By registering, you will also enjoy limited access to Premium articles, exclusive newsletters, commenting, and virtual events with our leading journalists
Already have an account? sign in
Join our new commenting forum
Join thought-provoking conversations, follow other Independent readers and see their replies