The Independent's journalism is supported by our readers. When you purchase through links on our site, we may earn commission.
The Hearts Milk Bank: How research and technology is changing the debate around breastfeeding
The Hearts Milk Bank is part of shift to a science-based approach to breastfeeding that leaves the final choice to the mother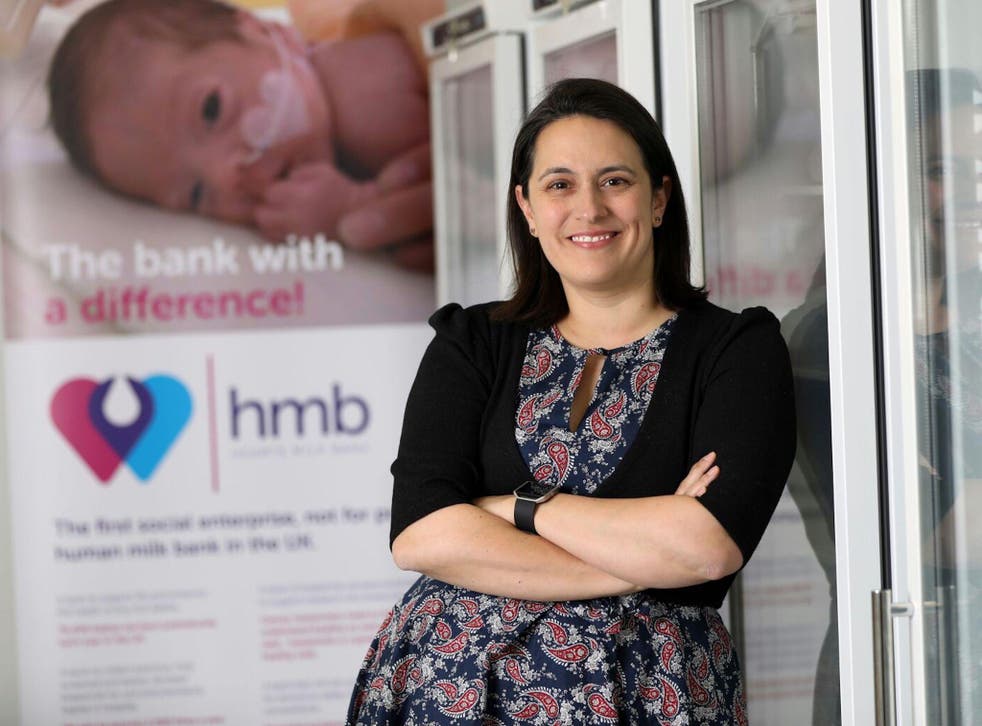 One of Dr Natalie Shenker's proudest moments at the Hearts Milk Bank was helping a woman who was almost housebound because she was expressing up to four litres of milk a day.
The Hearts Milk Bank screened the woman for infections and then started collecting the excess milk. With help from the milk bank's lactation consultant, the woman gradually reduced the amount she was expressing until she could stop donating altogether.
"That's unusual but it's not as unusual as we thought," Dr Shenker says. "There's a whole range of normal breastfeeding – some struggle to produce at all and some could happily feed triplets. We don't really understand the physiology of why that happens."
The lack of available research is part of the reason Dr Shenker founded the Hearts Milk Bank, which she registered as a community interest company or a company committed to using profits for public good, in 2016.
The company, based in Hertfordshire, currently has 60 donors whose milk is distributed to NHS hospitals in London and the South-east just like the blood transfusion service. It is one of 16 milk banks in the UK, including a nationally-funded service in Glasgow, one in Chester that supplies up to 50 hospitals and one in Bristol that supplies the South-west.
Many babies and parents face what Dr Shenker calls a "postcode lottery" when they need breast milk. She approached co-founder Gillian Weaver to start an alternative service after the NHS-funded milk bank Weaver had run at the Queen Charlotte and Chelsea Hospital for 25 years was threatened with closure. Without the Hearts Milk Bank, many neonatal units in London would only have intermittent access to local supplies.
But Hearts was, from the start, a milk bank with a difference: Dr Shenker said it was set up to ensure the supply of breast milk for research purposes, to learn about the potential for breast milk to save lives. At the moment there is not enough evidence on the benefits of breast milk to make a conclusive case for it to be publicly funded.
"It seems crazy that in a modern healthcare service we were not funding a service that would save the NHS money and save the lives of babies," Dr Shenker says.
There is already a strong body of evidence to suggest that breast milk is critical to babies born prematurely. "The very best nutrition for a baby is their mother's own milk but for a substantial number of cases it can be difficult for a mother to produce milk," Dr Shenker explains. "If it is not available babies are fed with formula which can give them great risk of infections and a complication called necrotising enterocolitis or NEC."
NEC is a serious illness in which the intestine becomes inflamed and starts to die. It affects 10 per cent of premature babies and can lead to the perforation of the gut. It has a mortality rate in premature babies of 40-50 per cent.
Dr Shenker says: "If the baby is fed in the interim with donated breast milk, although the milk has been pasteurised and frozen, it contains antibodies that are not found in formula. Repeated studies have shown reduced rates of NEC."
Despite its vital role, less than 1 per cent of the population have heard of milk banking, according to research by Dr Shenker and the team. "The message hasn't been transmitted that breast milk is fundamentally not a food. It is developing the baby through the calories but also through the molecules, the genetic signalling, that make a fundamental difference to the way a baby grows," Dr Shenker says.
Dr Shenker and Gillian Weaver raised £20,000 in crowdfunding to get the Hearts Milk Bank started. In 2017, they secured some further funding from Nesta to build an app that will automate the process for mothers donating breast milk, improving the time it takes for mothers to register and donate. But they had to reject an offer on investment funding because of their social enterprise status.
Hearts decided to adopt a lean startup approach to growing the business after struggling to find suitable funding. "It led to a lot of sleepless nights," Dr Shenker says. "That was really the rollercoaster of the first six months. We had hundreds of women calling, we recruited hundreds of donors already. We were able to support parents in the community, where mums found it difficult to initiate breastfeeding."
The Hearts Milk Bank is part of a broader change in the way breastfeeding is perceived. While the choice between breast and bottle feeding has become politicised, a science-based approach that leaves the final choice to the mother is gaining support. This approach forms the basis for a UNICEF campaign called "Change the Conversation" around breastfeeding, which has been set up to remove the barriers for breastfeeding and create a more supportive, enabling environment for mothers.
"Human Milk, Tailor-Made For Tiny Humans" advert from Tiny Humans Productions on Vimeo.
Claire Tchaikowski, a singer and music video producer from Bristol, found herself at the forefront of this shift when a video she made advertising the benefits of breast milk was shown at the launch of the Unicef campaign. She made "Human milk, tailor-made for tiny humans" entirely voluntarily in the hope that it would have a "balancing effect" alongside adverts for formula milk.
The video is now being used in hospitals and universities for training. "The way we approached the topic was purely information on the science of human milk. There's no comparison, there's no mention of what people should or shouldn't do, it's purely: Here's what's in your milk and after that people do what they want to do," Tchaikowski says
She has since registered Tiny Humans as a community interest company and has a line of clothing suitable for breastfeeding mothers coming out in February, featuring designs based on the molecules in breast milk.
Dr Shenker says that while funding and equipment is needed for research, advertising and education of this kind is the most important step towards changing attitudes. "Outside investment would always be helpful, but really what we need to be doing is educating parents about human milk," she says. "We're not looking to use the stick. We're trying to get the evidence up and fill in the gaps."
Register for free to continue reading
Registration is a free and easy way to support our truly independent journalism
By registering, you will also enjoy limited access to Premium articles, exclusive newsletters, commenting, and virtual events with our leading journalists
Already have an account? sign in
Register for free to continue reading
Registration is a free and easy way to support our truly independent journalism
By registering, you will also enjoy limited access to Premium articles, exclusive newsletters, commenting, and virtual events with our leading journalists
Already have an account? sign in
Join our new commenting forum
Join thought-provoking conversations, follow other Independent readers and see their replies