More than 100 of London's tech startups consider moving to Berlin post-Brexit
German capital is trying to poach cuttting-edge companies from London with the message: 'Keep calm and move to Berlin'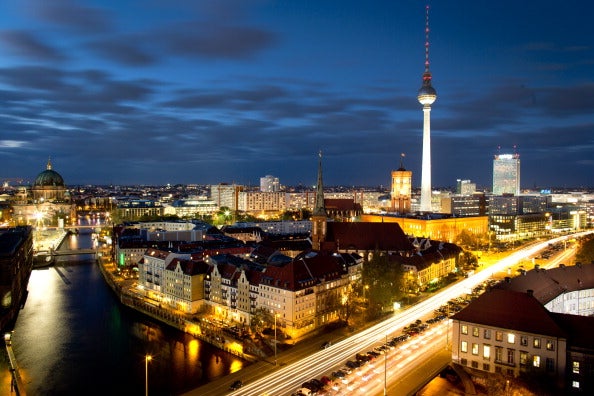 More than 100 startup companies in London are looking into relocating to Germany's capital following the UK's decision to leave the EU, a senior Berlin politician has claimed.
During a presentation at the financial technology industry's conference London Fintech Week 2016, Senator Cornelia Yzer said every time she speaks publicly about Berlin post-Brexit, a number of startup companies approach her office about moving to Berlin.
"Not 10 or 20 or 30, more, over 100," she said, according to International Business Times.
"Berlin is a boom town for companies focusing on fintech, ecommerce, mobile apps and a growing number of multinational companies are coming into town, opening incubators, accelerators, digital units to co-operate with the startup community."
Ms Yzer, the city's senator for economics, technology and research, sent hundreds of letters to British businesses and attended London Fintech week to lobby startups, a term used to describe newly established companies in fast-growing sectors such as communications, computer games and the internet generally.
Fintech covers businesses that use software to provide financial services in contrast to the traditional business models of established banks.
Deutsche Bank and Microsoft have already opened an 'accelerator' firm in Berlin and Commerzbank is partnering in the city.
The German capital secured 10 major fintech deals in 2015, totalling up to $80bn (about £61bn), according to Ms Yzer.
Theresa May says she has an 'open mind' over Brexit negotiations
"Berlin is the third-largest market for offices in Europe and rents are fair; commercial real estate that works out at about a fifth of the cost of office space in London," she said.
"The Berlin government does not only provide funding, but also support to guarantee companies that want to relocate to Berlin a soft landing.
"There is no doubt these companies will be interested in being in the European Union."
Travis Todd, the founder of Silicon Allee, a group building a six-floor campus for startups in central Berlin wrote on his website: "It's an exciting time for Berlin because the city itself is still adapting, growing and finding its creative potential. Luckily for tech startups, the government has embraced the new economy and is trying to help out where they can."
Berlin attracted two billion euros in venture capital investment in startups in 2014, outstripping London, an Ernst and Young report found last year.
The German capital currently has about 100 fintech startups.
This month, a white truck with a placard reading "Dear startups, keep calm and move to Berlin", paid for by Germany's FDP party, drove around the streets of Westminster and Shoreditch.
Join our commenting forum
Join thought-provoking conversations, follow other Independent readers and see their replies