Bristol Cable: the local investigative journalism co-op training citizens to hold power to account
The Cable's founding principle is that journalism is a public asset and therefore should be free at the point of access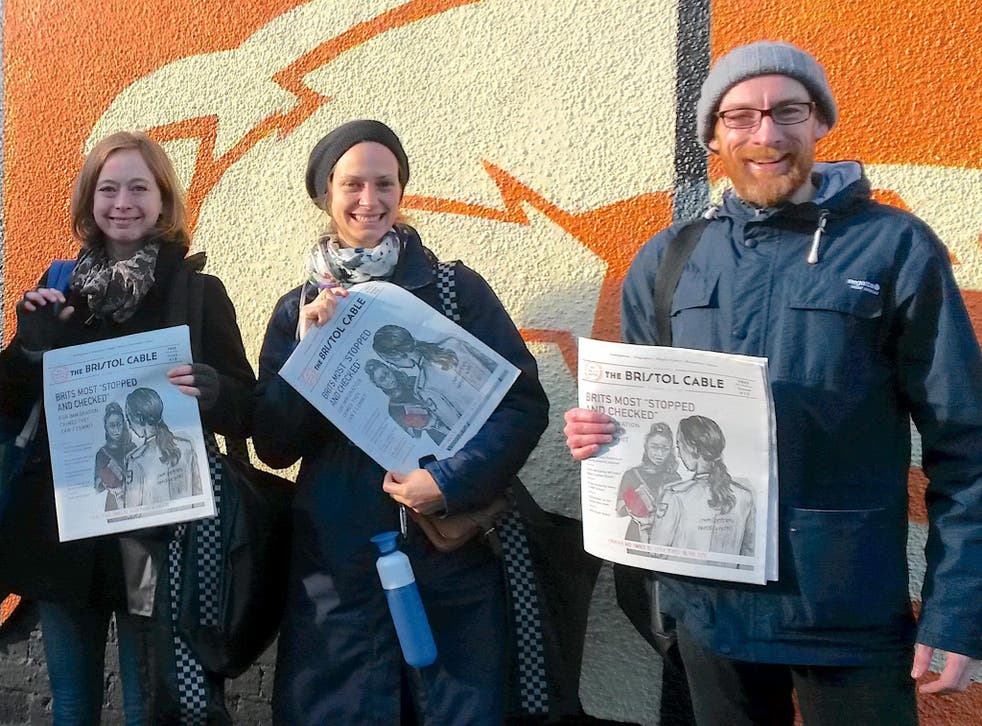 Three years ago, three friends from the University of Sussex took a gamble. Alec Saelens, Adam Cantwell-Corn and Alon Aviram believed local news in Bristol was failing to serve the city. They thought that with a strong enough offer on the table, local people would be willing to fund something better.
This month, the Bristol Cable, a media cooperative and quarterly print publication created, owned and run by Bristolians, welcomed its 1,900th member. It costs £1 a month to join, with the average member contributing £2.70 a month. In three short years, the Cable has broken national stories about British citizens unfairly stopped in the street by border patrol; held Glencore, the world's biggest mining company, to account over its tax arrangements after the emergence of the Paradise Papers; and conducted a local investigation on unfair practices used to remove rough sleepers.
But the Cable does more than the traditional journalistic aim of holding power to account. It plans to change the very nature of local journalism by giving its members a say in how the publication is structured and governed. It is stretching the notion of journalism by training members to be its eyes and ears on the street.
Eighty per cent of UK local media is owned by six companies, according to 2015 data from the Media Reform Coalition. In Bristol, the Trinity Mirror owns the Bristol Post, which has a circulation of 17,000.
The Media Reform Coalition has warned that concentrating control of local British media within a few, powerful companies means wealthy individuals and organisations can distort the landscape to suit their interests and views. "Urgent reform is needed in order both to address high levels of concentration in particular media markets and to protect against further concentration in others," the 2015 report says.
The Bristol Cable sees itself as part of the solution at a time when media cooperatives, dubbed stakeholder media, are cropping up around the world. "It feels like a moment," says Adam Cantwell-Corn when I reach him by phone. "It's been heightened by the sense that journalism is failing to counter fake news, looking through the prism of Brexit and Trump and in particular, public trust in the media as a whole. Part of it is the tentative solutions that are emerging out of that."
Cantwell-Corn says that when the Cable started three years ago, the founders had no idea that they would be part of an emerging movement of stakeholder journalism. These publications are all trying to address the decline of corporate advertising while bringing citizens into the fold: "There are lots of green shoots; funding is becoming available that's moving its way into the mainstream consciousness."
The Cable's founding principle is that journalism is a public asset and therefore should be free at the point of access. This is in opposition to publications that have sought to put up paywalls to fund their work. "For us the only answer at the moment is membership-led on a democratic basis, that it's supported and aimed at having community interest and public accountability."
The Cable is not alone in this view. The Ferret is an award-winning investigative journalism platform for Scotland. It also works on the cooperative model, with places reserved for journalists and subscribers on the board. "It means that when you subscribe to The Ferret you become more than just a passive supporter," the publication advertises. "You become a part-owner of the project, and you can influence how the project will develop by voting at our regular member events. You can even stand for election to the board."
The Cable is part of the Global Investigative Journalism Network, an organisation founded in Copenhagen in 2003 that brings together the 5,000 members for an annual conference. A lot of their efforts go into trying out different funding models – from crowdfunding to non-profit money.
While the Cable benefits from member contributions, it is a long way from being sustainable, Cantwell-Corn says. "We're looking to more than double our membership and increase the [average] fee to around £3. We have to find the sweet spot to increase our capacity to deliver what we want to do by increasing the membership. If we can hit 4,300 members we'll be in a good place."
At the moment, the six full-time staff at the Cable are paid the minimum wage, with contributors, illustrators and distributors offered a flat rate. It has just won £40,000 from the David Logan Foundation to expand its capacity in the local community.
Part of this money will likely go towards paying a community media coordinator that will be dedicated to expanding the team's commitment to helping people to produce quality local journalism. "These are amateur members of the community who want to develop their skills," Cantwell-Corn says. "It's a core strand of what we do, but we need someone who has that dedicated work remit."
Sandi Dheensa heard about the Cable when it first launched. The 30-year-old social scientist is currently researching biotechnologies at Cardiff University, but it hasn't stopped her being a loyal member of the cooperative, so much so that she leaves copies of the paper on trains in the hope people will pick them up. "Membership means I can vote on things like where the paper is heading, advertising ethics, where to seek funding, what sorts of topics the paper should focus on," Dheensa says. "It also means I'm part of a lovely and switched on community of people who care about the city, the UK, and good journalism!"
Dheensa has taken part in journalism training offered by the Cable, dubbed Media Lab, and has since written three articles for the site. "In a time when going to university or doing a course means saddling yourself with a ton of debt, it's a rare and amazing thing to have such an opportunity for free," Dheensa says.
Cable founders dream of a training programme for community journalists like Dheensa, rather than just a one-off lab. They are also looking at setting up a software stack to make it easier for community members to be part of the everyday process of holding power to account.
"We're looking at knitting together existing software that has communications, newsletters and push notifications, all in one Bristol Cable-branded platform," Cantwell-Corn says. "It's fundamental to the business model now we're pushing 2,000 members. There's only so many people you can fit in a room."
Join our new commenting forum
Join thought-provoking conversations, follow other Independent readers and see their replies