Bristol Wood Recycling Project: 'life-saving' co-op facing closure to make way for £300m university campus
After allowing the co-op "meanwhile use" of the land for 14 years, Bristol Council has decided to sell it for redevelopment, putting the future of the project at stake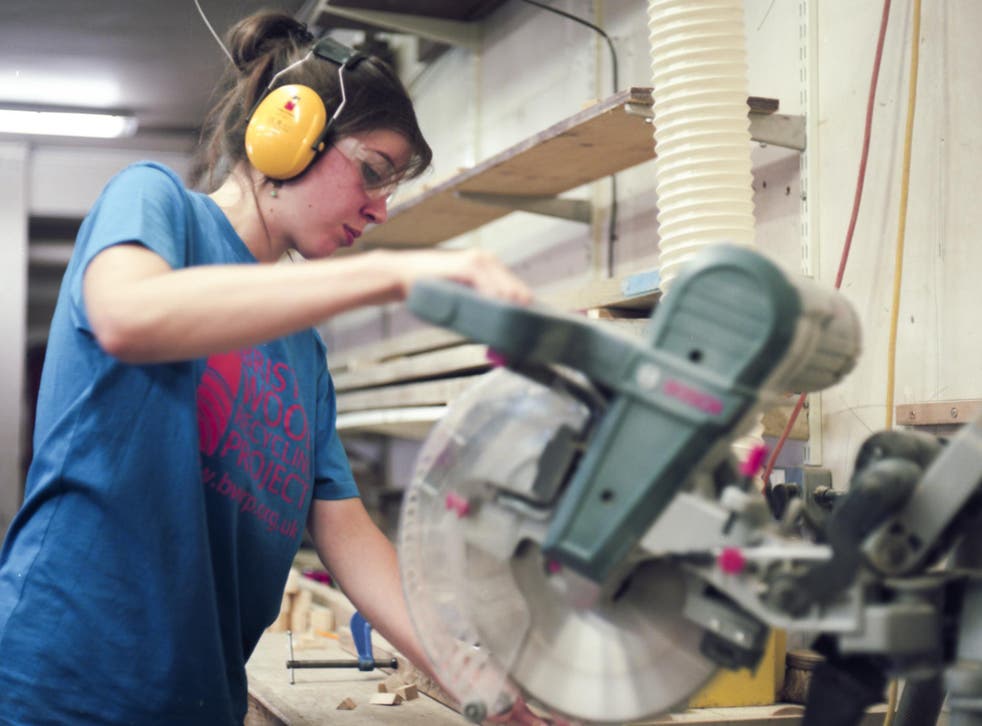 When Ben and Stacey Broadbear found out they were expecting their first child, they knew they'd have to get some more storage for their home in Brislington on the outskirts of Bristol. Stacey, a graphic designer, had designed furniture for their home before. She knew exactly what she wanted and the place to get it: the Bristol Wood Recycling Project.
The project, which trains volunteers from the area to make furniture out of recycled wood, occupies a plot of land next to Bristol Temple Meads station, behind a Royal Mail sorting office that closed in 1997.
In the shadow of that majestic, derelict structure, the little co-operative has turned a crumbling red-brick building into a workshop that produces bespoke furniture, often for first-time home-owners and young families such as the Broadbears. It has transformed the lives of volunteers, many of them marginalised or unemployed, in the process.
Now all that is at stake. After allowing the co-op "meanwhile use" of the land on a peppercorn lease agreement for 14 years, Bristol Council has decided to sell the land for redevelopment. The buyer is the University of Bristol, which is investing £300 million in a seven acre business school called the Temple Quarter Enterprise Campus, focussing on teaching and research of digital technologies.
"I don't know what they mean by business, but you would hope that there was a nod to sustainability," says Kaleb Debbage, the co-director of the project. He turns his attention to the Broadbears, who have come with a printout showing the computer desk they have in mind. They request a similar finish to the dining room table and pair of cabinets they'd had made by the project a few years earlier. I ask them why they came back.
"This man is really good at his job," say Ben Broadbear, motioning to Kaleb. "And it's good to recycle."
Stacey says they might go to an out-of-town location if they wanted something else made in the future. But it's clear the project's central location is a draw: "It's massively convenient to pop in here before work or at the weekend."
Ben Moss, who started the project in 2004, says occupying a city-centre location for low rent has enabled it to grow into a sizeable organisation with a member of staff employed to assist the training and support of volunteers.
Both Kaleb and Ben say that Bristol Council has been "amazingly" supportive. They are working with the council to find a new site. The project is also receiving advice through The Hive, a programme of support for new and existing co-ops run by Co-operatives UK, a network for co-ops run in partnership with the Co-operative Bank.
Bristol Council did not respond to requests for comment by press time, but a spokesperson for the University of Bristol said: "While the project is a fantastic resource for the city, it requires a fairly large site and unfortunately we're not able to incorporate it within our plans for the new enterprise campus."
Moss started Bristol Wood Recycling Project with the idea of running a self-sustaining social enterprise to address some of the waste that he saw in the city. "I had volunteered for charities planting fruit trees in Malawi and showing people how to make compost," he says. "That was dependent on donor funding. This model, the social enterprise model, funded itself."
Only through running the organisation did he discover the depth of the social work that came with the territory. "I discovered the social needs we have in the city," he says. "We were doing environmental work but with people with mental-health problems, people in addiction recovery, the long-term unemployed, sometimes just lonely people. Working with them gave me a real sense of community."
The co-op is part of a national network of wood recycling co-operatives that secures contracts with national construction and building companies to collect surplus wood for a modest fee, undercutting the charge they would face to dispose of it as waste. In 2016, community wood-recycling projects in the UK rescued more than 17,000 tonnes of wood, nearly half of which was reused. Most of it would have otherwise been turned into woodchip or left to rot in landfill.
Volunteers in Bristol are asked to spend 10 days working in the processing area of the project, sorting the wood, taking out nails and deciding what can be sold and what has to be scrapped. After 10 days they get a hoodie, a discount on wood and the chance to start working in the workshop, where more experienced staff like Kaleb can teach them how to make furniture.
Ben remembers one volunteer that came to him recovery from alcoholism and volunteered for months before he got a job in the construction industry as a banksman. Another recovering addict joined as a volunteer just after he got clean. A year later, Ben discovered him managing the construction site that Ben was collecting wood from.
"But these examples feel slightly contrived," he says. "There are also volunteers who are unlikely to ever get paid work – even though the state is cutting their benefits – yet they continue to work with us because of all the things our project offers them." Then there are those whose needs go far beyond what the project can offer.
"Amazing things are provided by this project, meeting needs that are otherwise unmet. It is not enough provision for some," Ben says. "But social enterprises and co-ops are part of the solution."
Register for free to continue reading
Registration is a free and easy way to support our truly independent journalism
By registering, you will also enjoy limited access to Premium articles, exclusive newsletters, commenting, and virtual events with our leading journalists
Already have an account? sign in
Register for free to continue reading
Registration is a free and easy way to support our truly independent journalism
By registering, you will also enjoy limited access to Premium articles, exclusive newsletters, commenting, and virtual events with our leading journalists
Already have an account? sign in
Join our new commenting forum
Join thought-provoking conversations, follow other Independent readers and see their replies