The Independent's journalism is supported by our readers. When you purchase through links on our site, we may earn commission.
'They look after the land because they feel it is theirs': how South Wales is learning from forests in Scotland
Project Skyline is looking at the possibility for people from the South Wales Valleys to own the land around their village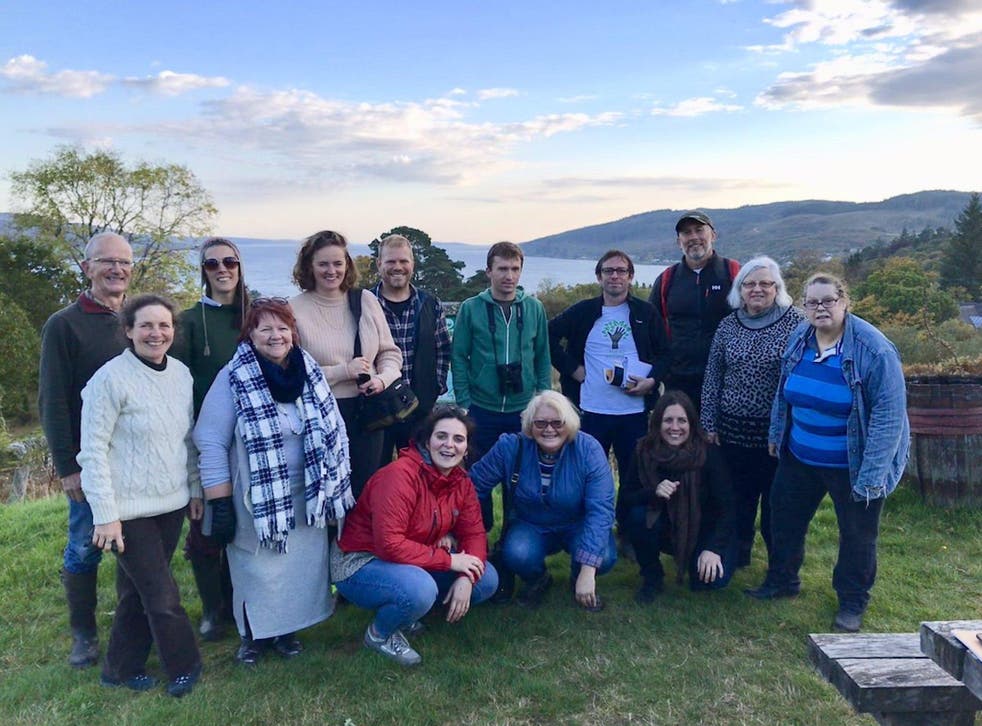 When Welcome to Our Woods started in the South Wales Valleys 22 years ago it had one simple aim: to stop young people from setting fire to the forest.
Locals from Treherbert, a former coal-mining village at the head of the Rhondda Fawr Valley, remember the forest as a no-go area. It had been planted to grow pine for pit props, the timber splints used to prop up the coal pits. After the mines closed, the forest became wild and overgrown. It was littered with burned-out cars and scarred by uncontrolled blazes that ripped across the mountains. Until two decades ago, when Ceri Nicholas, a project worker in the Valleys, had an idea to stop bored teenagers from setting it alight: start an official firepit and teach them to make fires properly.
"There was a lot of controversy about whether he should be doing it," says Ian Thomas, director of Welcome to Our Woods. "But we haven't had an arson attack on the site since."
Welcome to Our Woods has transformed this patch of the Valleys. It generates income from a hydroelectric scheme, rents growing spaces in polytunnels and it's just bought a library in the centre of Treherbert to host yoga classes, a pay as you feel cafe and other community groups. The project has also been awarded £1.2m from Create Your Space, a Big Lottery fund that enables people to improve their natural environment.
Thomas and his colleague Martyn Broughton, a person trainer who runs exercise and wellbeing classes for Welcome to Our Woods, joined with Project Skyline, which is looking at the possibilities for people from South Wales to manage the land around their town or village, on a recent trip to community forests in Scotland.
Over the course of three days and many miles, the group from South Wales visited the Kilfinan Community Forest in Tighnabruaich and the North West Mull Community Woodland Company on the Isle of Mull. Thomas had driven up to join the project through bad weather, dodging landslides that blocked some of the roads to this remote part of the Scotland.
One day, after lunch of soup and sandwiches at the Bellachroy Hotel overlooking the loch, Skyline Project members listened attentively as John Addy and Ian Hepburn, directors of the company, explained how they took a nearby forest on Mull into community ownership. "When the assets are managed by the community, the conflict between regeneration and repopulation is minimised," Hepburn said. "You only have to look at the children here. They look after the forest because they feel it is theirs."
The forest on North West Mull, which was overdue for felling, has provided an income for the group since they built 17 kilometres of roads to get the timber out. It is also home to archaeological sites, wood-fuel processing, nature trails and an eagle watch point that is popular with visitors hoping to see eagles Hope and Star and their two chicks. There are plans for nine forest "crofts" or areas of land lived on and farmed by crofter tenants on a very long time lease, plus additional plans for five affordable homes.
"We don't intend to run everything," Addy, a former marine biologist, said. "It's about creating an opportunity for people to come in and run it."
This year, thanks to the success of the community forest, the group voted to buy the Isle of Ulva, a neighbouring island that was formerly owned by a private landlord.
"The prospect was that the island was bought by an oligarch or a sheikh and use it as a private playground," says Hepburn. "We were very fortunate in Scotland as there are laws for us to use, but it was still an enormous amount of paperwork."
The group were the first to employ the Scottish Land Reform Act in the sale. This creates the legal grounds to force the sale of private land to community bodies who have an interest in its sustainable development. The community raised £4.65 million to buy the island, the bulk of it from the Scottish Land Fund, with funding set aside for another two years to conduct land surveys and explore ideas for what to do next.
Unlike in Scotland, there is no legal basis for communities who want to own their land in Wales. Project Skyline is the first attempt to produce a feasibility study to describe what community ownership might look like in the Valleys, with their long history of coal mining and private ownership.
Thomas remembers: "The chief executive of Natural Resources Wales, when it got when it got created, stood with Ceri and said, 'All of this land here is uneconomic. If you can think of a better idea of how to use it, tell us and we'll work with you on it.'"
Thomas joined Welcome to Our Woods in 2013, just as the Forestry Commission merged with the Countryside Council and the Environment Agency to create Natural Resources Wales. The new body, which was created to manage Wales's natural resources in a more joined-up way, was launched from the community building at Welcome to Our Woods.
Since Thomas became a director of Welcome to Our Woods, he has been keen to wean the project off the grant funding on which it relies to survive. "There are obvious opportunities that are not being realised," he says. "We've got a hugely productive community, lots of tradesmen and skilled practical workers, but they leave the valley each morning in white vans driving over the mountain. This project is all about realising the very obvious opportunities that are there."
Thomas can already see the impact that Welcome to Our Woods is having in the community. Every Thursday afternoon, volunteers create space for people with mental health issues to come and spend time outdoors, weaving, enjoying the fire, drinking tea and chatting. Its at these quiet moments that Thomas knows they're on the right track: "I look up at all these different things going on and I think, 'This is right.'"
Join our new commenting forum
Join thought-provoking conversations, follow other Independent readers and see their replies