How UK councils are crowdfunding themselves out of a crisis
Since 2015, 45 councils across the UK have used civic crowdfunding to plug gaps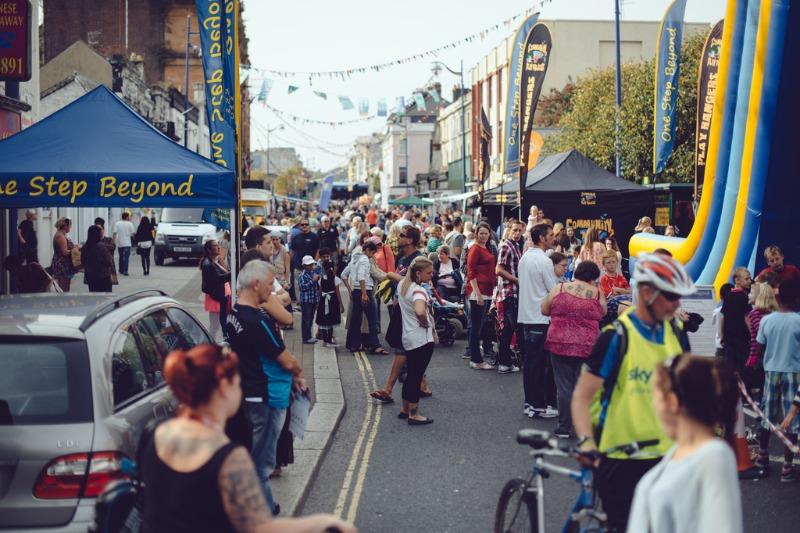 The building on the corner of Union Street in Plymouth had been empty since the mid-1980s when one year, at their annual street party, residents decided to do something about it. It was one of several boarded up properties in Stonehouse, one of the 1 per cent most deprived areas in the country and one of the only places in Plymouth with a licensed sex trade. Led by Stonehouse Action, a community group, residents hatched plans to transform the derelict building into a permanent space that embodied the spirit of the street party all year round.
"We talked to organisations about helping us renovate the building, but after seven months of talking it turned out they couldn't," says Wendy Hart, the vice chair of Stonehouse Action. The group knew that grant funding could take a long time to secure. So in June 2015 they turned to a crowdfunding initiative launched by Plymouth Council and appealed to the community to help them raise £10,000 in 28 days.
Plymouth Council was the the first in the country to partner with Crowdfunder.co.uk, a crowdfunding site that came out of the local university. Since Crowdfund Plymouth launched in 2015, 45 councils across the UK have started using different types of civic crowdfunding, representing around 12 per cent of the 418 councils in the UK.
Not all of these types of crowdfunding require donations from the community and the council. For big money renewable energy or infrastructure projects, councils can use platforms like Abundance, a peer-to-peer investing site, to appeal for investments ranging from £5 to a chunk of someone's pension.
Bruce Davis is the co-founder of Abundance and a board member at the UK Crowdfunding Association (UKCFA), which started in 2013 to represent the crowdfunding industry. He says civic crowdfunding is about giving people ownership over the changes that are happening in their area.
"Connecting people – that's what we mean by the word civic – is important, it goes counter to the trend we had in the past when infrastructure was down to people. This is much bigger than going to a consultation. If your money is invested you feel that sense of ownership and control," he says. It's no coincidence that the rise in civic crowdfunding comes as councils grapple with swingeing public sector cuts, with many struggling to deliver services.
"Particularly in an era of public sector cuts when the council is under pressure about what they cut and what they deliver, this increases the sense that if people really want something to happen they have a way of doing it themselves," says Hannah Sloggett, the neighbourhood planning manager at Plymouth Council, where the budget has shrunk by a third.
Dawn Bebe, the co-founder of Crowdfunder, approached Plymouth Council about using their platform 2014. "We noticed that councils are under financial pressure from huge cuts and that they are reducing the number of people they employ, which makes it difficult to administer a small grants programme," Ms Bebe says.
A year later, Plymouth invested £60,000 from its community infrastructure levy (a tax paid by developers) to create Crowdfund Plymouth. Any community project with a Plymouth postcode was invited to apply, but projects had to reach 25 per cent of their funding target in order to be eligible for a council contribution. That made sure that local people were behind the idea.
Within 12 months, Crowdfund Plymouth raised over £430,000 for more than 100 projects in the city, from TruVision, virtual reality for architecture, to Collings Park Trust, a community garden. Almost two thirds of the 4,550 project backers in the first year said they were motivated by the fact that Plymouth Council would also back the project. The promise of a council contribution was such a good motivator that projects that received council funding often went on to reach their total funding target within four days, while the amount people were willing to pledge increased by 56 per cent after council backing.
Ms Sloggett says crowdfunding has created a more agile, transparent way to fund worthwhile community initiatives, while reducing the burden of administration on the council. "Projects can explain what they are doing in a way that suits them," she says. Groups are not ticking boxes for funders, but appealing to their community and trying to please the crowd.
Despite a strong tradition of funding community work, big foundations and charities struggle to mobilise their systems in time to pledge within a 28-day funding timeframe. For the Union Corner campaign, volunteers went out on foot around the neighbourhoods to talk to businesses instead. Ms Hart spent a memorable 20 minutes being grilled by a businessman from a local metal plating company, which ended in a nice surprise: "I thought it was a bit much seeing as we'd only asked for £20, but within half an hour he had put on £1,000."
Ms Sloggett says the entrepreneurial nature of crowdfunding fosters skills and qualities that voluntary groups need to survive, such as transparency and accountability. If a campaign fails, groups are publicly shown that they don't have community support. When they are successful, projects are more accountable because they have to answer to the crowd. "You want to look after people's money in a heartfelt way when you know that someone has given you £10 or £5," Ms Hart says.
In the last year, Ms Sloggett has been contacted by as many as 30 other councils looking to harness crowdfunding in their area: "It meets two of the big targets: administration savings and community engagement."
Since it reopened in June, Union Corner has hosted film nights and concerts. It provides space for the Scouts, a Stonehouse Time Bank, and workshops including tai chi, felting, textiles workshops and mask-making. Blinky's, the strip bar, has closed down. Now Ms Hart and the other Stonehouse Action volunteers are looking at setting up a market on the street and seeking to incubate community businesses in the building. "It's not just Union Corner," Ms Hart says. "It's all the things that can happen as a result."
Join our commenting forum
Join thought-provoking conversations, follow other Independent readers and see their replies