Delivery Hero set to raise over £800m from IPO as it seeks to fend off Uber and Amazon competition
Delivery Hero will become the fourth major online food delivery firm to go public in recent years globally, following GrubHub, Just Eat and Takeaway.com
Tom Sims
,
Maria Sheahan
,
Sophie Sassard
Monday 19 June 2017 09:02 Comments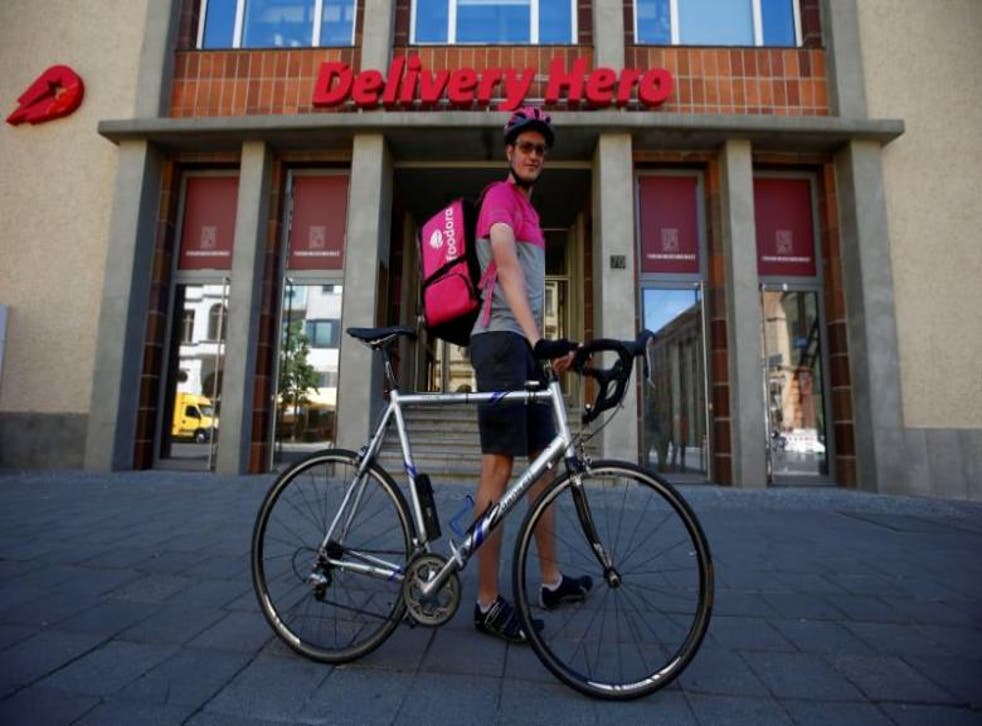 Delivery Hero is aiming to raise around €927m (£811.79m) through a stock market listing that could value the online takeaway food delivery group at up to €4.4bn (£3.85bn).
Some investors consider this a hefty price tag given that the Berlin-based company has yet to turn a profit and faces fierce competition from regional players like Britain's Just Eat and the Netherlands' Takeaway.com, as well as global groups like Amazon and Uber.
Delivery Hero will become the fourth major online food delivery firm to go public in the past few years globally, following Grub Hub, Just Eat and Takeaway.com, which have all seen their shares soar since listing.
The sale will provide a much-needed boost to German e-commerce investor Rocket Internet, which holds a 35 per cent stake in Delivery Hero, making it the biggest holding in its portfolio.
The initial public offering in Frankfurt, which includes the sale of new shares, is part of Delivery Hero's plans to grow and fend off the threat from Uber and Amazon.
Major European investors are expected to jump in and buy shares in the IPO because of the online food delivery market's growth potential. But there are also concerns about increasing competition.
"I haven't been inspired to look at it," said Steve Sherman, who manages European equities at BNP Paribas. "Our challenge with the delivery aggregation companies has been the limited barriers to competition, which make us worry that they won't make much money even if the demand is good," he said. "Perhaps Delivery Hero will be different."
Delivery Hero has invested heavily to expand globally and is now present in 42 markets in Europe, Middle East, North Africa, Latin America and Asia Pacific.
It has access to a total delivery market worth €72bn ($80.65bn), a source familiar with the matter said. This compares with €28bn for smaller British rival Just Eat, which operates in 12 markets, and €13bn for Dutch competitor Takeaway.com, which is present in about 10 markets, the source said.
"The valuation is punchy ... but it's the same for any growth business across industries as investors are desperate for growth," one fund manager at a major European institutional investor said. "Food delivery offers a huge potential if you consider that only about 80 per cent of restaurants do deliveries."
Delivery Hero's margins at 10-11 per cent currently lag its competitors, with Just Eat at 15 per cent and Grub at 17 per cent.
But it could boost margins to 13 per cent when it handles the delivery itself, and still has room to raise fees, the source familiar with the matter said.
Just Eat and Takeaway.com trade at between 6 and 6.5 times expected 2019 sales, according to a Breakingviews calculation based on forecasts of analysts polled by Thomson Reuters. To achieve a similar multiple, Delivery Hero would need to double its sales by 2019.
Delivery Hero, which has a delivery network for 271,000 restaurants in more than 40 countries, said 2016 sales rose 79 per cent to €297m, or 71 per cent after accounting for disposals and acquisitions.
Two bankers not involved in the deal said they expected Delivery Hero's fundraising would be successful. They think the company is well positioned to succeed thanks to its global footprint and strong backers, which include Rocket Internet.
An investment in Delivery Hero by South African e-commerce firm Naspers last month also sent an encouraging signal.
Business news: In pictures

Show all 13
Delivery Hero will offer a total of 39 million shares, with 19 million of which priced at €22.00 to €25.50 apiece via a capital increase, Delivery Hero said on Monday. Fifteen million shares will come from existing shareholders.
An additional 5.1 million shares indirectly held by Rocket could be placed in an over-allotment, Delivery Hero said.
The shares are expected to start trading on the Frankfurt Stock Exchange on June 30.
Founded in 2011, Delivery Hero has grown rapidly and now employs over 6,000 people, providing a digital platform to order meals from more than 150,000 restaurants in Europe, the Middle East, Latin America and Asia.
Reuters
Register for free to continue reading
Registration is a free and easy way to support our truly independent journalism
By registering, you will also enjoy limited access to Premium articles, exclusive newsletters, commenting, and virtual events with our leading journalists
Already have an account? sign in
Join our new commenting forum
Join thought-provoking conversations, follow other Independent readers and see their replies