Liz Johnson, ex-Paralympian, on starting the UK's first disability-led employment agency
People with disabilities have an unemployment rate of 9.1 per cent, compared with 3.6 per cent for people without disabilities
Hazel Sheffield
Friday 03 August 2018 08:13 Comments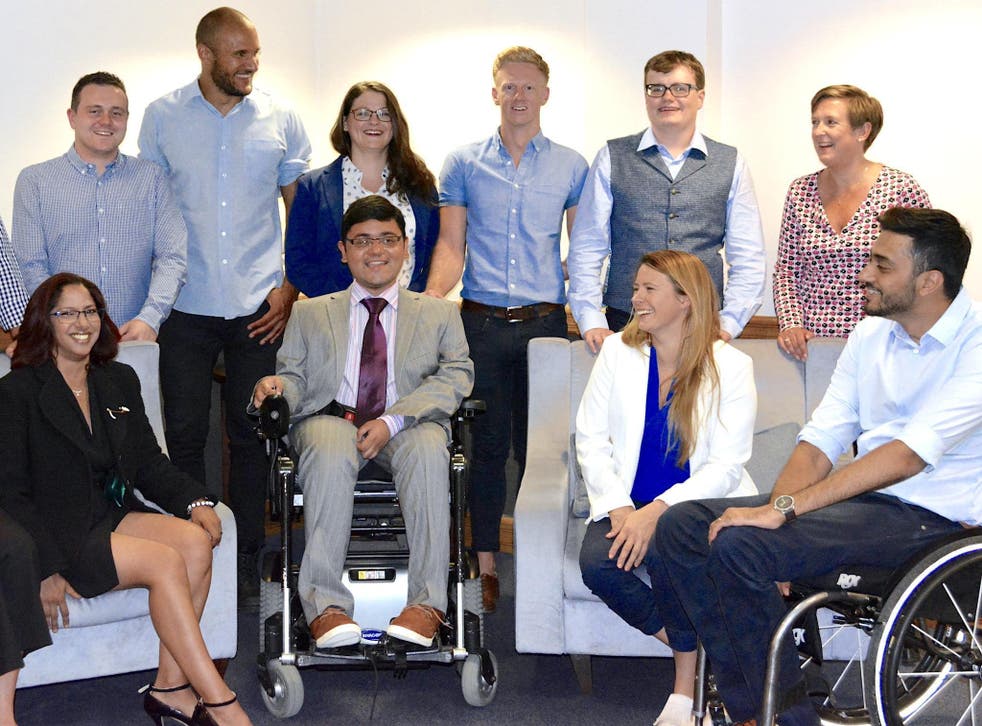 Liz Johnson feels lucky to have always had a job she loved. She was just 26 when she won gold in in the 100m breaststroke at the Paralympic Games in Beijing, despite living with cerebral palsy and learning that her mother, who was sick with cervical cancer, had died while Johnson was travelling to the games.
Bonnie Johnson took her daughter to swimming lessons early on to strengthen her muscles after she was born hemiplegic, meaning that the right side of her brain is smaller and weaker than the left.
But swimming turned into more than physiotherapy. Johnson was selected for Team GB when she was just 14 and went on to win gold medals at the Paralympics, World Championships and European Championships before she retired in the run-up to the Paralympics in Rio in 2016.
"I've had 32 years to get used to my disability and as a Paralympic swimmer I spent most of my time in a swimming costume, so I couldn't hide my disability, people could see it," Johnson says. "But not everyone feels that way."
People with disabilities have an unemployment rate of 9.1 per cent, compared to people without disabilities, where the unemployment rate is 3.6 per cent. The UK government has set out to halve the disability gap – or the difference between the employment rates for people with disabilities and able-bodied people – which would put one million more people into work. Yet, it is limited to benefits and incentives.
Changing attitudes among employers is the real task. That's why Liz Johnson decided to set up The Ability People, an employment agency staffed by people with disabilities.
The idea came to her at home, watching a news segment about the number working-age people with disabilities who are unemployed. Alongside her swimming career, she had completed a degree in business management and was used to talking at events and consulting on recruitment. The more she worked in recruitment, the more she realised that people with disabilities often have the skills needed to be good recruiters.
"I thought they would make perfect recruitment consultants, because it is about balancing long hours and a life with an impairment, which can be difficult," she says. "We have to work towards a goal to get something done because our first attempt won't be successful. You have to build up good relationships with strangers, often. Resilience is high, because we have to focus to get a job done."
Resilience and focus are not the only two traits necessary to get ahead in recruiting. Johnson made a list of other character traits suited to the profession and started approaching individuals, including other ex-Paralympic athletes, recent graduates and people looking for an opportunity to build a sustainable career. All the recruits are living with a range of impairments, from muscular dystrophy to spinal injuries.
Adil Ghani was one of the first to join the team. Ghani is 21 and lives with muscular dystrophy, which means he can't move from the neck down. He knew Johnson through a charity called Panathlon Challenge, a children's charity that provides sports competitions and training days for young, disadvantaged and disabled people across the UK. But he didn't know what she was planning until she contacted him in early April to discuss the business proposal and ask if he would be interested in joining.
"I absolutely jumped at the chance to be involved in such a unique project," Ghani says. He hopes not only that he is able to do a good job in the role, but that the way the company operates will challenge the status quo.
"I hope that The Ability People as an organisation is able to leave a lasting mark on the world of recruitment," he says. "I think it will show others in the industry just what is possible when you put your mind to it and decide you are going to do things a certain way and set out to help every individual you can from the start without bias or prejudice."
While staffed by people with disabilities, The Ability People will place able-bodied people and people with disabilities into roles without discrimination, depending on the best candidate for the job. It is also a for-profit enterprise, demonstrating that people with disabilities can compete in a commercial environment.
The key is flexible working. "If you have an impairment that means you won't function that well in the morning, you won't be penalised for not switching on until lunchtime," Johnson explains.
For many companies, flexible working might mean adding a ramp, or making a computer screen larger for visually-impaired staff. Or it might mean giving an employee the right to work three days and then asking which three days they choose. That doesn't always work for people with disabilities. "You might have three good days but be floored for a week," Johnson says. "The consultants can switch on whenever they want, they can pre-record interviews and send them to candidates."
True flexible working must account for the fact that for people with disabilities, everything takes longer. "Some people don't physically have the ability to rush," Johnson says. "As an able-bodied person you can jump in the shower and in a minute and half you can be towelling off, but as a disabled person that is very unlikely."
While any candidate can approach The Ability People, Johnson hopes those living with disabilities feel more comfortable coming to the company because of the number of disabled people in the workforce.
Johnson says candidates have no requirement to disclose their disability, but if they do disclose information about a disability, the consultants are ready to advocate for them. "Every candidate should be treated on their ability to get a job," she says. "We're not focused on what people can't do, we're focused on what people can do.
Register for free to continue reading
Registration is a free and easy way to support our truly independent journalism
By registering, you will also enjoy limited access to Premium articles, exclusive newsletters, commenting, and virtual events with our leading journalists
Already have an account? sign in
Join our new commenting forum
Join thought-provoking conversations, follow other Independent readers and see their replies