The Independent's journalism is supported by our readers. When you purchase through links on our site, we may earn commission.
Etsy: How the online marketplace is supporting female entrepreneurs
Women are being inspired to become online entrepreneurs by Etsy, the marketplace whose sellers are 86% female, almost half with children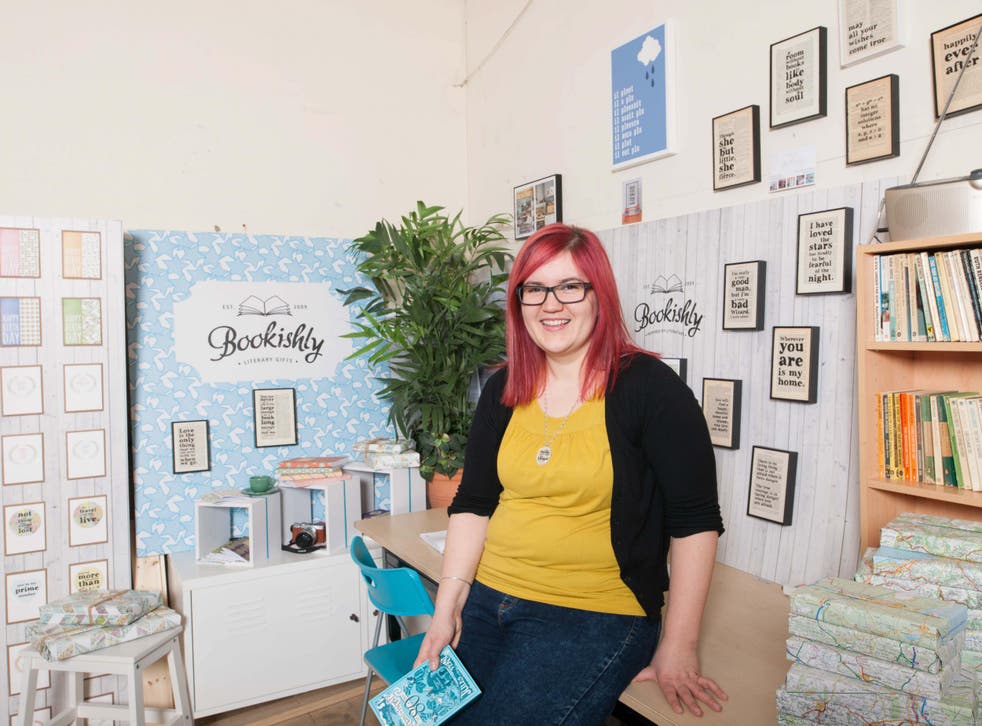 Louise Verity had always loved making things by hand. From the age of 11 she created stickers made of wrapping paper. At university she made tote bags to sell in local boutiques. Her craft work took a back seat when she started full-time work until she came across Etsy, the online marketplace, in 2009. Through her Etsy store BookishlyUK, Verity started selling framed pages from books hand-inked with quotes from William Morris, Peter Pan and Oscar Wilde.
It wasn't until the birth of her first child that Verity realised Etsy could be more than a hobby. "When I went on maternity leave with our eldest in 2011, I had a go at taking the business a bit more seriously. My Etsy sales grew," she says. She found a few other sales avenues. When it was time to go back to work after maternity leave, Verity was doing so well that she decided to stay self-employed.
Soon, Verity started paying people to pack orders. She now has a team of 12 including designers, admin staff and a marketing graduate. Eight years on, the framed prints that started the business are still an integral part of the brand, but sales are driven by a number of other products, including monthly book club subscriptions and personalised star-chart prints.
"I worked out a little while ago that if it was still just me and my current level of Etsy sales, I would be earning more that I ever did in normal employment," she says.
Etsy sellers don't conform to normal stereotypes of entrepreneurs in several ways. Many are considered micro-businesses because they have fewer than 10 employees. Nearly half of these micro-businesses are first-time entrepreneurs. Almost a third live far away from Silicon roundabout in rural communities.
Most of all, a huge majority of Etsy sellers are female. According to Etsy's 2017 seller census, 86 per cent of Etsy sellers in the UK are women and nearly half have children at home. This is a reverse of the national picture. According to the Department for Business, Innovation & Skills' last study in 2014, 20 per cent of single-operator businesses were owned and run by women.
"We're really excited about that because it's an atypical view of an entrepreneur," says Annette Picardo, UK managing director of Etsy. She says Etsy appeals to women for three key reasons.
First, 63 per cent of Etsy sellers built their business as a creative outlet. These entrepreneurs are very different from the stereotype of the man with his startup on London's "Silicon Roundabout", plugging the latest app or software development and dreaming of becoming the next Mark Zuckerberg.
Emma Alford used to be a project manager for a privately owned illustration agency. She worked with high-profile, international clients on illustrations for their publications and media projects. Complications during pregnancy meant that Alford had to end her contract early. Once she had a baby, rather than go back to work she decided to manage her time around her motherhood. Alford says her brand, The Minty Mountain, was "created out of need to do something challenging again – an outlet that echoed my love for ceramics and clay work."
Although Alford opened her Etsy shop in 2014, she didn't start selling until early 2015 and at first tested the marketplace with small, easy-to-make items. Over time she found that business was better when she embraced her creativity and made larger pieces that weren't available elsewhere.
"The market for smaller clay items is fairly well supported so I gradually moved into larger pieces that reflected my personality and style," she says. "Now my new pieces, which I have been selling for nearly two years, are well-received and I often have custom requests, commissions and waiting lists for my items, which is nice."
Alford says selling on Etsy has relieved some of the financial pressure on her family. But more than the financial benefits, she has felt supported by a community of sellers in forums, called "Etsy Teams", and on social media.
"There is a significant amount of support for sellers and I think this that has allowed so many work-from-home mothers, young crafters and entrepreneurs to share their work without feeling pressured to succeed and meet corporate targets," she says.
Etsy's Annette Picardo says the the sense of community is the second key reason for Etsy's appeal to women. The site has over 1,000 community groups across the UK, with many meeting up offline and in person. "It's this social interaction that when you're working in an office you take for granted," she says. "Many of our sellers work alone and crave that support."
Picardo adds the flexibility to run a business around other commitments is attractive, especially to women with children. The number of women in self-employment has risen by approximately 40 per cent since the 2008 recession, compared to just 13 per cent for men 358,000 in that time, according to the Federation of Small Businesses. A quarter of self-employed women surveyed by the FSB said that they decided to start their own business for the flexibility, which allows them to be more involved in childcare and family life.
Rachel Jinks says flexibility is a huge draw for mothers. After she had a baby in 2014, the income from her Etsy shop Mog's Togs, which sells cats collars, meant that she could afford a longer maternity leave. She now balances the Etsy shop with motherhood and a part-time job. "Etsy allows you to spend a little time each day or each week dealing with the retail side around other commitments you may have," she says
The rise in self-employment is not without risks. Unlike traditional employees, Etsy sellers and other independent sellers do not have the same access to safety nets like sick pay and parental leave. Flexibility can come with instability.
Etsy has an advocacy team that focuses on informing sellers about policies on economic security for the self-employed. "We want our sellers to be part of the conversation when we're talking about taking risks. How can they look at their income volatility, pensions, that kind of thing," says Picardo.
Despite the risks associated with self-employment, adds BookishlyUK's Louise Verity, Etsy gives women more choice. "Women are still more likely to give up their jobs after having children than men but places like Etsy give them the starting point to work around their children. And it's not just about income – the community and online colleagues are a really important part of it too," she says.
Join our new commenting forum
Join thought-provoking conversations, follow other Independent readers and see their replies