Oddbox: the food waste startup delivering wonky fruit and vegetable boxes
Oddbox is on a mission save 90,000 tonnes of 'imperfect' produce from landfill 
Hazel Sheffield
Saturday 12 August 2017 19:35 Comments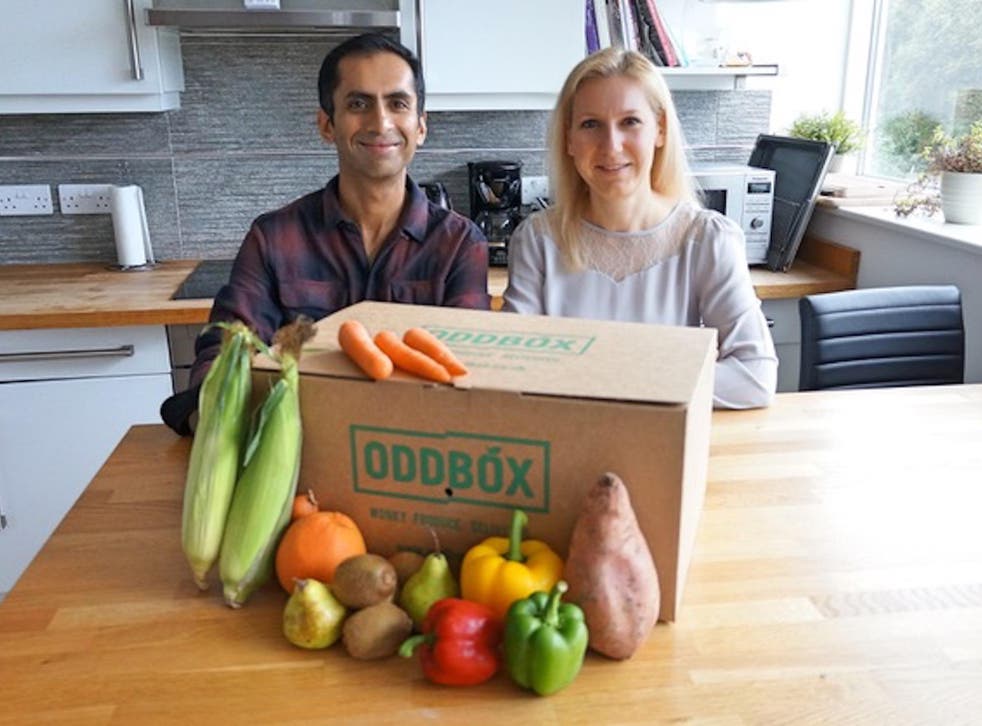 Deepak Ravindran and his wife Emilie Vanpoperinghe decided to go into the wonky vegetable business after they came across some delicious, misshapen tomatoes on holiday in Portugal.
"We came across an ugly tomato that was very tasty," Ravindran says. "We started wondering why fruit and vegetables in the UK looked appealing but never tasted that good."
Ravindran soon discovered that the food production industry creates huge amounts of perfectly edible produce, only to have up to 30 to 40 per cent of it turned away by supermarkets because of exacting standards, supposedly based on what the consumer wants.
One-third of food produced for human consumption is lost or wasted globally, the equivalent of 1.3 billion tonnes per year, according to the UN Food and Agriculture Organisation. The UK alone sends 90,000 tonnes of produce to landfill, according to the Waste and Resources Action Programme. But this produce is never recorded as supermarket waste, because it is rejected before it hits the shelves.
"Supermarkets everywhere said it was a supply and demand equation and they sell what people want to buy," Ravindran says. "But customers say they don't have a choice, while growers say they do what supermarkets ask them."
Ravindran had a hunch that consumers would be happy to buy fruit and vegetables that didn't meet supermarket standards. In May 2016 he staged a trial. He bought rejected fruit and vegetables from local supplies at what he calls a fair price, and put together boxes for 20 households near his home in Balham, delivering to them once a week for six weeks.
The trial was successful enough that Ravindran and Vanpoperinghe decided to pool their savings to make a go of it. In the 18 months since, the couple have signed up 22 suppliers and 300 households. They now offer boxes in six different sizes, starting at £8.49. They also deliver boxes of odd fruit to offices across London. Business is going so well that Ravindran has quit his job as a consultant at Deutsche Bank to run Oddbox full time.
"I quit to do something with purpose and to get my hands on a physical product," he says. "It's very different from being at a desk all the time – lifting huge quantities of fruit and veg is physically taxing! It's as back to basics as it gets."
While waste saving initiatives have reduced the amount of food thrown away by supermarkets and consumers, very little has been done to save food wasted by producers. Fruit and vegetables considered imperfect are often left to wither on the vine. When this produce is picked, it is often sold at a fraction of its retail price to processing plants to be made into ready meals, hurting the income of small producers.
Yet wonky fruit and vegetables have repeatedly proved popular with consumers. Intermarché, the French supermarket, ran a successful campaign in 2014 called "inglorious fruits and vegetables", featuring forked carrots, conjoined apples and glossy aubergines scarred by deep ridges.
Since then, Jamie Oliver has extolled the virtues of imperfect produce on Channel 4, Asda has started selling bags called "beautiful on the inside" for a 30 per cent discount, and other supermarkets have bagged up vegetables that might previously have been rejected and sold them in their essentials ranges.
Still, less than 1 per cent of surplus, edible produce grown on UK farms is used to feed the hungry, according to FareShare, a food redistribution charity. Last year supermarkets and other retailers distributed 5,389 tonnes of edible food to charities. Farms and other producers, meanwhile, redirected just 3,067 tonnes out of an estimated 610,000 tonnes.
Weather fluctuations, order cancellations and overstocking by supermarkets can make growing fruit and vegetables an unpredictable business and lead to surplus supply, FareShare said. Distributors are often unable to redirect this kind of waste. That's where Oddbox comes in.
Ravindran and Vanpoperinghe buy the surplus produce from farms and packhouses, where imported goods are sorted and sent to retailers. That means not all of the produce in an Oddbox is local – it could equally be a misshapen lemon or a tomato from Spain that was transported to the UK before it fell foul of standards.
Often the produce in their boxes is not misshapen at all, but rather too large, or too small, for the supermarkets. "We realised that it's not just the shape, but the size and the colour. We also get produce when there is a glut in the market – that's why we decided to call it Oddbox rather than wonkybox or anything else," Ravindran says.
Although the boxes aren't fully customisable, customers can opt out of vegetables they don't like. Vanpoperinghe says some people have objected to the undersized onions. Their most popular products include sweet potato, kale and broccoli: "Right now we are getting cherries. We were getting strawberries, but the strawberry season has just finished. We have had asparagus from Kent and we have just started the season of British plums."
Anything they can't use is distributed to local food charities like The People's Fridge in Brixton and City Harvest, which supplies homeless shelters and soup kitchens.
The boxes are delivered by Ravindran or one of his fleet of four part-time drivers to South Londoners between 11pm on a Friday and 7am on a Saturday, just in time for Olivia Jalibert's three-year-old son to discover the box on Saturday morning: "My son loves discovering what we have received, unpacking and naming all the fruit and vegetables every Saturday morning. It is now synonymous with the beginning of the weekend for him and puts everybody in a good mood!"
Jalibert lives in Streatham Common, London, and works full time for a cosmetics company. Time is already short and will become more so with the birth of her second son in September. She heard of Oddbox through friends and subscribed as soon as the company started delivering to her area in June 2016. "It was my way of contributing to reducing food waste a little in the UK and also fighting some stupid supermarket rules against small or large vegetables, or misshapen produce."
A year on, Oddbox is making a small profit. Ravindran says they will need to invest more to be able to take on more suppliers and deliver further afield: "The idea is not to have global domination, but to grow sustainably."
They also want to work with local schools to educate children about where food comes from. "We talk a lot about British farms and local growers but we don't know what happens on a farm and how much goes into producing a pear or a grape – it's all manual labour," Ravindran says. "We want to play a bigger role in changing perceptions. People think fruit falls off trees into buckets." If it did, it might just end up in an Oddbox.
Register for free to continue reading
Registration is a free and easy way to support our truly independent journalism
By registering, you will also enjoy limited access to Premium articles, exclusive newsletters, commenting, and virtual events with our leading journalists
Already have an account? sign in
Join our new commenting forum
Join thought-provoking conversations, follow other Independent readers and see their replies