Girls Who Code now has more than 10,000 members
What started as an 'experiment' with 20 girls in New York has grown to expand across 42 states
Rachael Revesz
New York
Thursday 31 March 2016 22:30 Comments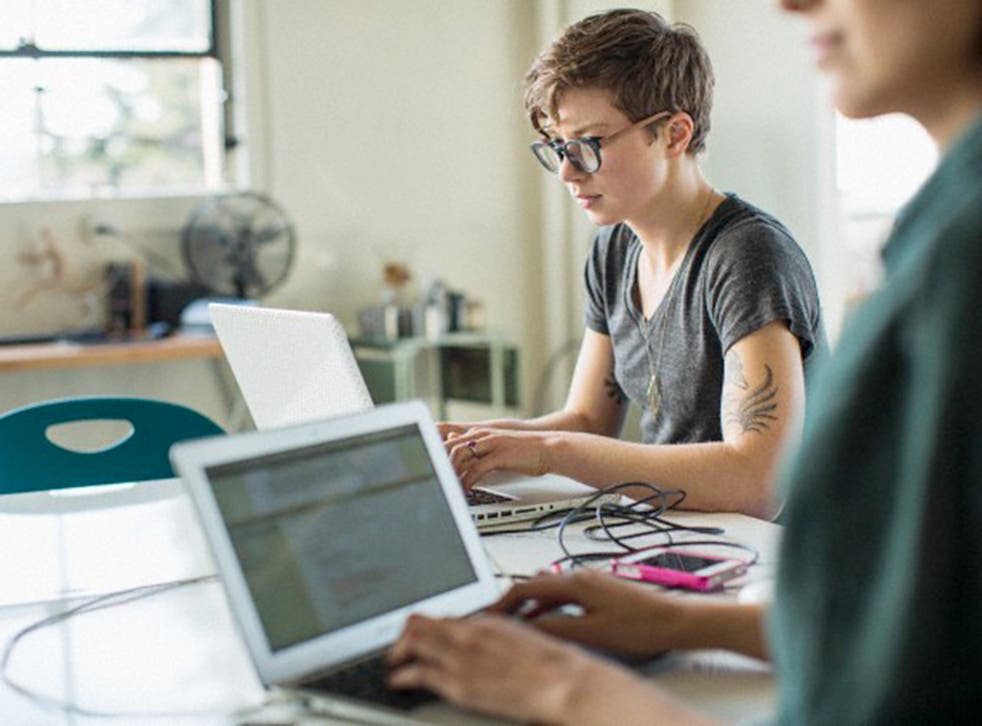 Girls Who Code, an innovative company which teaches women computer skills to enhance their careers, is planning to stretch across the whole of the US in 2016 as well as hand out $1 million in scholarships.
Founder Reshma Saujani wrote in a Medium post that what started as an "experiment" in 2010, a group of 20 girls in New York learning the basics of coding, has since grown to more than 10,000 members across 42 states - the same number of women graduating each year in the US with a computer science degree.
The members learn to code, develop mobile apps and benefit from networking and mentoring from companies like Facebook.
"We're no longer just talking about closing the gender gap in tech — we're actually doing it," she wrote.
Now more than 50 top companies have pledged to hire women from the coding group, which invested more than $2 million in 2015 to build an alumni network.
Ms Saujani, who raised more than $16 million from corporations to launch the company, said coding allows women to change their communities and massively enhance their own prospects.
She said she is now focused on teaching women from deprived areas, and will offer scholarships for their seven-week Summer Immersion Program. The group also plans to expand into every state in the US.
"I'm immensely proud to be at the helm of the movement addressing what I truly believe is the biggest domestic issue of our time," she said.
Girls Who Code members have created innovative facilities like "Volunteen", a website that matches potential volunteers with their location and interests, and "HandiMap", which helps people of all physical abilities research places before they travel, looking at things like wheelchair ramps and braille.
Ms Saujani has spoken of her "failure" to get into office when she ran for the House of Representatives and for New York City Public Advocate. Her message to girls, however, has been to accept they do not need to be "perfect, pretty and nice".
In February Ms Saujani received a standing ovation for her TED Talk in Vancouver, when she said that boys are habituated to take risks and are rewarded for it.
"In those 600,000 jobs that are open right now in computing and tech, women are being left behind," she said. "It means our economy is being left behind on all the innovation and problems women would solve if they were socialized to be brave instead of socialized to be perfect."
Register for free to continue reading
Registration is a free and easy way to support our truly independent journalism
By registering, you will also enjoy limited access to Premium articles, exclusive newsletters, commenting, and virtual events with our leading journalists
Already have an account? sign in
Join our new commenting forum
Join thought-provoking conversations, follow other Independent readers and see their replies