How to use a student loan to build a £4m travel business
McAteer and his 100-strong team will send 20,000 British millennials to summer camps all over the world, from Massachusetts to Mali, this year - just don't call him an entrepreneur
Hazel Sheffield
Friday 07 July 2017 16:39 Comments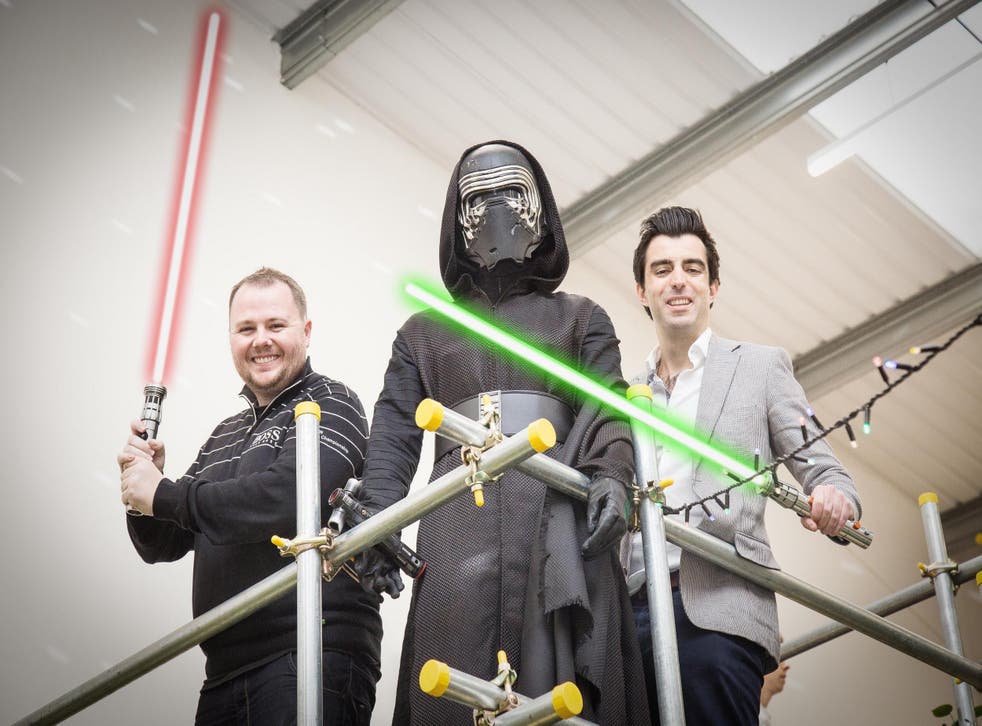 Lee McAteer and his 100-strong team will send 20,000 British millennials to summer camps all over the world, from Massachusetts to Mali, this year, through his empire of holiday companies catering for 18-30s.
You could call him a pretty successful businessman. Or you could call him Lee Mac, like the aspiring business owners he gives free space and support to at his hip office in Salford. Or even "Britain's best boss" like the Daily Mail did when he pranked his team by turning the whole office into a giant ball pit. Just don't call him an entrepreneur.
"I hate the word entrepreneur," McAteer says. He says he only has it in his Twitter bio to help people find him online. "If you have money, it's easy to be an entrepreneur. But when you're there at 2am on a Tuesday and you don't have a large amount of money from the bank or anywhere else and you have to make ends meet… it can be a very lonely existence."
McAteer was born in 1983 in the Wirral and went to the local grammar school at 11. His parents got divorced when he was doing his GCSEs and he ended up moving into a council flat on top of a golf club that his dad managed. "It was a difficult time," dad Craig remembers. "I wanted him to go to law school. I pushed him and pushed him."
Craig drove his son to his first job working Sunday shifts at a Laser Quest in Chester and was very proud when he went off to study law at Leeds University. Lee McAteer says: "I was one of the few people who hadn't been to Uppingham. I fought for everything I did."
He met Nick Steiert, his business partner, in his first year at university. When McAteer became president of the university Law Society, Steiert became social secretary. They realised they could run events after a disappointing trip to Dublin, organised through a student tour operator, for 100 law society members where everything seemed to go wrong. McAteer says: "The rooms were wrong, the booking was wrong and when we tried to contact [the company] we spoke to someone different every time."
The next time they embarked on a trip, they organised it themselves. "We found we could do it cheaper and we could control the whole process," Steiert remembers. "It was a glimpse into the events management experience. The law society was like running a business, you have to make budget decisions, have meetings with a board and meet the expectations of hundreds of students."
Meanwhile McAteer had started undercutting Camp America, a travel company that arranges for students from all over the world to work at summer camps in the US. Camp America charges around £700 in visa and administration fees and though the camp pays the students to work there, they receive a cut worth around $500.
McAteer became a camp counsellor through Camp America 2004, but earned less than the cost of the fees, which landed him in credit card debt. He had to scrounge his way through the next term at uni. When he asked his American colleague what they earned at the camp, he found out it was more like $1,500. "I couldn't work out why, until I realised Camp America were taking a massive recruitment fee," he says.
The following year he went to his camp director in Winadu, Massachusetts, with a proposal. He would send the camp talented, reliable counsellors for a much lower fee if they were willing to take a chance on him. "Because they already had a good relationship with me, and they knew they would pay less and the counsellor would get paid more, they said yes."
He started sending friends to work at the camp, including Steiert. They earned a minimum of $1,500 for a summer's work. McAteer says: "This opened that experience up to many more people who couldn't afford it before."
Steiert caught the travel bug and went on a gap year after graduation. When he came back in 2009, he met McAteer for a drink and they sketched out a plan to turn the American summer camp business into AmeriCamp and a student tour company called Invasion.
McAteer was on a training contract to be a lawyer at the time, living in his dad's flat in Salford. The only capital he had to put in was from his LPC loan for his training contract at a magic circle law firm. He was working days at the firm and nights on the business. "I used the loan to fund everything. I was paying for people's salaries on credit cards," he remembers. "But I believed in myself. I didn't think I was better than anybody but knew that no one was going to work harder than me."
It paid off. Invasion sends hundreds of university groups on trips abroad every year. AmeriCamp has spawned similar programmes in Canada, Thailand, Ghana and many other destinations. Save The Student, a student money website, has recommended AmeriCamp and the associated brands as the best summer camp organisation seven years in a row. In January 2017 the Camp Thailand program, introduced in 2014, had 826 applications in one day.
Steiert and McAteer are still the only two shareholders in the business, and they have never taken outside investment. "We've always put the business first," Steiert reflects. "We've come this far with no external investors because we haven't taken a lot out, because we continue to reinvest, and because when we see a growth opportunity, we go for it."
It hasn't always been easy. "I've made myself ill because of how hard I've worked over the years," McAteer admits. Even now, at 33, he says he works full steam for three or four months at a time and then "collapses" for two or three days. "My amazing team knows that's the situation," he says. "You have to have people you trust to delegate to, but also be willing to get your hands dirty. I'd never ask someone to do something I wouldn't do myself."
The Invasion offices have been called "Salford's coolest office" by the Manchester Evening News, thanks to disco balls, palm trees and a life-size Darth Maul. The companies have a combined turnover of £4m. McAteer says they are in profit - though won't say by how much - as he eyes an expansion in Australia and the US in the coming years. He's staying true to his ideals about treating others how he wants to be treated by offering office space and support to young people who want to start businesses in Salford, giving others the leg-up that he never had. You could even say he's growing the next generation of - whisper it - entrepreneurs.
Register for free to continue reading
Registration is a free and easy way to support our truly independent journalism
By registering, you will also enjoy limited access to Premium articles, exclusive newsletters, commenting, and virtual events with our leading journalists
Already have an account? sign in
Join our new commenting forum
Join thought-provoking conversations, follow other Independent readers and see their replies