Lendable: the next generation lending platform that can give borrowers a small loan within two hours
'Super-fast' online lending platform aims to undercut banks on speed, red tape and price – loans can be in the borrower's account within two hours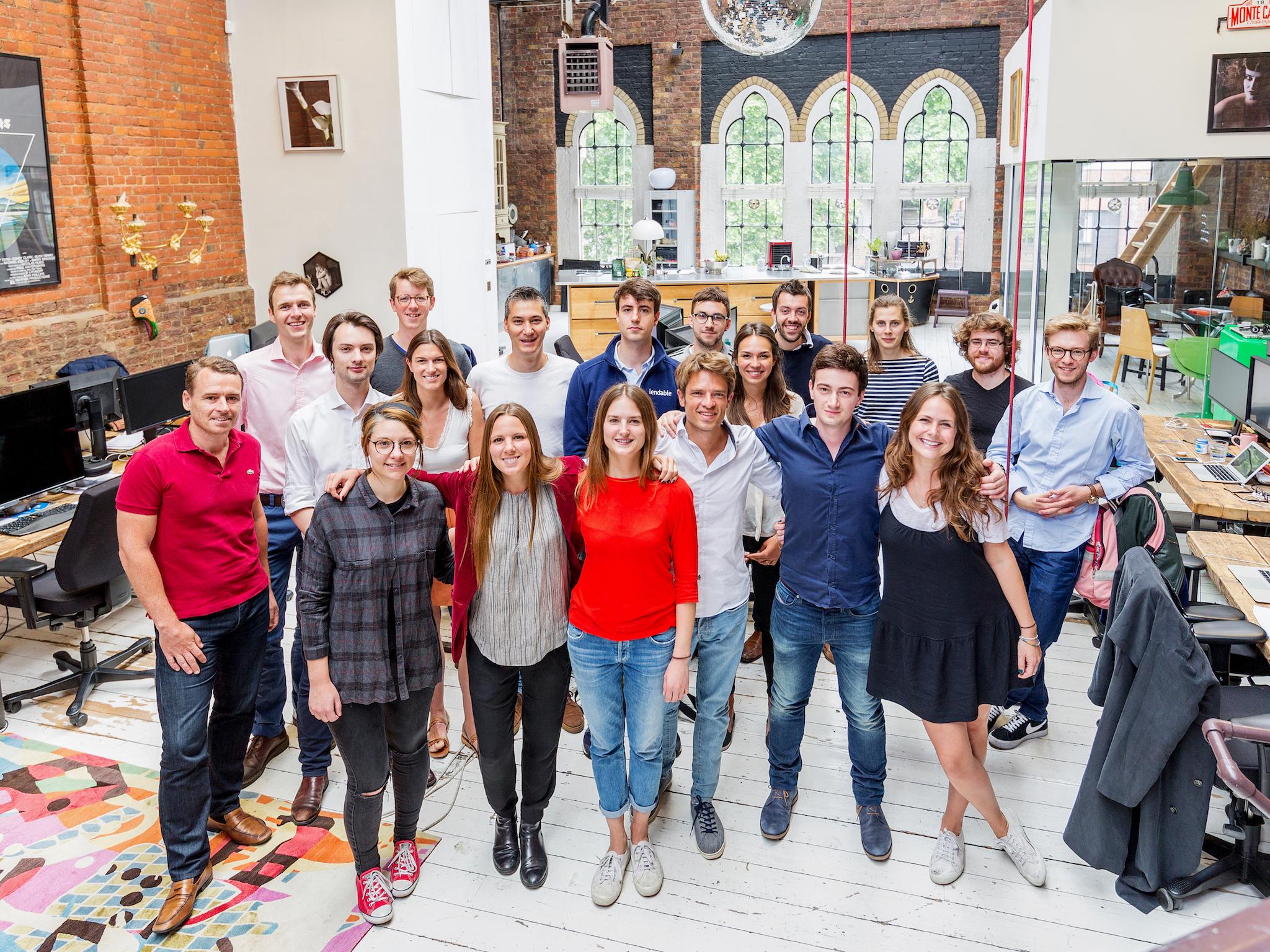 Martin Kissinger, the 28-year-old founder of Lendable, had his eureka moment while setting up a peer-to-peer lending business called Lendico for Rocket Internet in Berlin.
"In principle, it was a similar business to Lendable," he says. "But in practice every single detail was different."
By taking advantage of the large amount of data available in the UK at a time when consumer lending was evolving fast, Kissinger and his team conceived of a new kind of online lending that they claim is faster and more efficient than larger peer-to-peer lenders Zopa and Ratesetter.
Since 2014, they have built the third largest unsecured consumer lending platform in the UK by 2016 volume, even though - at 4.6 per cent - their market share is still small. So far it has lent a comparatively small £80m to around 20,000 borrowers. Zopa, by comparison, has approved £2.62bn in loans since 2005.
But with a growth rate of 430 per cent in the last year, Lendable is expanding quickly. It aims to be the fastest lender to decide on applications and transfer cash in the market, getting funds of between £1,000 and £15,000 in the borrower's account in as little as two hours.
"Lendable doesn't have any direct competitors in the marketplace," says Ryan Weeks, editor of AltFi, a publication about alternative finance. "It's a different take in terms of the types of borrowers and the types of investors as well."
Kissinger was born in Germany but moved to the UK when he was 15, where he stayed on for undergraduate studies at the London School of Economics and a masters degree in economics at Oxford.
He started his working life at venture capital funds including Accel Partners, before getting a job at Rocket Internet in Berlin, where he learned how to start online businesses and grow them quickly.
Kissinger ended up doing stints at three companies launched by Rocket Internet: a fruit delivery business, an fashion e-commerce business and finally Lendico, a consumer lending business that started in Germany before expanding to several other countries. He also learned about the downsides of growing internet companies extremely fast.
"After a few months there I saw that there was an opportunity to do things better. As a founder, you have incentives to make things work better than if you work within a business where you end up wasting some resources," he says. "I thought the UK was a better market than the ones they were going after."
So at the end of 2013, Kissinger left Berlin for the UK and started putting together a team to create Lendable.
The company started lending money in early 2014, just before regulation of the consumer credit sector became the responsibility of the Financial Conduct Authority, in response to some of the excesses of the payday lending industry.
"The FCA created a much stricter regime and a larger number of firms dropped out of the market," Kissinger remembers. "It was interesting for us because there was a time window during which, if you already existed as a licenced member, you could continue with your business and apply for authorisation afterwards. It became much more difficult to enter this business after that deadline."
From the outset, Kissinger set out to make Lendable as efficient as possible, cutting the cost of lending to the consumer.
The first way he achieved this was through more effective use of the personal financial data that banks and other financial institutions started collecting from UK consumers in the 1980s. He notes that this would have been impossible in other markets: "Germany, for example, is extremely privacy conscious and suspicious of commercial data collection ventures."
To crunch this data, Lendable set out to build a more sophisticated algorithm than any lender before them; one that needed only the name and address of a borrower in order to make an accurate decision about how much money that person should borrow and on what terms.
"Data is available from credit bureaux in different levels of detail and interpretability," Kissinger says. "There are gains to be had by taking the lowest level, hardest to interpret data around and getting data out of that, which is something most lenders don't attempt."
The second way Kissinger thought he could make Lendable more efficient was by taking larger chunks of investment from institutional investors, like hedge funds and pension funds, rather than many smaller retail investors, who act for themselves.
That means the company has fewer investors with whom to build relationships. According to Kissinger: "It makes us more efficient. We spend time with them individually, so we can be more transparent and run that with a smaller operation than if we had endless smaller investors."
Weeks of AltFi says that while that might be the case, having a larger number of smaller investors is one way to built transparency into the business.
"If you are a retail peer-to-peer business generally you deliver a higher level of transparency more broadly," he says. "Lendable might deliver transparency to their investors, but the likes of Zopa publish their loan books and third parties standardise the data so that it can be compared like for like."
In March, Lendable struck a deal with Waterfall Asset Management worth £100m in what Kissinger called a "milestone" for the company. Weeks says this could be seen as a strong endorsement of Lendable's underwriting business and the notion that they are making good loans.
These kinds of deals also allow Lendable to appeal to a slightly riskier market than near-competitors Zopa and Ratesetter. "As qualified investors, they understand the risks their investment carries. Our funding base encompasses investors that have a slightly higher risk appetite," says Victoria van Lennep, co-founder and head of operations at Lendable.
As a result, Lendable can offer loans to customers who would previously only have had access to payday loans with APRs into the thousands. One in three Lendable customers use the service for debt consolidation.
While Zopa offers an annual percentage rate, or the rate that 51 per cent of customers will be offered, of between 3 per cent and 34.9 per cent, Lendable rates start at 5 per cent and average at 18 per cent.
Van Lennep says the company has addressed a gap in the market for smaller loans at rates below those of credit cards. Lendable says it not competing with payday lenders or other peer-to-peer lenders, but banks and credit unions, without the temptation to "roll over" debt that some borrowers might have with credit cards, for example.
She says Lendable is trying to do for consumer credit what Transferwise did for currency exchange: identify an area where they can gain a comparative advantage by providing a better customer experience than incumbents: "At Lendable that means originating small loans faster and cheaper than the banks."
Join our commenting forum
Join thought-provoking conversations, follow other Independent readers and see their replies