Make Votes Matter campaign for voting reform gathers pace after election
During the 2017 election, as many as 68 per cent of votes were wasted because of the first past the post system. One non-profit venture wants to change that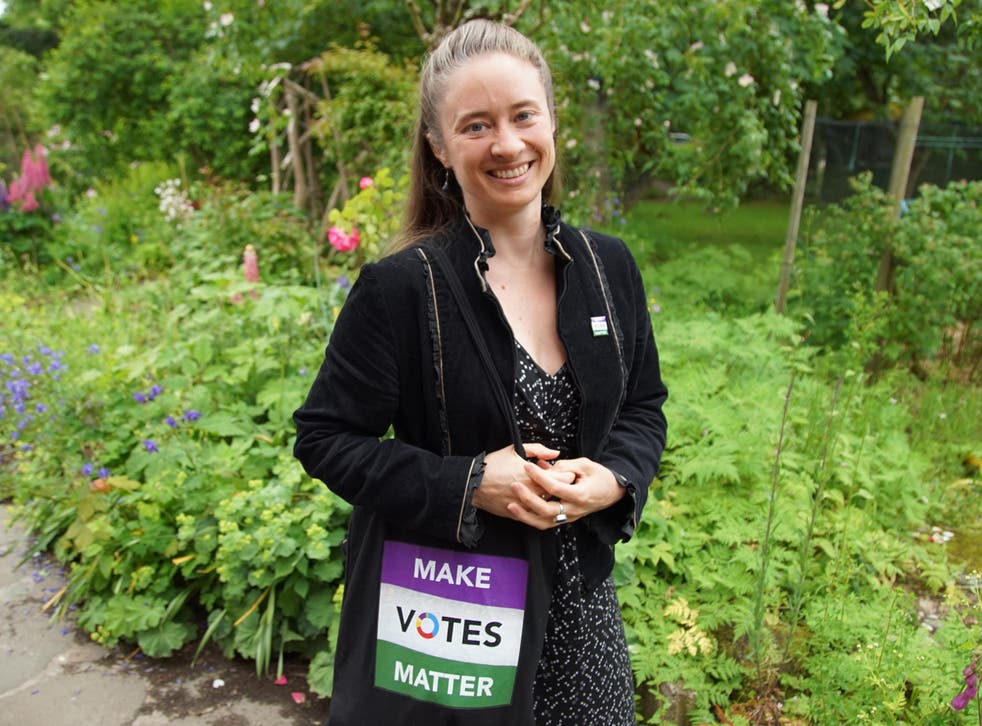 Klina Jordan has always hated politics. So even she's surprised that she dedicated the last two years of her life to electoral reform.
"This is not something I ever thought I would do," she says. "Politics is just two groups of blokes shouting at each other!"
Jordan is visiting the peaceful Findhorn Foundation for the first Local Economic Forum, Scotland's answer to the world economic forum at Davos in Switzerland. Over three days, attendees from all over the world discussed how to make democracy work in uncertain times.
Jordan has spend two years as co-director and facilitator at Make Votes Matter, a non-profit venture that aims to change the voting system in the UK from first past the post to proportional representation by 2021.
It's a battle with renewed urgency since the recent election, when Theresa May had to eat her words about a "coalition of chaos" after she lost her majority and was forced to consider a coalition with Northern Ireland's right wing DUP.
"There are all sorts of myths about proportional representation. Coalition of chaos is the big one," Jordan says. "It's just not true. Coalitions are the norm in developed democracies."
Australia, New Zealand, Ireland, Belgium, Cyprus, Denmark and South Africa have all stopped using first past the post in favour of systems that allow the number of seats a party gets in parliament to be decided by the number of votes won, rather than who gets the majority in each constituency.
Proportional representation means that smaller parties, like the Greens or Ukip, are better represented, because votes count towards seats even when they do not end up electing a local MP. Jordan says it has also been proven to have a range of positive outcomes, including greater income equality, less corporate control, better long term planning and more environmentally-friendly policy.
Perhaps most surprisingly, first past the post is also the biggest predictor in whether a democracy will go to war. "By concentrating power between two parties that are only able to flip flop between each other, it's easy for lobbyists to target either side," Jordan explains. "If you have a spread of power across more power its less easy for them to do that."
The tipping point for Jordan - and the start of Make Votes Matter - came after the 2015 general election. Owen Winter, a Cornish teenager, started a petition calling for democratic reform. He wasn't yet old enough to vote, but he was already frustrated that the election results didn't reflect people's choices. Statistics since show as many as 74 per cent of votes were wasted in 2015.
At the time, the Electoral Reform Society called it "the most disproportionate election in British history". Winter's petition has since gathered almost 300,000 signatures and spawned a permanent pressure group in the form of Make Votes Matter, a non-profit company limited by guarantee.
Winter stepped back from Make Votes Matter to concentrate on finishing school and going to university. But the organisation continues to garner support as successive elections throw up undemocratic results. Early indicators show that during the 2017 election, as many as 68 per cent of votes were wasted.
"This is the third election in a row where first past the post has failed to do what it says on the tin – to deliver 'strong and stable' single-party government," says Katie Ghose, chief executive of the Electoral Reform Society. "The question of reform becomes more urgent than ever."
Voting reform is just one item on the agenda of the Electoral Reform Society, which has existed for over 100 years and campaigns for many issues including lowering the voting age and for reform of the House of Lords. The Society supports a kind of proportional representation called single transferrable vote, which is already used in Scottish local elections and for most elections in Northern Ireland.
Ghose says it has been very positive to see Make Votes Matter come together in such a short period of time. "Make Votes Matter have been great allies already in the push for proportional representation," she adds. "We've been pleased to work with them – whether it's organising the largest ever petition for proportional representation in 2015, to finding out MPs' views on fair votes, and bringing politicians and figures from all parties together for cross-party discussions on voting reform."
The lion's share of funding for Make Votes Matter comes from personal donations, topped up by grants from the Joseph Rowntree Reform Trust and the Network for Social Change. That pays for three members of staff to work part time in a live-in office with maps of voting boundaries tacked to the wall in Clifton Wood, Bristol.
They have already succeeded in getting all the opposition parties, apart from Labour, in their alliance. There were early signs that Labour would capitulate and put electoral reform on the agenda after Cat Smith, a Labour frontbencher, put her name to a Make Votes Matter report. "They are coming on board and we are positive that we can continue that conversation," Jordan says.
Now the election is over, Make Votes Matter is concentrating on getting the issue of electoral reform on politicians' agenda to be put forward for a vote in parliament. They face an uphill struggle since the two major parties in the UK are considered unlikely to vote for a system that makes them less powerful, but Jordan is hopeful. "It is possible! Although it is very volatile at the moment. Fairness and freedom are core values of Conservatives. There are already Conservative action groups for reform. If we get enough Conservative voters as well as all the opposition parties, there may be a way to vote it through."
In the short-term, the group have planned a rally to demand proportional representation in Westminster on June 24 called #saveourdemocracy.
Jordan is playing the long game, motivated by a lifetime of activism that started when she was just seven, with a sponsored silence for Friends of the Earth. As a teenager she got involved with the road protests to stop the A30 being built in Devon. Later she worked for 2degrees, which helps companies make supply chains more sustainable, then Carbon Smart, which provides sustainability services to small businesses.
It became apparent to her that you can't effect change without changing the system. "I had this rising feeling that eventually I would have to do something about politics, which I really didn't like the idea of," she smiles.
"But proportional representation is the single most important thing to change now. It will allow us to make all the other changes, like votes for 16-year-olds, reform in the House of Lords, even climate change policy."
Join our new commenting forum
Join thought-provoking conversations, follow other Independent readers and see their replies