Meghan Markle wore a pair of jeans made by Hiut, a tiny Welsh denim company. Here's what happened next
Co-directors David and Clare Hieatt have hired two more makers and have plans to expand into an old jeans factory in Cardigan, Wales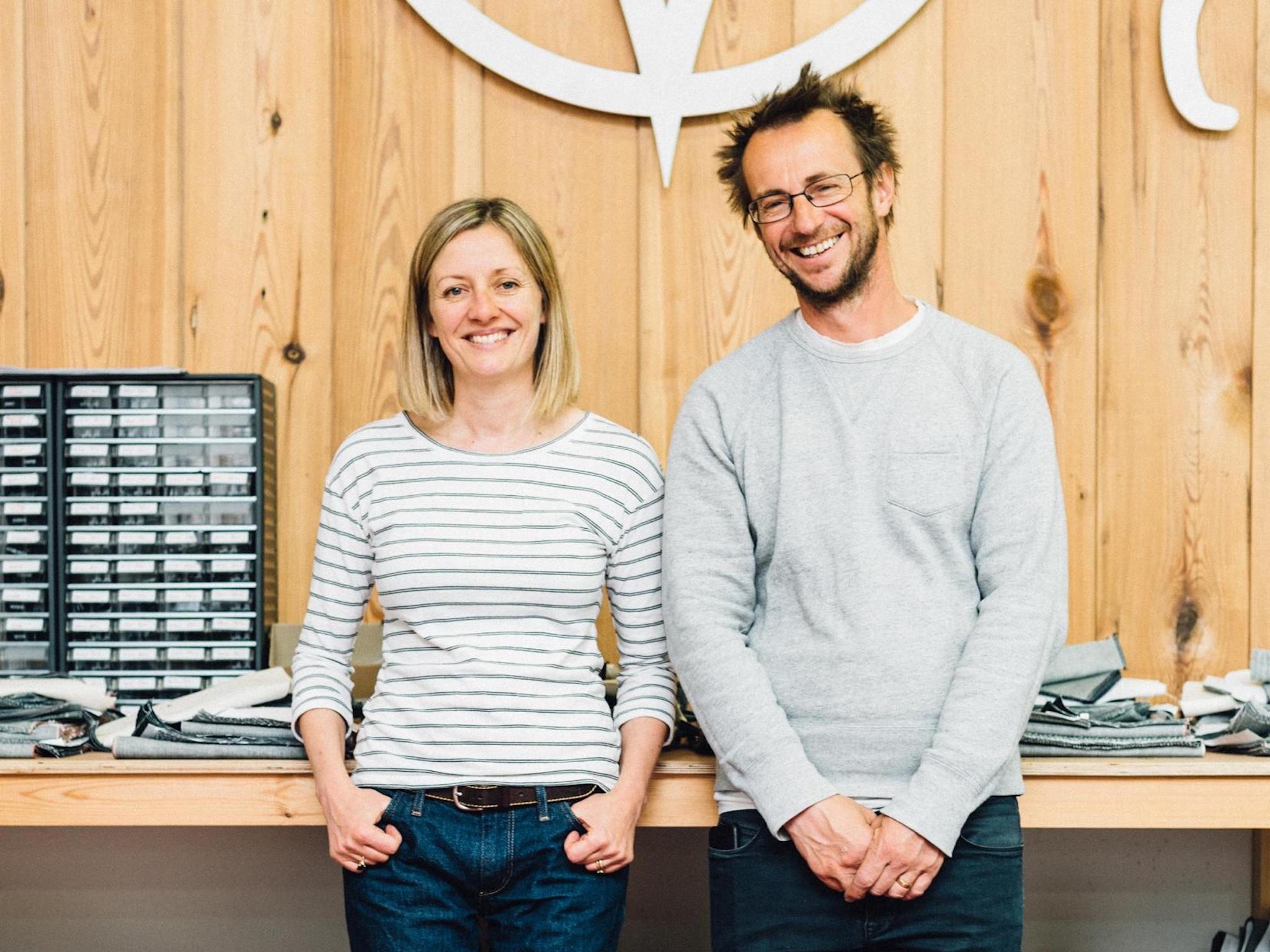 David Hieatt only found out that Meghan Markle had worn a pair of jeans made by his company when a newspaper rang up to check they were his.
Hieatt and his wife Clare are the co-founders of the Hiut Denim Company in Cardigan in Wales. For almost 40 years, Cardigan was home to a factory that made 35,000 pairs of jeans each week for Marks & Spencer. Then in 2002, production was moved offshore to Morocco to save costs, resulting in the loss of 400 jobs.
When Hieatt started scouting about for a location to start a denim company, he realised that Cardigan, which had hundreds of people with decades of experience, was the perfect place.
Hiut - a combination of the first two letters of Hieatt's surname and the first two letters of utility - has seen such a spike in demand since Markle was spotted in the jeans that many models, retailing at £145 a pair, are sold out until May.
Hieatt has spent the morning with an architect who is adapting the old denim factory for Hiut to move back in in June, so they can grow the company fast enough to keep up with demand. He's brought on two more jeans-makers - called grandmasters for their many years of experience - but Hiut can't hire any more or install their new equipment until it has more space.
"It's just a beautiful moment," Hieatt says. "There are things you hope for and wish for, but when they happen you think, 'Wow.' It's good for the team, it's good for the town and you go, 'Wow, we'll take that.'"
Hieatt, a former advertising executive, knows the power of a good story. Alongside his wife Clare, he previously owned a clothing company called Howies, which they sold to US firm Timberland in 2006. Hieatt stuck around for a bit after the sale, before he realised he didn't really like someone else running his company.
"I had a cup of tea, looked around, didn't feel it and sometimes you have to walk away really," he remembers.
"I'd written a plan about making jeans because that's something we did well at Howies, but I was wondering if I wanted to run around the same track twice," Hieatt says. "Then I had a call from Gideon Day who was a designer at Howies, and he said, 'It's not about you, it's about the town.'"
The population of Cardigan has fallen since the closure of the original denim factory, while the factory building has stayed almost completely empty, like a monument to the departure of industry.
Hieatt, who comes from the nearby South Wales Valleys, was unsure how people would feel about going back to work in the building. "Pretty much all the grandmasters were raised in that factory, so they literally went back to the bit of the floor and said, 'I used to work here.'"
But the move is necessary if Hieatt is going to reach his ultimate goal: "The big aim is to get 400 people their jobs back."
Along the way, he wants to turn Cardigan into - or back into - a maker town. "We're fighting for the right to make and to pass those skills on," he says. "We shouldn't give up the right to make. At the moment if we're honest it's a town that's busy for six weeks when the tourists come but it lost its mojo when the factory closed."
The maker movement is growing in the UK. The increasing affordability of technology has put 3D printers, robotics and other connected devices within the reach of entrepreneurs, who are turning hobbies into professions as the job market fragments.
Mark Brearley is a professor at the Cass School in London and works for Kaymet, a small aluminium tray manufacturer in Peckham, South London. Kaymet started in the basement of a radio shop in the thirties but was at risk of going bust in the last decade property prices around it rose and councils repurposed land for housing.
With Brearley's support Kaymet has returned to growth at a time when many of London's small business are fighting for the right to fair rent to stay afloat. Brearley, meanwhile, has been keeping a list of makers in London that now stands at almost 3,000.
"My feeling is that we need to celebrate makers, make them visible and win the public around, at the same time as pushing the policy and decision makers, campaigning and arguing, explaining why a good city has industry, and how such a city can be sustained," Brearley told a meeting of makers in 2017. "We need to state our belief that manufacturing is a vital part of our city, indeed of any good city, that should be visible, understood, celebrated and nurtured."
In London, the East End Trades Guild has provided a forum for small businesses to stand together against rising rent and other challenges that can quickly make small businesses untenable.
In rural areas like Cardigan, survival and expansion depends more on effective marketing. That's where Hieatt excels. "We can get 300 to 400 jobs here if we make a great product and tell the story," he says "In effect there is two factories, one is making jeans and one is telling the story - it's a content factory, and we have to be as good at telling our story as we do about making jeans."
Thanks to the internet, the Hiut story can travel the world. While the old factory wanted to make jeans as cheaply as possible, Hiut wants to sell jeans that are the best quality. The company imports salvaged denim from Japan and organic materials from Turkey. It is also looking at a lower impact product using less water and electricity, from a nature reserve in Italy.
A quarter of jeans Hiut sells go overseas. "The internet has changed the economics for makers. If they have a great service, it can be shared to a global audience. That's a radical transformation," he says. "This is why I think we're living in a golden age."
Join our commenting forum
Join thought-provoking conversations, follow other Independent readers and see their replies