Meet Mimycri: the Berlin project where migrants make refugee boats into bags
A scrap of discarded plastic boat provided the inspiration for a business employing migrants in Berlin 
Hazel Sheffield
Wednesday 07 November 2018 13:20 Comments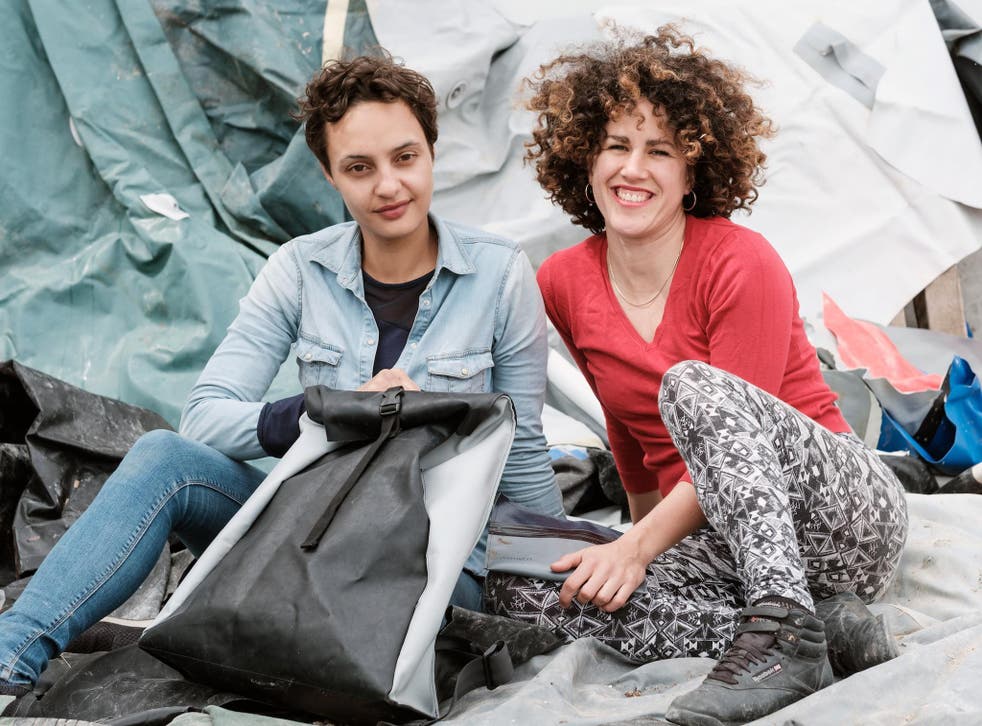 Nora Azzaoui first left Germany for Greece in the winter of 2015 to volunteer on the beaches of Chios. It was the height of the refugee crisis: tens of thousands of people, mostly from Syria, had landed in Chios that year. Many of the boats came at night. If the seas had been rough, the migrants could be soaking wet and covered in fuel, or worse.
As volunteers, Azzaoui and her friend Vera Günther were part of the operation to provide clean, dry clothes to people as soon as they landed. After landings, the volunteers cleaned the beaches, picking up the discarded clothes and the broken boats and throwing everything away.
Months later, back in Germany and still haunted by what they had seen in Chios, the friends searched for a way to do something meaningful to help. They had brought back a scrap of discarded plastic boat from Greece and gave it to a tailor, who sewed it into a bag. Azzaoui and Güther saw the product had potential. Over several months and countless workshops, they developed an idea for a business that would provide training and employment for refugees in Berlin, turning boats into high-quality bags that could be sold in boutiques at at a premium.
The idea became Mimycri, a not-for-profit that creates products out of discarded rubber boats. Mimycri has caught people's imagination in Germany. It raised €43,000 in a crowdfunding campaign in 2017, four times the target, and was accepted onto a Government-sponsored Integration Prize for organisations supporting the integration of refugees into Germany society.
"It's such a strong material, but it also has lots of meaning," Azzaoui says. "It's connected with an incredible story of people risking their lives, leaving their home country, but it's also a symbol of migration."
Mimycri has produced up to 2,000 bags and other products from consignments of discarded refugee boats sent from Greece, many of them made by Abid Ali, a 36-year-old tailor who fled Pakistan. When Mimycri started in January 2017, Abid saw a Facebook post calling for a tailor. He has worked for the project since the very beginning.
"I now have my work, that I go to every day," Ali says, when asked how his life has changed since he started working for Mimycri. "I love my work a lot, staying home is the worst for me. I have 22 years of stitching experience, so here... I am an expert."
More recently Ali was joined by Khaldoun Alhusain, a 24-year-old tailor from Syria. "A friend of mine that worked in the same restaurant told me about Mimycri," he says. "That was about a year ago. I like the team and I can work on designs, I enjoy making new designs. In my home country I was a tailor as well. Also I practice my German here." Alhusain is working to become integrated into Germany so that he can bring his mother over from Syria, where her life is at risk.
Azzoui was working at a management consultancy firm when she made that first trip to Chios in 2015. "We did not think so much about waste at the time," she remembers. "It was present but there were things that were worse to talk about." It was only later Azzaoui and Günther realised the islands did not have the resources to process so much waste.
They bought washing machines and dryers for the camps, so that clothes from the beaches could be washed and reused. "There were so many clothes on the beach," Azzaoui says. "We started to wash them and take them back."
But with every little effort to wash clothes, or collect waste, they felt like they were "putting out little fires", Azzaoui said. "We didn't have the big picture."
Both Azzoui and Günther, who worked for the UN in Paris, wanted to spend more time volunteering in Greece. But they had already worked without pay for a month. Staying longer was not sustainable.
"When we went back to work, but we kept thinking and processing what we experienced there. We realised that we wanted to keep working in that field but also to be engaged on a more local level," Azzaoui says.
Meanwhile refugees were already arriving in Germany. "With the political situation, people had to use a boat and risk their lives to escape," Azzaoui says. "We can't change that but there is something else that we can do. This was the one way of supporting the new arrivals." They found tailors on Facebook and in refugee forums, including Alhusain and Ali. A prototyping lab in Berlin called Fab Lab provided space for them to work on the product. By September 2018, Mimycri was so busy that Azzaoui made the decision to quit her job in consulting and go full time on the project.
Mimycri now has its own office and shop at CRCLR, a centre for the circular economy in a former brewery in Neukölln. "We realised we had our product, we knew what we wasted to do and we needed to resources every day and not once a week," Azzoui says. "We found this place and we are really happy here."
CRCLR was founded in 2016 as a place for people connected to recycling and the green economy to meet and exchange ideas. When Alice Grindhammer and the other co-founders of CRCLR first took over the former brewery, they set about reusing the rubbish on the site to create insulation for offices. Mimycri's workspace is constructed like an igloo made of old white brewery packing sacks. Inside, the bags are on proud display beneath used life jackets hanging from the ceiling - a reminder of their provenance.
Plans for a full renovation of CRCLR are underway, including a brand new office and workspace for Mimycri. Azzaoui says they are already making plans for the extra space, including more apprenticeships for refugees to learn tailoring on the job, plus maybe the opportunity for people to earn education diplomas. "We are one year old, so it's difficult to think that far ahead," Azzaoui says. "But if we could dream, we would have more people working with us. We want to continue using discarded material that has a strong meaning. The main thing we want to do is change people's perspectives: it's not always about what you lose, but what you gain."
Register for free to continue reading
Registration is a free and easy way to support our truly independent journalism
By registering, you will also enjoy limited access to Premium articles, exclusive newsletters, commenting, and virtual events with our leading journalists
Already have an account? sign in
Register for free to continue reading
Registration is a free and easy way to support our truly independent journalism
By registering, you will also enjoy limited access to Premium articles, exclusive newsletters, commenting, and virtual events with our leading journalists
Already have an account? sign in
Join our new commenting forum
Join thought-provoking conversations, follow other Independent readers and see their replies