Mobike and Ofo investors in talks to merge China's two largest bike-sharing startups
Mobike and Ofo's investors are said to seek a way to end the costly cash burning battle between the two startups
Lulu Yilun Chen
Tuesday 03 October 2017 11:37 Comments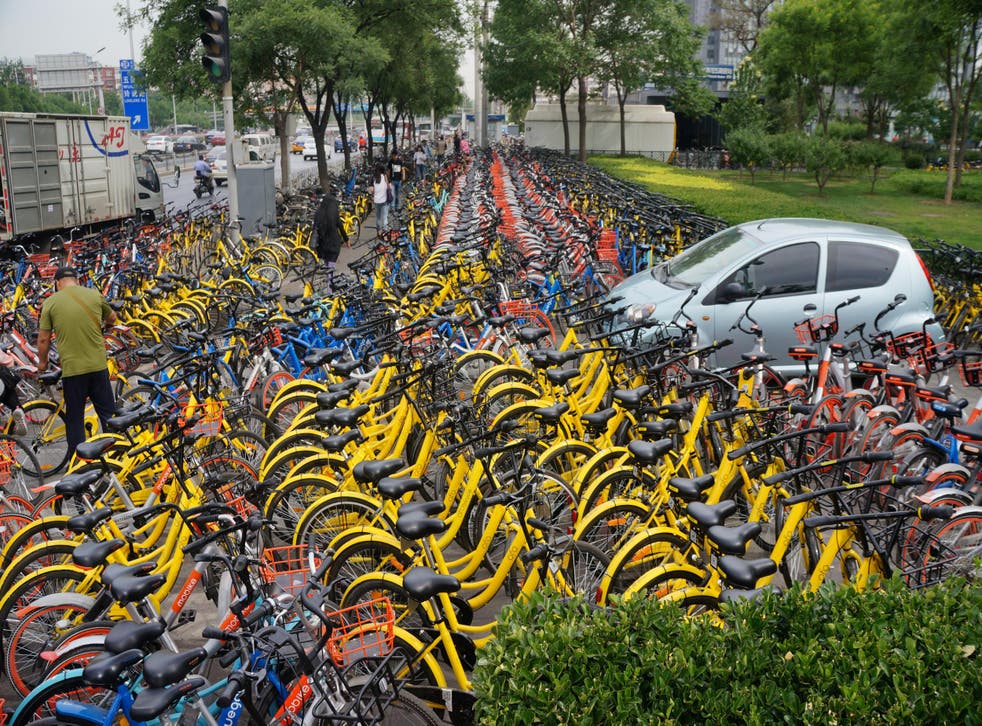 Mobike and Ofo investors are in early talks to push China's two largest bike-sharing start-ups into a merger, aimed at ending a costly competitive battle and creating a single dominant player in the fast-growing business, according to people familiar with the matter.
Investors in both companies have been holding talks to sort through issues such as how to split equity as a precursor to getting the companies to the table for negotiations, said the people, asking not to be identified because the matter is private.
The pair's combined valuation would likely exceed $4bn (£3bn). The discussions are in a preliminary stage, and may not be consummated, they said.
The companies are separately backed by China's two biggest internet giants -- Alibaba and Tencent -- which have a track record of investing in competing startups and then combining them as a leader emerges to save money.
Unlike in ride-hailing for cars however, China's bike-sharing startups are the global pioneers and are plotting expansions abroad. A truce at home would give them more resources to gain ground in the US, Europe and other parts of Asia.
"Mobike is the clear leader in the global bikesharing industry, supporting 30 million rides in 180 cities around the world every single day," the company said. "We are fully focused on extending our global success."
With Tencent backing Mobike and Alibaba siding with Ofo, the startups have flooded major cities such as Beijing and Shanghai with their trademark orange and yellow bicycles just a few years after their founding.
They've raised more than $1bn in venture money combined and, with smaller rivals, have waged one of the strangest and most colourful battles in the technology world. Alibaba and Tencent have used the duo as proxies for a battle in mobile payments, cloud computing and winning user data.
In June, Tencent, Sequoia Capital, TPG and Hillhouse backed a $600m funding round for Mobike and its fleet of orange bicycles.
The next month, Ofo, with its canary yellow two-wheelers, raised more than $700m from investors including Alibaba, Hony Capital and Citic Private Equity.
Mobike is valued at $3bn, while Ofo is $1bn, according to researcher CB Insights. Ofo was seeking funding in June at a $3bn valuation.
The companies have forced some smaller operators out of business. Ofo has said it plans to have 20 million bikes in 20 countries by the end of the year.
Ofo was founded in 2014 on the grounds of Beijing's prestigious Peking University as a student project.
Once emblematic of China's socialist working class, bicycles are rapidly gaining popularity among students and commuters tired of inching their way through jam-packed vehicle traffic.
Instead of using docks, users unlock an Ofo or Mobike off the street using just a smartphone and electronic wallet, ride them to their destination and then dump them.
Merging Ofo and Mobike would follow a familiar pattern for Alibaba and Tencent. Ride-hailing services they backed separately eventually merged to form Didi Chuxing, which drove Uber out of China, while local services giant Meituan Dianping was formed in a similar way.
Such mergers have not always resulted in peaceful settlements.
Meituan riled Alibaba after agreeing to a merger, leading to the e-commerce giant selling off most of its shares and forming its own neighbourhood services unit to compete.
Business news: In pictures

Show all 13
The mergers have often also led to the ousting of founders of the companies that end up with the smaller stake.
There have been signs the bike startups would follow a similar path. Allen Zhu, an early investor in Ofo, said at a conference last week that Ofo and Mobike could only become profitable if they merged, Sina reported.
A combination would allow the startups to raise prices, which are usually about 1 yuan an hour (15 cents) and are sometimes discounted to free to attract customers.
Mobike and Ofo could also cut back on the number of bikes they distribute around cities, saving themselves money and avoiding conflicts with locals inconvenienced by the havoc.
The bike-sharing boom has boosted demand for bicycles from companies such as Shanghai Phoenix Enterprise, Zhonglu and Taiwan's Giant Manufacturing.
Shanghai Phoenix shares surged in May when the company disclosed an agreement to supply Ofo with at least 5 million bikes.
Bloomberg
Register for free to continue reading
Registration is a free and easy way to support our truly independent journalism
By registering, you will also enjoy limited access to Premium articles, exclusive newsletters, commenting, and virtual events with our leading journalists
Already have an account? sign in
Join our new commenting forum
Join thought-provoking conversations, follow other Independent readers and see their replies