No1 Rosemary Water: The startup that believes you can drink your way to a longer life
The product is inspired by the dietary habits of a small Italian village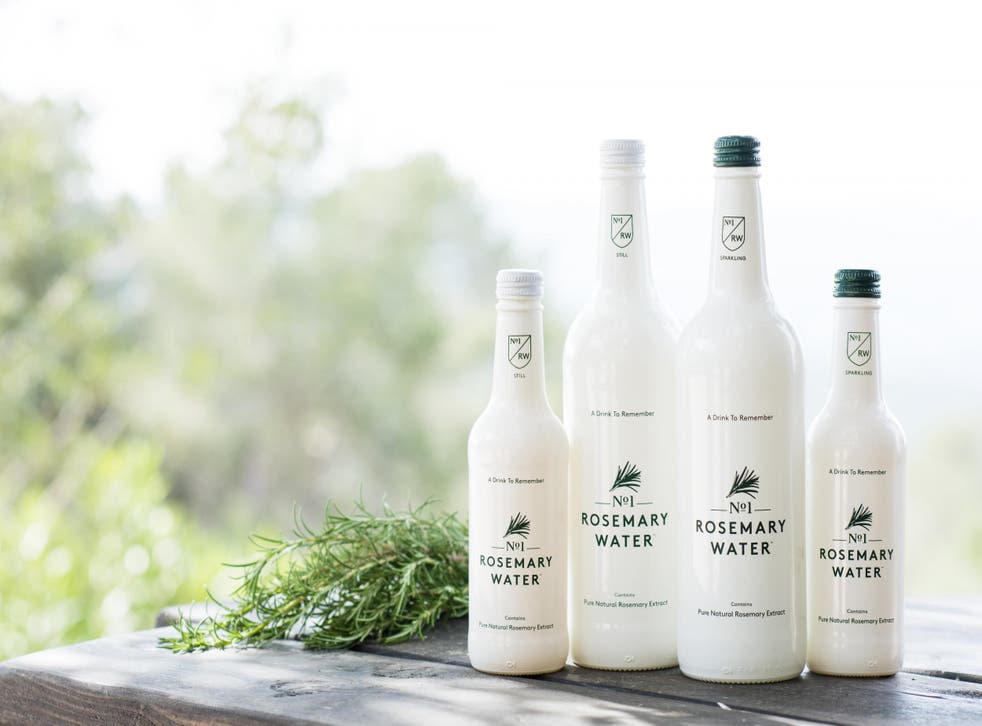 If you can bottle it, it might make you a fortune.
That is according to market research carried out by the world's drinks industry. Beverage Marketing Corporation (BMC) says sales of bottled water outstripped sugary soft drinks in the US for the first time last year, while Zenith Global, a consulting firm, estimates that the global market has grown by 9 per cent annually in recent years and is now worth $147bn.
It's an increasingly crowded market, but an eye-poppingly lucrative one if you can get it right. Traditional beverages are losing ground to niche, healthier brands that communicate a story about purpose and function. For entrepreneur David Spencer-Percival, that story begins in the coastal Italian hamlet of Acciaroli.
In September last year, the global media woke up to the fact that more than 10 per cent of the people there were living to be at least 100.
Scientific testing showed that their secret to longevity might have something to do with the villagers' unusual penchant for consuming daily doses of raw rosemary, a plant that is believed to have anti-carcinogenic qualities as well as the potential to improve memory recall, a possible factor behind the community's low dementia rates.
Upon hearing of the herb's health benefits, Mr Spencer-Percival wanted to find out if he could indeed bottle it.
He ditched his role at the top of established recruitment company Spencer Ogden, which boasted an annual turnover of £100m, and launched his own range of premium H2O: No1 Rosemary Water.
"People think you are mad when you do things like this," he told the Independent. "The first thing my wife asked me was 'why is all the food out of the fridge and why is there loads of rosemary in there?'"
After carrying out formal experimentation with various botanical scientists, he raised £2m worth of investment, which included £1m of his own money, and secured an exclusive deal with Harvey Nichols to sell his product. Retailing at £3.95 for a 750ml bottle, the water is made with rosemary extract and contains no sugar or preservatives.
Now - a month into life on the shelves - Mr Spencer-Percival concedes it was a big risk to leave a profitable company, for which he won a Queen's Award for Enterprise, and start what is in his own words, "a botanical drink that no-one has ever heard of".
But Mr Spencer-Percival has been here before and has learned first-hand that leaps of faith can pay off.
In 2014 he left Huntress, a global recruitment company of which he had been a founding member and helped grow from zero to £100m turnover a year, to start Spencer Ogden.
At the time, he sold all his possessions – which included a vintage Ferrari GT, a Bentley, two Aston Martins and three other classic cars – to make the move possible.
Intrepid by nature, Mr Spencer-Percival might be needing to add a dash more rosemary to his diet to sustain such a daring lifestyle.
The medicinal benefits of the product itself, however, are still unknown - clinical trials are planned to take place over the next 9 months - but the 46-year-old is convinced that his rosemary revelation can improve the health of millions.
"I think it could be a billion-dollar brand. I would not have thrown £1m of my own money at it and given up my own successful business, hurling myself into a complicated industry, which is controlled by some really big players, if I did not believe in it. I think rosemary is extraordinary. I truly do."
On Wednesday, Holland & Barrett reported that it had to order extra stocks of rosemary after research claimed the scent of the herb could improve the memory of students revising for exams. The study was led by Mark Moss at Northumbria University, who is running No1 Rosemary Water's clinical trials.
Perhaps there really is something in the water.
Join our new commenting forum
Join thought-provoking conversations, follow other Independent readers and see their replies