PGP is reinventing property guardianship in the London housing crisis
Up to 7,000 people are now property guardians in the UK and the number is growing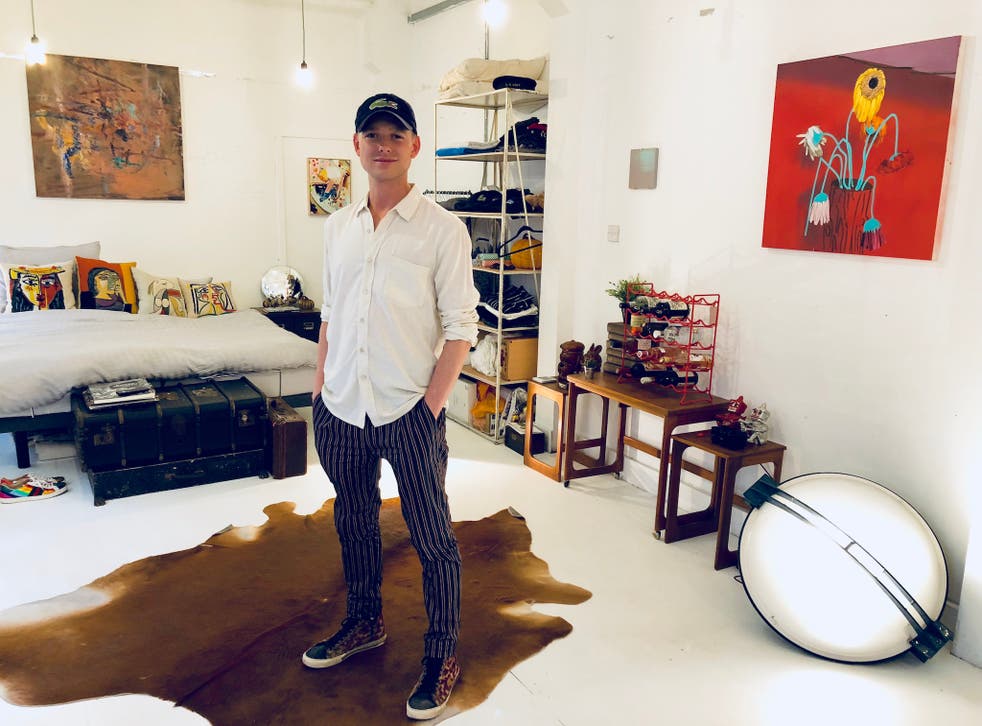 "This is my MTV Cribs moment," says Oli Epp, an artist fresh from his solo show in Paris.
Epp is showing a coterie of influencers around his studio in an empty red brick warehouse just off Grays Inn Road in central London. They ooh and aah as he demonstrates his remote control bed - a present from his father, who works "in startups" - and admire his acrylic paintings. Past works have depicted Trump eating a Cheesestring and drunken indecision at a kebab shop.
"I even stocked the fridge for you guys," Epp says, opening a white Smeg. "Feel free to grab a grapefruit soda, they're my favourite."
Epp pays £850 a month for the studio as a live-in guardian with PGP, a company started by former City trader Scott Franklin in 2016. After spending 25 years making deals behind 12 screens, Franklin decided to leverage his clients in property to start a guardianship business a cut above those already on offer.
But live-in guardians don't always bring their Smeg fridges and moving beds. Many come to guardianship as a last resort.
Up to 7,000 people are now property guardians in the UK, according to the London assembly's housing committee. Most are in London, casualties of a property crisis that has put buying and even renting out of reach of many. One person told the committee that they had to choose between guardianship or homelessness. The report said the number of people becoming guardians indicates a sector with the potential to grow "dramatically".
"The housing crisis is much worse than people think," Franklin says. "The property market right now is beyond repair. We're in a five year cycle where nothing is going to happen."
PGP is one of a wave of new guardianship companies. Two-thirds of the 31 companies in the market have started since 2009. They have spotted an opportunity in urban areas as Brexit threatens to plunge the property industry into a lengthy period of stagnation.
If developers struggle to get planning for building projects after 2019, they will need to ensure the security of properties for lengthy periods of time. Guardianship, which is usually offered free to the building owner, uses residents to protect buildings from squatters and fly-tipping.
It also removes the need for costly security guards and saves the developer paying business rates on empty buildings. Buildings with residents are charged council tax instead, which can be a difference of tens or even hundreds of thousands a year.
Franklin expects demand for guardians to increase four- or five-fold in the coming years. "I am going to be the market leader. Another guardian company will put 25 people in their in smaller conditions and they won't hit the market for bathroom to kitchen ratios. I will put fewer people in there and charge a fraction more."
With fees 10 per cent more than its competitors, Franklin is not pitching PGP at the poorest or those on the brink of homelessness. He is banking on a monied middle class - from key workers at hospitals and schools, to those working in the arts - who are finding average rent in the places they want to live beyond their monthly pay. While London continues to build dramatically less housing than it needs - just 29,000 a year to cater for demand for 66,000 - existing properties are going to remain out of reach on the average salary.
"The standard I want to set was in-between guardianship and co-living," Franklin says. "So we will make the offer for the guardian to a much higher standard and only charge 10 per cent more. People can pay £600 or £700 a month instead of £1200 a month and they don't want to leave because the buildings are really nice."
He's not wrong. In a warehouse opposite, photographer Jonathan Clifford and his girlfriend are paying £1250 to license a cavernous former office in the basement. They have artfully sectioned off a living space with three couches and a kitchen area with work surfaces made of salvaged materials. A glass conference table has been repurposed as a dining table. A side room, which used to have a camp bed for employees who needed to stay the night in the office, is now a walk-in wardrobe.
"I simply couldn't do what I do if it wasn't for guardianship," Clifford says. He has been guarding buildings for four years for a variety of companies, but says PGP is the best he has come across. His last guardianship ended with only a week's notice to get out, breaking the licensing agreement. With PGP he has also been able to licence an enormous underground photography studio opposite his living quarters for a further £1000 a month.
Franklin says he tries to give artists the spaces they need. In another wing of the building, indie band The Mystery Jets have built a studio where they can work on new materials, moments from their living quarters. In return, guardians have to put up with site visits by developers and builders. They know the agreement is temporary - legally they are licencing the rooms without the rights accorded to renters. They could get their month's notice at any time. They share bathrooms and kitchens, installed by PGP. While utilities and cleaners for communal areas are covered by PGP, guardians have to deal with problems that pop up from living in unconventional spaces, such as power cuts.
"The last guys I was with left us without hot water for three weeks," photographer Clifford says. "But any time anything comes up here PGP fix it the next day. From seeing how they do it, I've now realised that some of what the others were doing wasn't strictly legal - especially in terms of fire safety."
Franklin is obsessed with fire safety and compliance in his buildings. There are fire alarms in every room, marked by red cables, an expensive-looking panels installed at the entrance to every warehouse. "It's really important for the landlords," he says. "They need to know that these buildings are being looked after. And I need buildings, I don't need guardians. We have a list of 150 guardians looking to be housed - so I need buildings to put them in."
PGP has 18 buildings on its books and is planning to sign its biggest client yet this summer, which will create space to home hundreds of guardians. So far Franklin has only invested his own money, but he foresees consolidation in the guardianship industry. Eventually, he hopes to move into co-living. He mentions WeLive, the co-living arm of WeWork, and The Collective, a 550-bed tower in Willesden, north-west London, where people pay £1,100 a month for dorm-like rooms with shared bathrooms, cleaners and wifi.
"That's the direction I'm going in," Franklin says. "I think it could be done better. People can't afford to buy, basically. This is only going to get worse, so the demand is going to grow and people are going to need somewhere to live. That's the opportunity."
Register for free to continue reading
Registration is a free and easy way to support our truly independent journalism
By registering, you will also enjoy limited access to Premium articles, exclusive newsletters, commenting, and virtual events with our leading journalists
Already have an account? sign in
Register for free to continue reading
Registration is a free and easy way to support our truly independent journalism
By registering, you will also enjoy limited access to Premium articles, exclusive newsletters, commenting, and virtual events with our leading journalists
Already have an account? sign in
Join our new commenting forum
Join thought-provoking conversations, follow other Independent readers and see their replies